Categories for advertisers
The categories feature allows you to group advertisers together, you can group by type of advertisers, for example Electronics, Garden, House  etc... but it's also great for highlighting important advertisers who may require regular monitoring.
To create categories, click on the gear button in the left menu :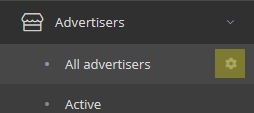 If you want more information, please read the documentation.
After creating categories and adding advertisers, you will be able to list (Advertisers -> All advertisers) and display statistics by categories (Monitoring -> Comparison).