Why connect Belboon to Strackr
Connecting Belboon to Strackr takes just a few minutes, and lets you to collect your transactions, clicks from over 2000 advertisers into one dashboard. You can connect your cashback application to our API to access the subid parameter that corresponds to the subid.
Belboon API integration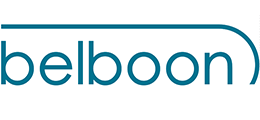 To connect Belboon metrics to Strackr you will have get keys and IDs.
Important: this connection is not available anymore, Belboon use the Ingenious Technologies AG connection.
Set up Belboon
1. Your username is your email that you use to log in to the Belboon platform.
2. Connect to your Belboon account and go to Tools and Services > Webservices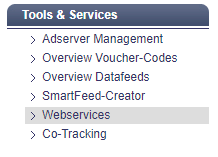 Then copy/past your API Key :

3. On the left menu, click on Overview AdPlatforms in the Advertising Centre section: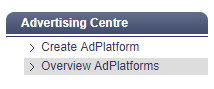 Then you will find your Platform ID:

4. For the deals, click on Overview Voucher-Codes: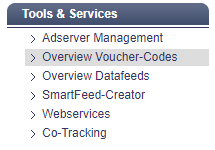 Then copy/paste the key highlighted on this screen:

Finally connect to the Belboon API and access to your data !