How to connect the lead alliance platform to Strackr
Connecting lead alliance platform and its partners to Strackr takes just a few minutes, and lets you to collect your transactions in a single dashboard. A unique API is available to connect your cashback or couponing application and retrieve all transaction data.
lead alliance API integration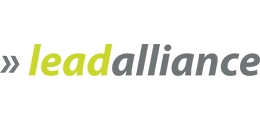 lead alliance is an SaaS affiliate platform software for advertisers and networks.
You can integrate your lead alliance account to Strackr with your API credentials.

Networks and advertisers
Strackr is able to integrate networks who use lead alliance, here is the list of networks and advertisers available:
lead alliance
Vodafone DE
Telefonica DE
PrimeFashionAds
If you need to add a new network who use lead alliance, please contact us.
Set up lead alliance
1. Connect to your lead alliance account, click on Account, My data and API data.
2. You will find your Public Key and your Private Key, copy and paste these keys on Strackr and connect your account.