Tune is a partner marketing SaaS platform that allows users to manage marketing partnerships across mobile and web interfaces. More importantly, Tune builds the technology needed to create powerful marketing partnerships and measure their performance and progress in real time. Based in Washington, US, the company was founded in 2009 and has since become one of the leading SaaS platforms for building and growing partner networks. Some of the largest brands and performance marketing networks rely on Tune's technology, including Shopify, Rackspace, Groupon, Fluent, and NordVPN.
Tune makes it possible to get everything done on one platform, from maximizing your return on investment to handling payouts and live tracking. Advertisers can use tune to manage partnerships, prevent fraud, and allocate payments without hassle. At the same time, Networks can benefit from Tune's technology in terms of scaling their results and leveraging expert level support on a daily basis. Tune's flexible technology makes building branded partner experiences easier than ever.
How to connect the Tune platform to Strackr
Connecting Tune platform and its partners to Strackr takes just a few minutes, and lets you to collect your transactions, clicks, payments in a single dashboard. A unique API is available to connect your cashback application and retrieve all transaction data like the subid value of aff_sub.
Tune integration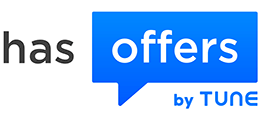 Tune provide a SaaS solution for managing affiliate marketing for networks, advertisers or agencies.
Partners
We have connected some Tune' partners like:
CyberGhost VPN
Golden Frog
NordVPN
TunnelBear
N26
Surfshark
GamesVid
Puremium
DGMAX Interactive
iGain
HMA VPN (HideMyAss)
Kape (CyberGhost, ZenMate and Private Internet Access)
eSpolupráce
Propelbon
mSpy
Adstrategy
Webpilots
Digital Advisor
Salestring
vCommission
AffiliatePort
Acheel
Liidimedia
Panthera Network
Build A Sign
Dynu In Media
Zenith Labs
Kilo Health
Tapp
Adbloom
Contact us if you need to add more partners, we will need the Network ID.
Set up Tune networks
1. Connect to your account, then go to Tools > APIs: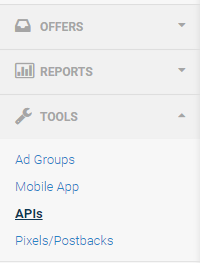 Then request the API Key.
2. When the manage will active your credentials, copy and paste the API Key:

And connect !