Affiliate marketing has been around for so long that everybody knows what it is. However, if you want to dabble in this field, you have to do more than just the surface research on this topic. In this article, we are going to cover everything you need to know about affiliate marketing commissions so that you can make the most out of your time.
How does Affiliate Marketing Work?
Before we dive into different types of commissions, we need to cover the basics around affiliate marketing. Most simply put, affiliate marketing refers to promoting products and services in exchange for a commission each time you make a sale. For example, if you sign up as an affiliate marketer for a software company, each time someone purchases the company's product via your affiliate link, you will be rewarded a certain percentage of the sale.
That's the basic overview of an affiliate marketing arrangement. Keep in mind that the percentage you earn depends on the company's affiliate program and the product/service you're promoting. However, what you might not know is that the affiliate compensation does not always mean a percentage of a sale. In fact, there are different types of affiliate commissions, which we will explain below.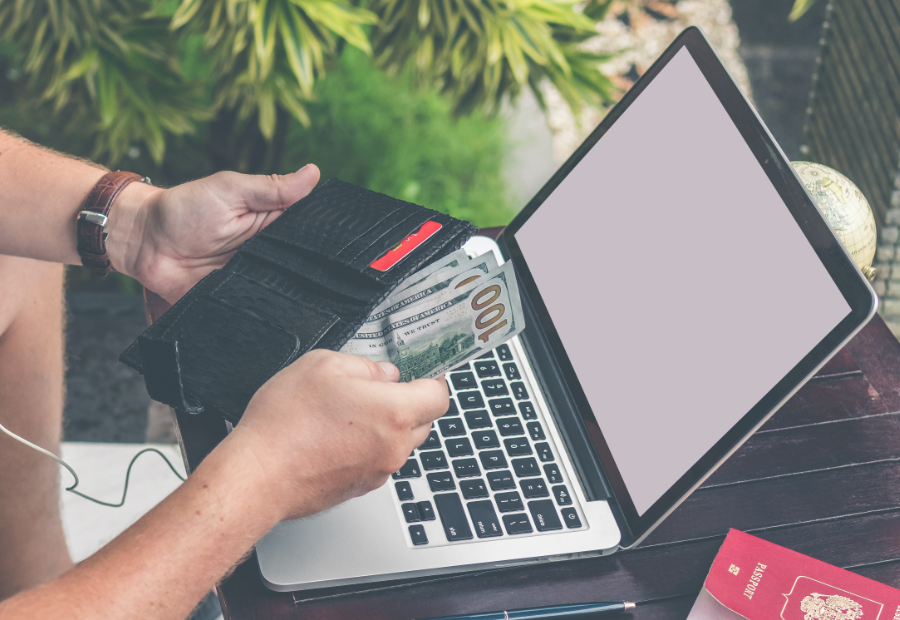 Affiliate Commission Models Explained
As an affiliate marketer, you will come across many different types of affiliate programs and commission models. Here's an overview of the most common acronyms you need to know:
CPL
CPL stands for Cost Per Lead and it's one of the most common commission models out there. In a CPL arrangement, you will earn a commission every time you bring a lead to the company in question. CPL is often called PPL, which stands for Pay Per Lead (essentially the same thing).
A lead is described as a potential customer who shows interest in the product or service. Email addresses and phone numbers of potential customers are considered leads. The good thing about this payment model is that you get paid for the lead, regardless of whether they convert into a buying customer or not. All you have to do is bring the company as many leads as possible and their marketing team will take care of the conversion process.
CPA
Next up is CPA or Cost Per Action, where you get paid each time a visitor who came through your link completes some sort of action. This action is set by the advertiser and it can include anything from a registration to a download of some sort or even a sale.
With that said, the CPA commission model requires a bit more than the CPL, as you need to be able to bring in qualified leads. Opting for the CPA model is a good idea when you're marketing a specific product or service to an audience that's already interested in that niche. Otherwise, it would be difficult to encourage leads to take action if you're marketing the link to a general audience.
CPC
CPC for Cost Per Click is a commission model in which as affiliate marketer gets paid when a visitor of your website or application click on an affiliate link. Generally, clicks are paid anywhere from a cent to a few dollars. CPC, also referred to as PPC for Pay Per Click, is a highly scalable commission model used in performance marketing.
CPS
CPS stands for Cost Per Sale and it's one of the most commonly used affiliate commission models. It's easy to guess what the CPA is about – you get paid a commission whenever you make a sale through the affiliate link.
Much like CPA, the cost per sale model requires you to have access to a very targeted audience. Otherwise, your marketing efforts may not be put to best use. It's best to opt for CPS affiliate programs when you're confident that the link you're marketing is aligned with your audience's interests.
CPI
Lastly, another common acronym you should be familiar with is CPI or Cost Per Install. This model usually follows affiliate programs built by app and software developers. In this case, the advertiser will only pay you when a visitor installs an app or a program you're promoting.
In most cases, CPI affiliate links are usually backed by some sort of discount or special deal to incentivize your audience to install the app. As with most other affiliate commission models, it's best to only promote links related to your audience's niche.
Different Types of Affiliate Commissions
The most common types of affiliate commissions include percentage rates, tiered rates, flat rates, and combined commission. Here's what each of those terms mean!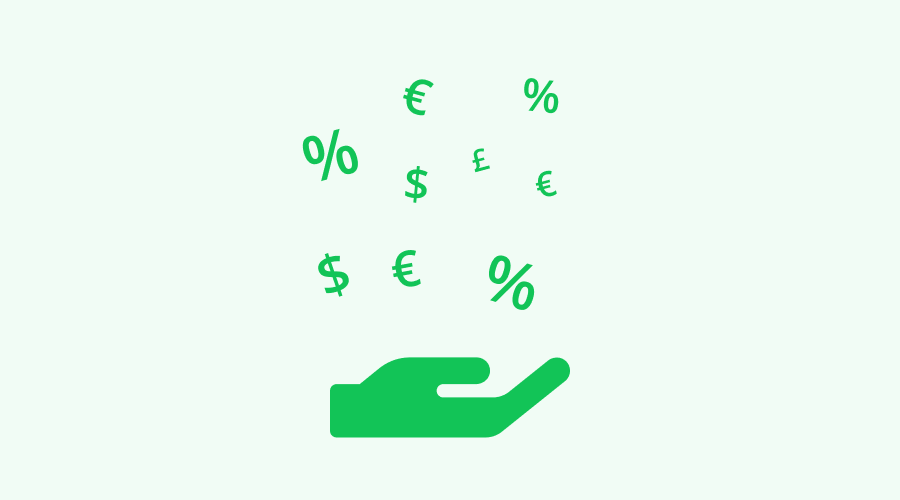 Percentage Rates
Percentage rates are the most common type of commission in affiliate marketing. With this type of arrangement, you will get paid a set percentage of each sale you make. In some situations, you can earn a percentage of the customer's order as well. However, these details depend on the rules of the affiliate program you joined.
Generally speaking, percentage rates are one of the best types of affiliate commission because they're simple and straightforward. This is also the best deal for those who plan to promote high-ticket items. The more expensive the item, the higher your commission is going to be.
Flat Rates
Another common type of affiliate commission are flat rates, which include a set reward per every sale you make. With this type of commission, you will get paid the same amount regardless of the price of the product you sell. This kind of setup can have its pros and cons.
For example, it's not the best option to choose if you're marketing high-ticket items. In that case, you're better off with a percentage rate that allows you to earn more by selling higher priced items. However, a flat rate can come in handy if you're selling lower priced products that are often discounted. Even if you sell a discounted product, you will still be paid the same flat rate.
Tiered Rates
Tiered rates are getting more and more popular these days. This commission system motivates affiliate marketers to work harder and get more sales. The way tiered rates work is simple - the more sales you can make, the higher your commission percentage is going to be.
For example, the first tier of commission for 0-100 sales is usually 20%. The second tier for 101-200 sales gives you a slightly higher percentage of 25%. If you bump it up to 201-500 sales, you can earn up to 30% of commission. Naturally, these numbers will depend on the specific affiliate program you're interested in but you get the point.
Combined Commission
In some cases, affiliate programs offer a combined type of commission that includes both a flat rate and a percentage of the sale. This type of commission is most commonly used for loans and similar financial products.
Some financial services offer affiliate programs with commission being a percentage of each loan. In other words, if your lead decides to take out a 50k loan, you are likely going to get a hefty commission depending on the percentage you agree with.
How to Manage Commissions in Strackr
As an all-in-one affiliate tool designed to make publishers' lives easier, Strackr offers a simple and efficient system for managing commissions. Until now, they only displayed public commission rates in a standardized format provided by the networks. Strackr has recently updated their commissions dashboard and API systems to be able to display global and personal publisher commissions in a more organized manner.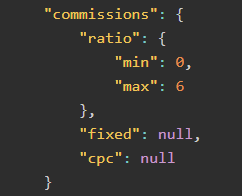 As an affiliate marketer, you have the freedom to work with multiple companies and advertisers to diversify your streams of income. Naturally, the more affiliate links you can promote, the more commissions you'll be able to bring in. However, what's challenging about this income diversification strategy is keeping up with all the different affiliate links and commissions. Imagine working with 20 different networks and collecting commission from each of them. Tracking this much information can become a very time consuming and tiring task.
That's where Strackr comes in to help you manage your affiliate marketing efforts in the best way possible. With this tool, you can manage more than 150 affiliate networks in the same place. That way, you can save a lot of time since you won't have to log into multiple affiliate networks throughout the day to check your commissions and overall performance. Besides saving time, Strackr can help you increase revenue by allowing you to understand your affiliate data on a more profound level.
Final Words
Overall, affiliate marketing can be a great source of passive income if you already have a decently sized audience built up. However, if you're starting from scratch, you should be aware that it's going to take a bit more time and effort to learn the ins and outs of this type of marketing. The good news is, as long as you stay patient and consistent, you should start seeing an increase in your commissions.
Being able to rely on a tool such as Strackr can make your job as an affiliate marketer a lot easier. Don't hesitate to sign up for a free trial to start tracking all your affiliate marketing commissions in one place. With a setup like that, you'll be able to focus on growing your audience and generating more leads and sales through your unique affiliate links.
Share
Affiliate dashboard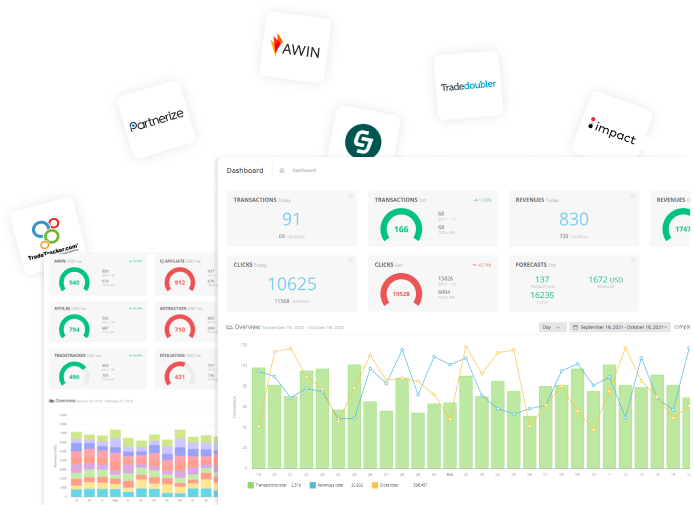 Connect all your affiliate networks with Strackr to access to unified statistics and tools.
Try for free