According to Business Insider, 15% of revenue in the digital media industry comes from affiliate marketing. In theory, affiliate marketing is a simple strategy that allows you to monetize your blog or social media accounts. However, getting traffic to your affiliate links might seem like a challenge at first. If you want to join thousands of digital creators who make an income online through affiliate marketing, read our brief guide to get started in four steps!
What is Affiliate Marketing?
Before we dive into the practical steps on how to get started in affiliate marketing, let's cover the basics. As an affiliate marketer, you make money by promoting products and getting sales for different brands and companies. Each time someone purchases a product or service through your affiliate link, you get a commission or a percentage of the sale price.
An affiliate link is a unique link that directs visitors from your blog or network to a specific sales landing page. For example, if you choose to promote products from Amazon, your unique affiliate link will direct readers from your blog to a specific Amazon sales page where they can purchase the product in question. What makes this link unique is that it's tied directly to your affiliate account on Amazon, which allows you to collect commissions each time a sale is made through your link.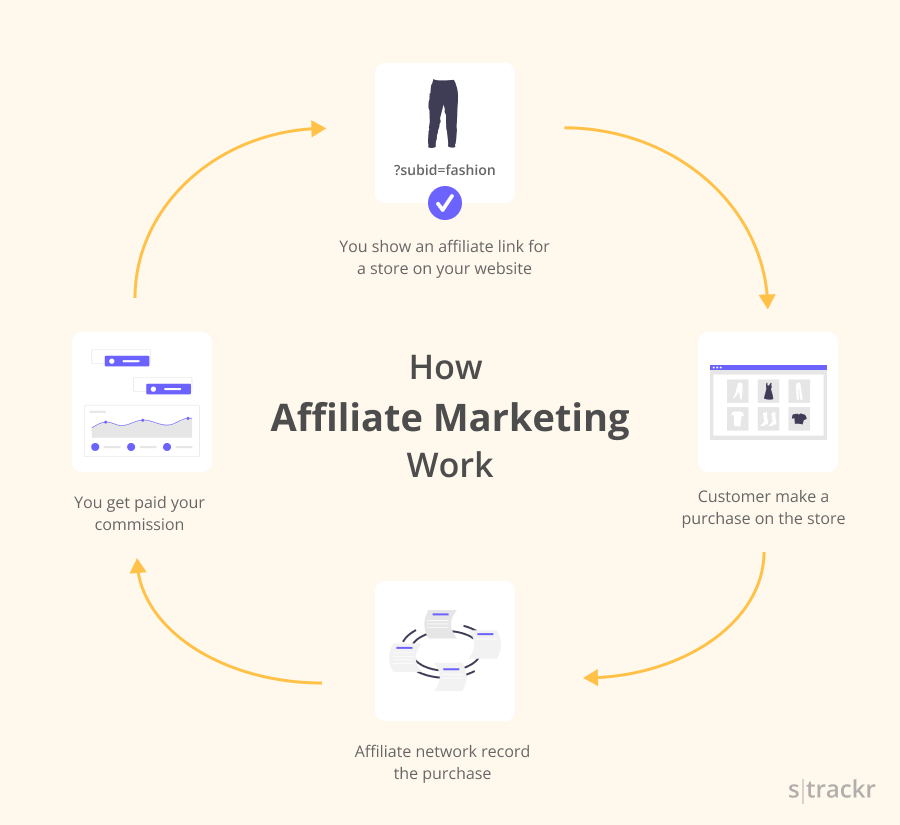 In a nutshell, affiliate marketing looks something like this:
You choose a product/service you want to promote.
Get your affiliate account set up and create your affiliate links.
Promote the link through content on your blog or social media pages.
Drive traffic to your content and collect commission each time someone purchases through your link.
What makes affiliate marketing such an attractive business model is that it involves very low costs and little to no risk. Usually, starting a business requires a lot of upfront capital. That's not the case with affiliate marketing since all you need to get started is a website or a social media account. Naturally, there may be business costs involved later down the road such as paid traffic expenses. However, you don't need any of that to get started.
How to Get Started in Affiliate Marketing
1. Find Your Niche
The first step to starting your affiliate marketing career is to choose a niche. Even though it sounds like you'd get more sales if you broaden your marketing efforts, the truth is that selecting a specific niche is the best way to go. With millions of people placing affiliate links all over the internet, there's plenty of competition to go around.
That's why you must be as specific as possible when choosing your product/service category. For example, instead of marketing links around the topic of fashion, try getting into more specific categories such as sustainable or vintage fashion. People are much more likely to make a purchase if they get a recommendation from someone who specializes in a specific product or service.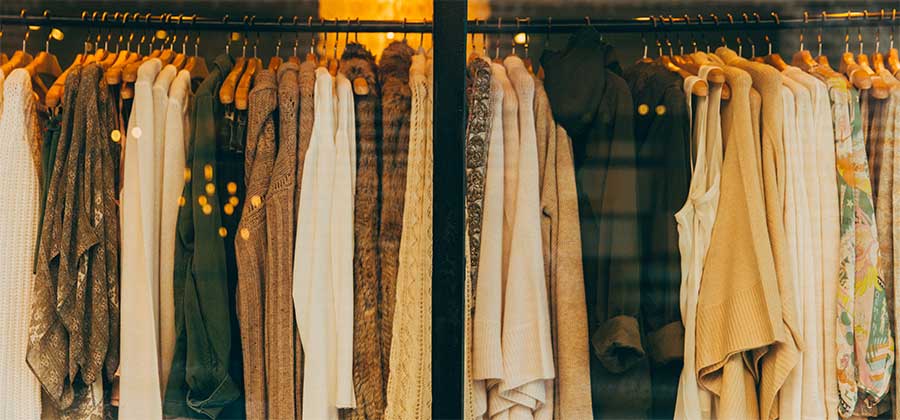 2. Choose an Affiliate Network
An affiliate network is an intermediary between affiliated companies and marketers. In other words, affiliate networks help you choose the best affiliate programs that fit your category. Which affiliate network is the best fit for you depends on your niche and experience. Since you're a beginner affiliate marketer, the best and easiest way for you to get started would be with a low-paying yet high-volume affiliate program.
There are tons of affiliate networks, including:
CJ Affiliate
Impact Radius
Shareasale
Amazon
This model refers to marketing products that have mass appeal but don't cost a lot of money. That means you will be more likely to make lots of sales but your commission will certainly be lower.
As you start getting some experience and building a larger audience that trusts you, you'll be able to test higher-paying affiliate programs, which definitely come with a lower volume of sales. At this stage of affiliate marketing, you will be selling less but making more money through high-ticket items/services. Ultimately, what kind of affiliate program fits you best also depends on your niche so do a quick search to find out what's the best option in your situation.
3. Choose a Platform
Naturally, you'll need a place where you will be able to promote your affiliate links and create content around them. While affiliate marketing can be done on any social network, your choice of platform will play a crucial role in getting traffic and sales. With that in mind, one of the most popular platforms for affiliate link placement is YouTube.
Creating YouTube videos gives you a way to connect with the audience on a more personal level. Hence, they are more likely to trust your product recommendations.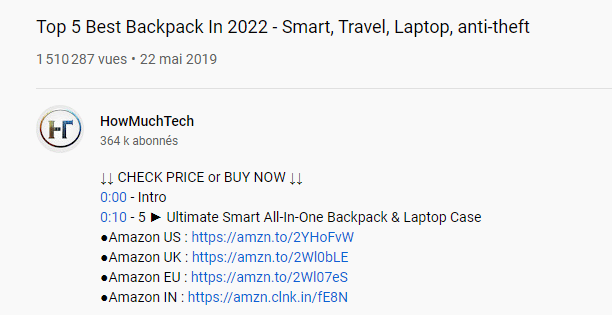 However, if you're not comfortable with starting your own YouTube channel, you can promote affiliate links successfully via your own blog or Instagram account. Whichever platform you choose, you'll have to do plenty of work to build an audience interested in your niche.
4. Learn How to Make Affiliate Links and Create Content
In order to be successful at affiliate marketing, you need to create good content around the products or services you're recommending. To begin with, you'll need to learn how to create and manage your affiliate links. The best way to do so is to use a good affiliate management app. We'll talk more about that in a second!
Once you've got your links in order, focus on creating engaging content that will get people interested in your offer. Some of the most popular types of affiliated content include product/service reviews and tutorials. However, you don't have to be limited by these categories. Let your creativity wander and test out different types of content to see what works best with your audience. Just don't forget to sprinkle in some SEO for organic traffic purposes. As your affiliate marketing business grows, you can consider paid advertising methods to get more eyes on your content.
Get Started in Affiliate Marketing with Strackr
Now that we've covered the theoretical part of getting started in affiliate marketing, it's time to put your new knowledge into action. Start your 30-day free trial with Strackr to get all the professional tools you need to grow your affiliate business.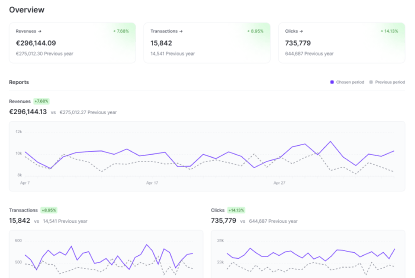 Strackr serves as your all-in-one affiliate dashboard where you can access all of your data in one place, including transactions, clicks, payments, and revenue. Keeping up with the metrics is a big part of affiliate marketing. With Strackr, you can stay on track with all your business statistics, view accurate reports with useful filters, compare programs' performance, and even find the best affiliate programs for your niche.
On top of detailed reports and the convenience of having all your data in one place, Strackr offers other helpful features such as Deals and the Link Builder. With Deals, you can create coupons and special offers for your audience whereas the Link Builder allows you to create tracking links with subids to any page all in one place. Give it a shot for free and start building your affiliate marketing business today!
Share
Affiliate dashboard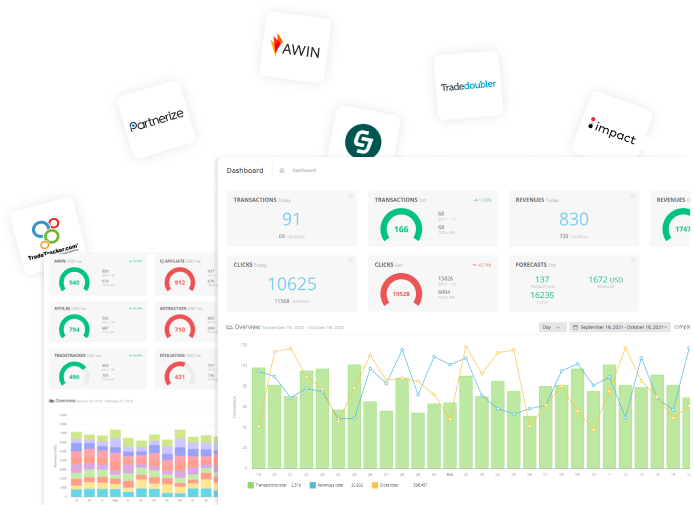 Connect all your affiliate networks with Strackr to access to unified statistics and tools.
Try for free