Back in 2018, a US advertising company called Sovrn Holdings purchased Viglink, an affiliate network that offers access to over 30,000 brands and merchants. The result of this merge is Sovrn Commerce, a company that allows for intelligent link tracking and more efficient affiliate marketing. They work with bloggers, editorial sites, and influencers on monetizing audiences while helping their readers make valuable purchases.
Sovrn Commerce offers a very simple promise – they turn commerce content into revenue by allowing affiliate marketers to bring all their stats and tools into one place. They provide deeper insights into what's working and what's not with the goal to help you optimize your performance-based marketing efforts. On top of providing access to a neatly organized dashboard, Sovrn can also help negotiate exclusive rates with merchants, thus making you more room for profit. Having made over $1 billion in ecommerce sales in 2021, Sovrn Commerce is a worth taking into consideration.
Why connect Sovrn Commerce to Strackr
Connecting Sovrn Commerce to Strackr takes just a few minutes, and lets you to collect your transactions from over 900 advertisers into one dashboard. You can connect your cashback application to our API to access the cuid parameter that corresponds to the subid.
Sovrn Commerce / Viglink API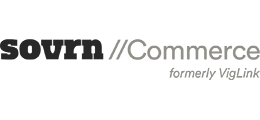 To connect Sovrn Commerce formerly Viglink, you will need your API secret key.
Set up Sovrn Commerce
1. Connect to your account and on the top right click on your username, then Sites:
2. Find your website or application and click on the key icon :
3. Click on generate secret key and you will be able to copy/paste your Secret key:
You can now connect your Viglink statistics to Strackr !