You will have access to different page to monitoring your affiliate data like Overview, by Networks, by Advertisers, etc...
If you have an Adblocker like AdGuard, it's possible that charts and lists can't be displayed because of keywords like advertisers, please change the rules of your Adblocker.
Performance

The performance charts will you help to have a quick access to a metric (transactions, revenues, etc...) and allow you to compare with a previous time range :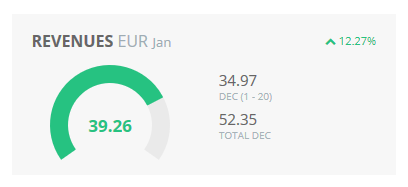 For this example, today it's the 21th January, the revenue for this month (January) is 39.26 EUR. From the 1st to 20th December the revenue was 34.97 EUR, your performance is 12.27% better than the previous month.
The total December revenue was 52.35 EUR, you can see with the chart if you have reached the previous month revenue.
Here is an example with worse performance than the previous month :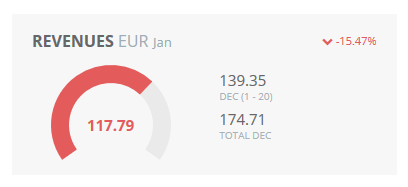 You can change the comparison period of the metrics :

You can compare with:
Yesterday and the previous month (default)
Previous week and the previous month
Previous month
Previous quarter
Previous year
You can change the default period on your user settings page.
Statistics
You can monitor the performance of your revenues by time selecting time range and by grouping values by day, week, month or year :

Compare performances
Do you need to compare your statistics from one period with for example the previous year ?
Select the time range, then select "Previous year" :

You have access to 4 quick comparison periods :
Previous period: the X previous days according to the selected time frame.
Previous month: starting on the same day of the previous month
Previous quarter: starting on the same day of the previous quarter
Previous year: starting on the same day of the previous year
When the comparison tool is activated, you can compare the statistics day by day and have quick access to the variation: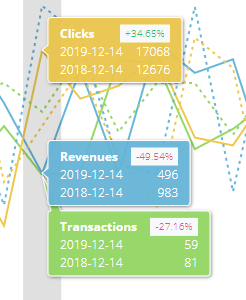 If there is too much data on the chart, you can choose to hide data by clicking on the legend :

Or zoom in by clicking and drag your mouse :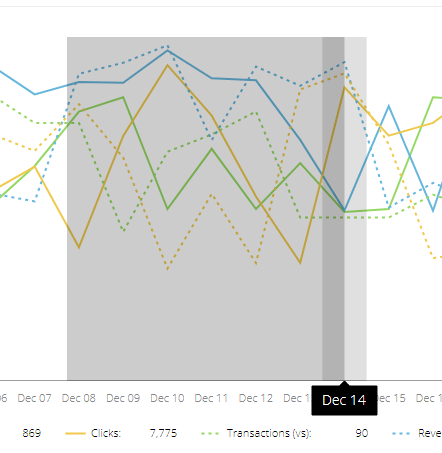 Exporting charts
You can export your affiliate data in a image (PNG) or in a CSV file :