Affiliate marketing emails connect readers to a company's product or service. A company pays a publisher commission when the reader of the email performs a desired task. Businesses love this powerful marketing technique to get qualified website traffic, and potential earnings for publishers can be an attractive incentive.
With 25.4% of email users checking their email accounts more than five times daily, you can imagine how lucrative this gig could be. Plus, it's relatively easy to start and make it worth your time with a creative marketing technique and understanding of the offerings.
Many new and existing publishers turn to platforms like Strackr to find affiliate programs and access tools and resources for affiliate business success.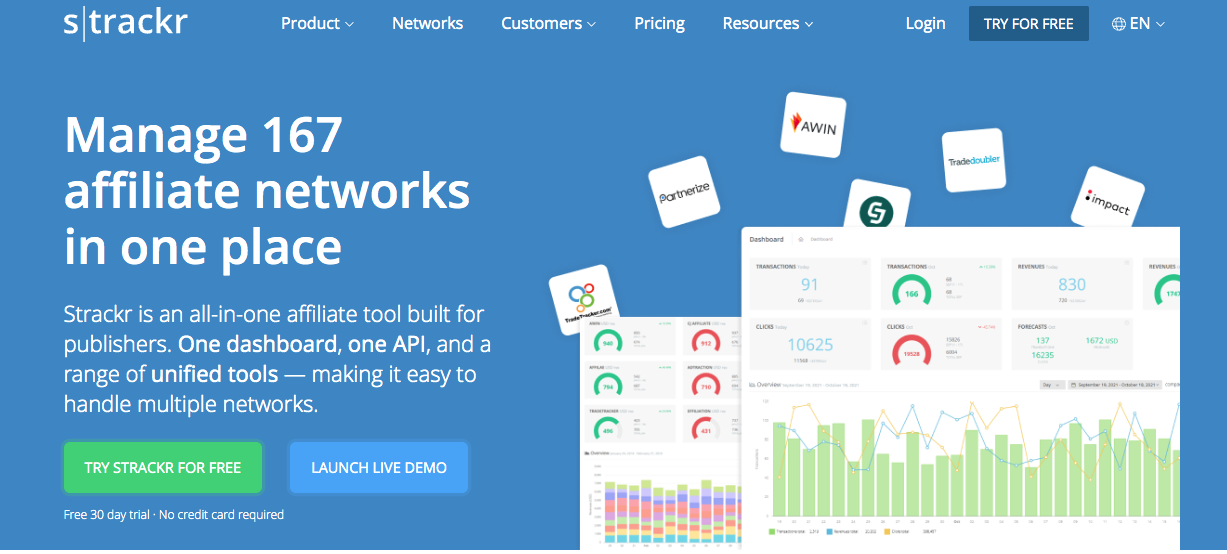 What are affiliate marketing emails?
Email affiliate marketing is the advertisement of a business offering using a well-formulated email to connect the reader to the promotion via an affiliate link. Affiliate emails should stand out and appeal to the audience while naturally selling the benefits of the offering, to generate qualified traffic and loyal customers for the business. The publisher receives a commission for every sale generated or a desired action generated by their affiliate links.
Why are affiliate email marketing programs so popular?
Email use is popular
Compared to social media, email has a larger user base across the ages of 15 to 65+. Email also has high engagement, with most people checking their inboxes at least once daily and the average user owning more than one email account. Email users are expected to rise to 4.6 billion by 2025.
High ROI
For every $1 a business spends on email affiliate marketing, an impressive $36 is made. One of the main reasons for email affiliate marketing success is at least 60% of consumers consent to receiving promotional information from the brands they like. And it's an effective way to develop a loyal customer base.
Huge benefits for the brand and publisher
Business owners use affiliate marketing emails for several reasons, including:
measurable results;
increased traffic and brand recognition;
easy payment structure with trackable affiliate links.
Common reasons why people choose email marketing affiliate programs, include:
passive income;
accommodates direct communication with the target audience;
relatively straightforward to start, even with no money.
Things to consider
Whether the email provider allows affiliate links?
First, check how your email provider, like Gmail or Outlook, handles affiliate links in emails. Although email affiliate marketing is legit, some providers discourage or ban it, and you could lose access to your account. The next section will take you through some affiliate link-friendly email providers.
Selecting the best affiliate partnerships
ensure the campaign will be profitable by calculating the ROI;
choose a brand with a high-quality landing page for more conversions;
select a brand that is relevant to the offerings you promote and will provide your audience with value.
Planning your sales funnel
Be clear on your email sequence and your audience's journey to purchase. For example, what happens after they click on the affiliate link?
What will your content schedule look like? Aim to create one week's worth of content ahead of time. Depending on your niche, that might look like three to five weekly.
Top email marketing tools for affiliate marketing
1.   GetResponse
GetResponse is a comprehensive email marketing solution with marketing automation, auto-funnels, landing pages, and content creation capabilities. Their affiliate program offers bloggers and small business owners a quick or passive income stream.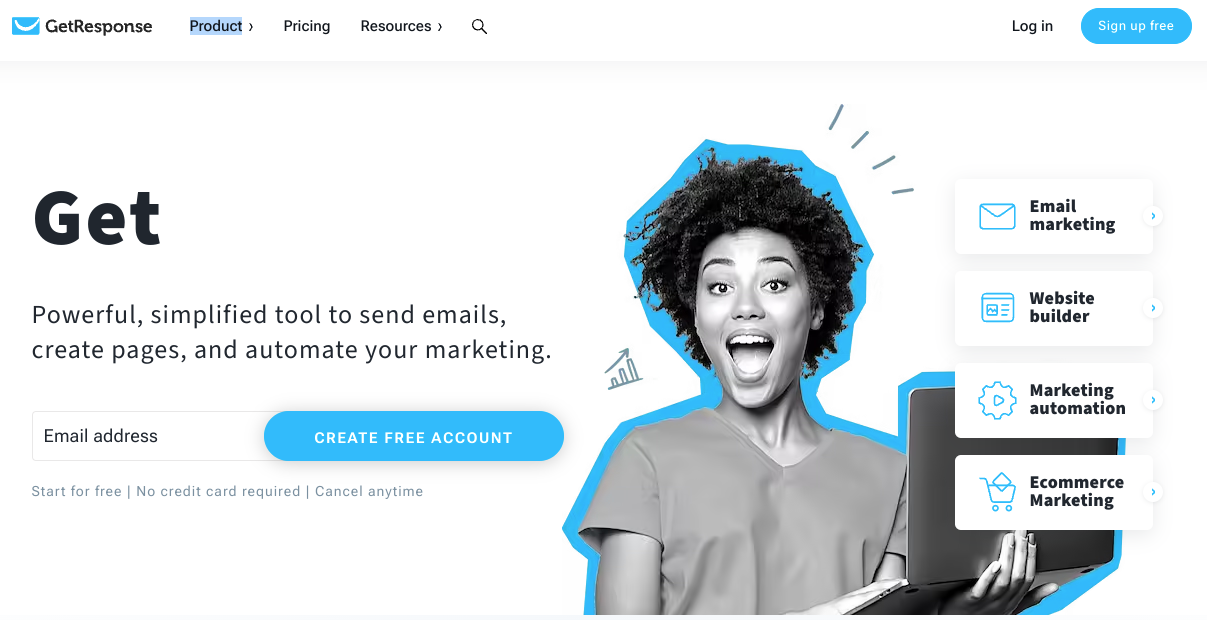 2.   EmailOctopus
EmailOctopus is an easy to use drag and drop email builder with 30 ready-made templates. It allows you to create unlimited landing pages and has track open and click rate reporting. With EmailOctopus, you can create time-based drip campaigns and develop automated email sequences.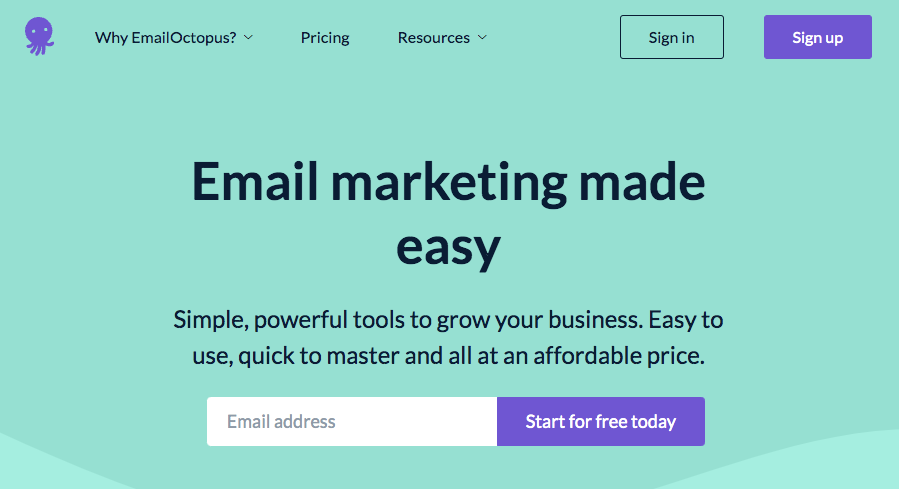 3.   Convertkit
The Convertkit platform provides essential marketing functions, including automation, landing page, email, and form builders. You can A/B test your subject lines to determine which delivers the best results.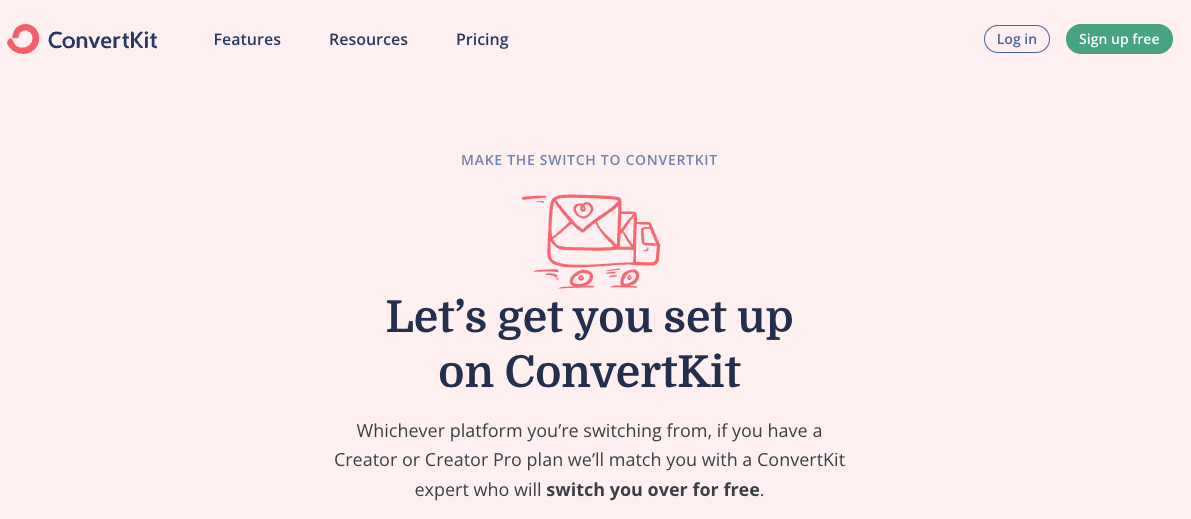 Once your emails are sent, and your campaign(s) are underway, affiliate marketing tools like Strackr can make managing and scaling your marketing business easier. It's a complete affiliate suite to support various publisher types, including content creators, social media brands, and bloggers. Its features include data collection and analysis, audience segmentation, APIs, and a selection of integrated affiliate tools.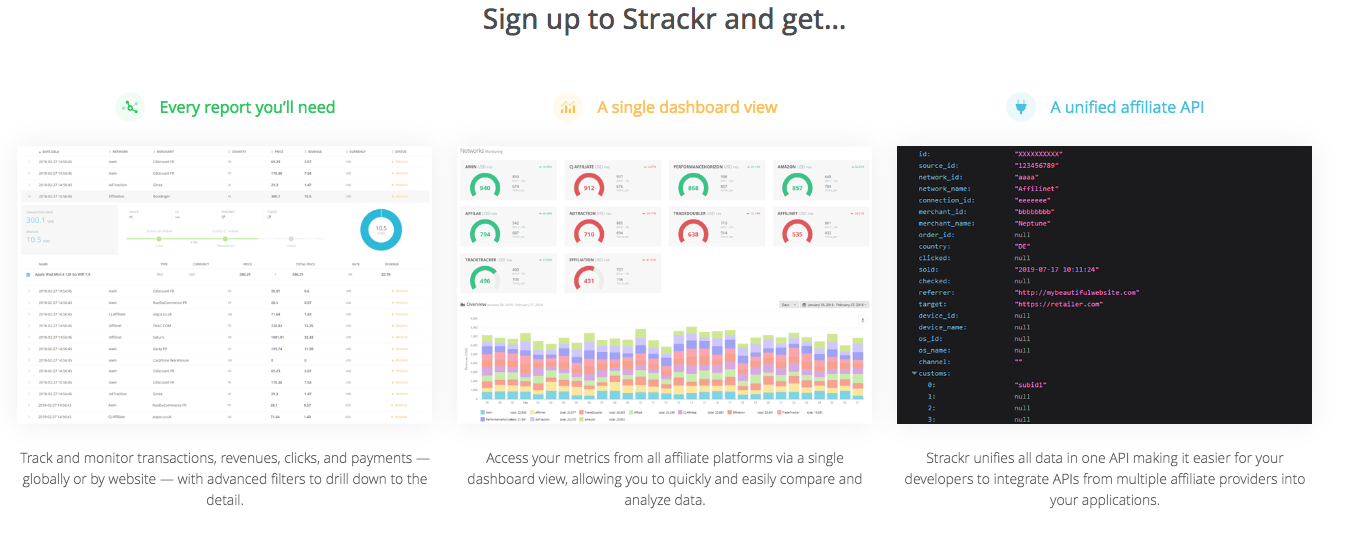 Effective affiliate marketing email templates to use for every occasion
1. Brand Affiliate DM Template
Consider using this cold outreach template to DM an influencer on Instagram or TikTok. It should do the trick if you want to keep your message informal and to the point.
Subject: Awesome post [influencer]!
Hey [influencer],

The team here at [company] and I really enjoyed your content about [description] the other day.

At [company], we [brand offerings]. And we'd be delighted if you joined us as an affiliate member. Our affiliate program [summarize incentive details].

Let me know if you're interested and want to hear more.

Thanks!

[Your Name]

2. Recommending a Tool Email Template
It's easy to come off as salesy when recommending tools. However, you don't have to sound pushy. Use this template for inspiration on finding a good balance.
Subject: What about using [tool] for [goal/problem]?
Hello [influencer],

I saw your post recently about [problem] and wondered whether you've tried [affiliate link]?

I've been using it and recommended it to friends and family, who are all using it now. The results have been excellent!

If you're interested in seeing how it works, I'd be happy to send you some [examples/samples/templates] and answer any questions.

Thanks,

[Your Name]

3. Welcome Template
The primary purpose of a welcome email is to introduce your brand, provide the next steps for those interested, create a great first impression, and establish a new relationship.
Subject: Welcome to [your site]!
Hey there!

I am [your name and role]; we're so excited you're here and wanted to welcome you to our family warmly. I sincerely know how being serious about [website purpose] could change your life.

We don't want to add to the tons of emails you receive daily, so we'll only reach out when there's something new to look forward to. From time to time, we'll send you an email whenever we:

- release a new [product/service]
- have an exciting announcement
- have a free resource
- or recommend a new product once it's passed quality assurance

Does that sound good to you? Excellent!

Also, we share industry content and publish exclusive advice on social media. This is our primary way of communicating in addition to emails, so make sure you don't miss out on anything by following us on your favorite platforms:

- Facebook page: [Facebook link]
- Twitter: [Twitter profile link]
- [include other platforms if necessary]

Bye for now, and I will speak to you soon!

[Your Name]

P.S.: I'll send you our best material and some subscriber-only gifts as a thank you. Everything is super valuable and actionable, so it should help to give you an excellent start to [site objective].

Also, our emails sometimes have a habit of ending up in the junk folder! So I've put together a quick whitelisting guide to guarantee that doesn't happen. The instructions can be found here: [whitelisting instructions link].

Stand by for my next email discussing [next email's topic].

4. Product Intro Template
If possible, create a list of recipients you think would benefit the most from your product launch email. Prioritize contacts based on those who would be ready or the most interested in your new product.
Subject: This is going to blow your mind!
Hey [First name/there]!

Have you ever had [problem the product fixes]? Well, I have, and quite frankly, it sucked!

For [years/months/days], I have [explain your struggles with the problem the product solves. Make this section detailed and engaging in three to five paragraphs].

Then, as I was about to give up, I discovered [product/solution]. [Briefly describe how you found the solution].

The [affiliate product] promised:

- USP 1
- USP 2
- USP 3

It seemed too good to be true at first. After struggling with [problem] for so long, could the solution really be this easy? Here's what happened when I tried it out:

[describe how you solved the problem using the product]

After [time period], I can now:

- USP 1
- USP 2
- USP 3

The great news is you can access the information now as I've summarized everything here [link to the sales page with product name].

And just in case I sound crazy, here's some proof that it worked for me:

[photo/screenshot]

So from one friend to another, if you want to get the same results as I did, I recommend trying [product]. Here's a link to find out more:

[affiliate page]

Also, I love hearing people's success stories, so please email me your results if you decide to try [it/them] out.

[Your Name]

5.  Exclusive Reward Template
An exclusive reward email offers your audience a goal to reach for an exclusive reward while supporting your affiliate. Consider using this template to motivate them to take part.
Subject: Get Your [reward] Today
Hello [First name],

This is your chance to receive [exclusive reward].

We invite you to join our one-off program, where our most loyal customers receive [reward]. All you need to do is recommend us to your friends to earn [rewards]! To do this:

- First, you'll need your referral link by [provide instructions]
- Then, refer [number] people to our website

You'll earn a point from every [click/purchase/sign up]. Once you achieve the goal, [reward] is all yours.

Visit our page: [link] for more information.

All the best!

The Marketing Team
[Company]

6.  Last Chance Email Template
Us humans suffer from fear of missing out on a good deal. Use this template as a last-ditch attempt at gentle persuasion.
Subject: This is your last chance to [product benefit]
Hello [First name],

In my last few emails, I talked about [product], the only product to solve my [problem].

Unfortunately, all good things come to an end, and so must this offer. From [date], [offer] will no longer be available, so this is the last time I'll tell you about it. The good news is you can still get [product] today!

Here's a quick reminder of what it comes with:

- USP 1
- USP 2
- USP 3

And just in case you missed my unboxing video, here is it again:

[unboxing landing page link]

To avoid being left out in the cold, click the link below to grab your [product].

[affiliate link]

Sincerely,
[Your name]

Use Strack for a successful affiliate marketing email business
Remember that email affiliate marketing is not a get-rich-quick scheme. It requires patience. To reap the benefits, be prepared to work to develop a sustainable business. Strackr can help you start immediately with a suitable affiliate program and access to everything you need for a long and prosperous email affiliate business.
Share
Affiliate dashboard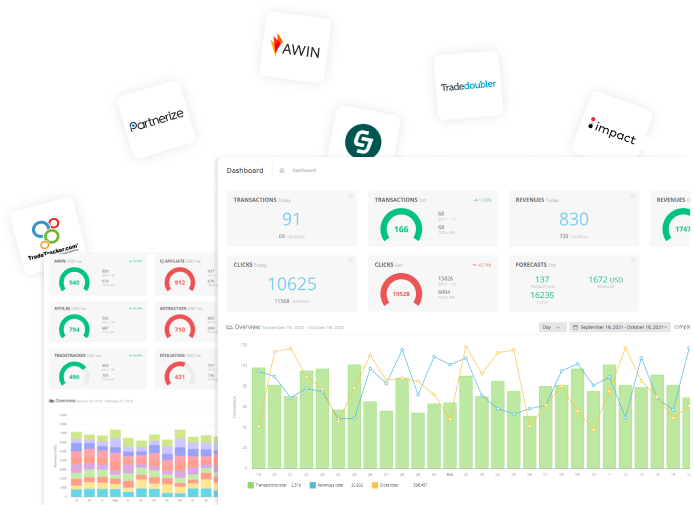 Connect all your affiliate networks with Strackr to access to unified statistics and tools.
Try for free