Since its launch in 2016, TikTok has taken the world by storm. With its 1 billion+ active users and 1 billion videos being watched each day, TikTok has become a hot spot for product promotions. That's why affiliate marketing on TikTok is a trend to embrace in 2023.
If you're serious about affiliate marketing on TikTok, tools like Strackr will come in handy. Strackr gathers all your affiliate data from all your channels and condenses it into simple reports. From these, you can measure metrics like clicks, revenue, and transactions to optimize your marketing efforts and scale your business.
First, though, read through this guide to discover all about affiliate marketing on TikTok. We're going to go through the best ways to set yourself up as an affiliate marketer, as well as the practices that will help you on your way. Let's dive in.
What is Affiliate Marketing on TikTok?
An affiliate marketer promotes products and services on behalf of businesses like retailers. You might also find a suitable SaaS affiliate program to promote. With that in mind, affiliate marketing on TikTok is the practice of promoting these products or services through your channel and the TikTok videos you make. Your affiliate partner gives you a special affiliate link to monitor your sales, and you receive a percentage of each sale you make. Easy!
Below is an example of an affiliate marketing TikToker selling Amazon items. You'll notice that Julianna Claire selects products based on their design and practicality, with the word "Romanticizing" being the common theme throughout, which helps create a brand around her personality and profile, all of which can be incredibly beneficial as an affiliate marketer!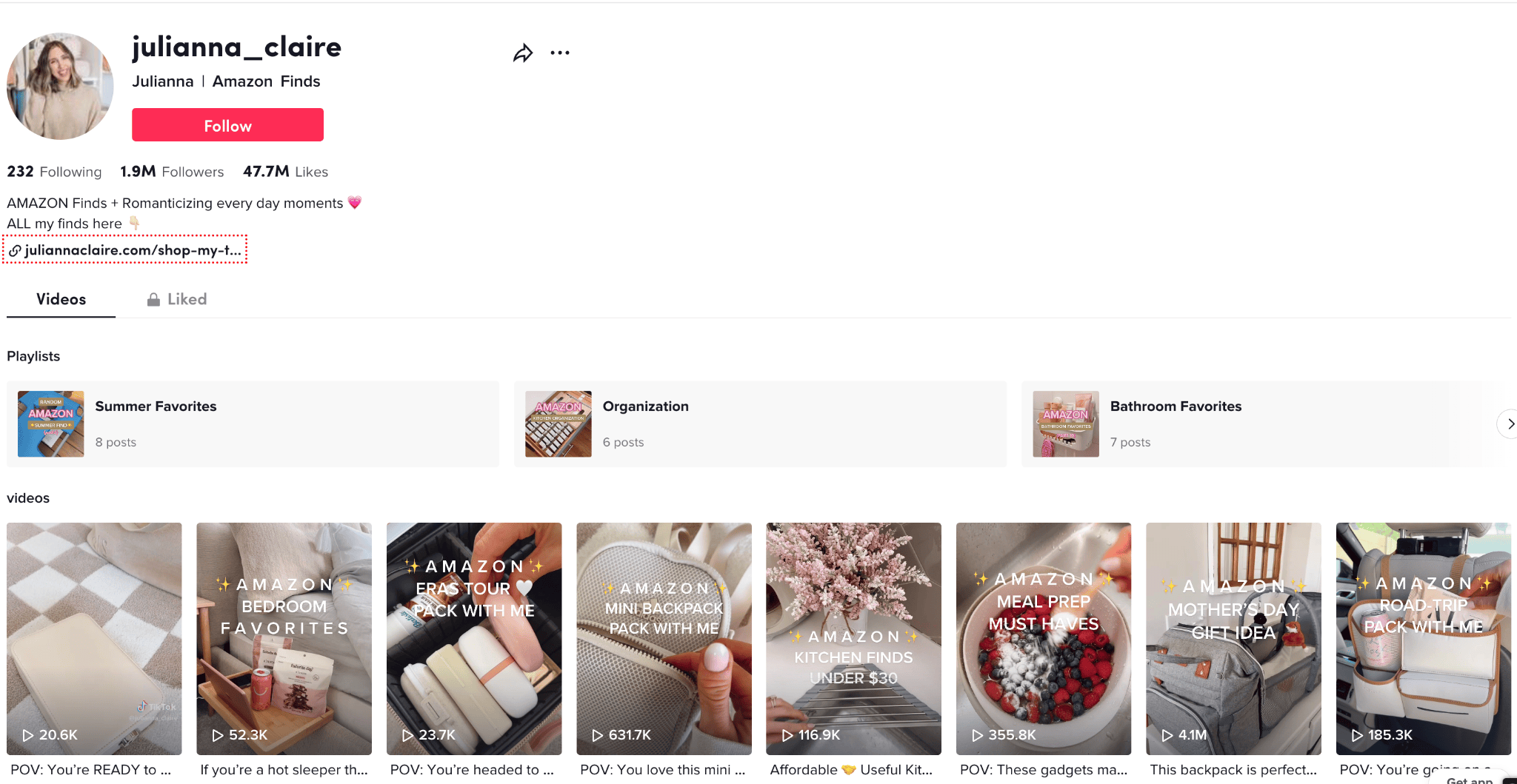 Why Consider Affiliate Marketing on TikTok?
Feeling TikTok affiliate marketing fever yet? If not, the advantages below might convince you that affiliate marketing on TikTok could be your next big thing:
Big audience: We emphasized at the beginning just how big TikTok has grown in just seven years. Affiliate marketing on TikTok gives you access to a huge audience of potential consumers, and if your product is aimed at the younger generation, even better. According to Oberlo, 38.9% of TikTokers are aged between 18 and 24. This equates to 401.9 million users. Compare that to just 5.1% of users being 55 or older, and you can see that TikTok is a magnet for young adults.

Little upfront investment: The cost of launching your own business can be off-putting, to say the least. Thankfully, those costs are almost negligible here, as you can start affiliate marketing with no money on TikTok easily. You just need an account. Additionally, affiliate marketing doesn't require you to handle the products yourself, so you won't be spending any money on storage, either.
Your job is to simply promote the products. And your affiliate partner (the business whose products you're selling) takes care of the rest. All you need to do is create your TikTok content, direct people to your website or your partner's, and track and manage your data. Tools like Strackr will help with the data management side of things, as you can easily manage all of your affiliate networks using one dashboard. 
High-converting algorithm: TikTok's algorithm is a high-converting one. It suggests videos that users have shown interest in. That means niche affiliate marketers on TikTok are more likely to get in front of their target audience.
How do you Start Affiliate Marketing on TikTok?
Now it's time to get into the steps to pursuing your TikTok affiliate marketing venture:
Step 1: Upgrade to a Business Account
A TikTok Business account gives TikTokers access to more features than a personal account, such as additional support, a workspace, and a selection of analytics. Business account holders also gain access to the Business Creative Hub, TikTok's tool to help businesses craft detailed marketing strategies.
Here is how to upgrade to a Business account:
In the app, click on your profile
Click on 'Menu' located at the top of your screen
Next, select 'Settings & Privacy'
Click on 'Manage Account'
Now, simply click on 'Switch to Business Account' and follow the steps to complete the setup
Step 2: Add Your Website Link in Your Bio
Add a link to your affiliate website in your bio. This will direct your audience straight to your site so you can promote products and connect with them further. You can see what users have links in their bios when you scroll through the TikTok feed. To become a member of the 'Link in Bio' club, do the following.
Go to your profile
Click "Edit Profile."
Click on 'Add your website'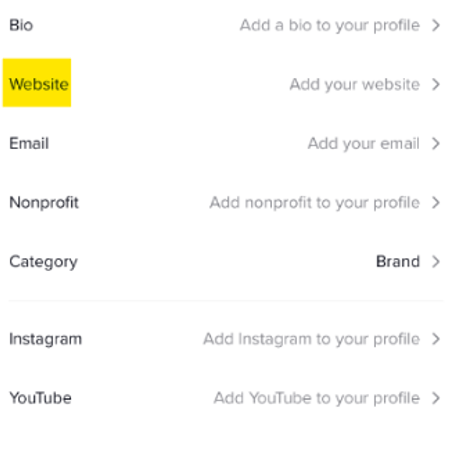 And you're all done.
If you don't have an affiliate website, add your affiliate partner's website if you're only working with one merchant. Or, link directly to the product page you're promoting. You can see the results below from successaussieaffiliate, where her affiliate website is linked in bold directly at the bottom of her bio.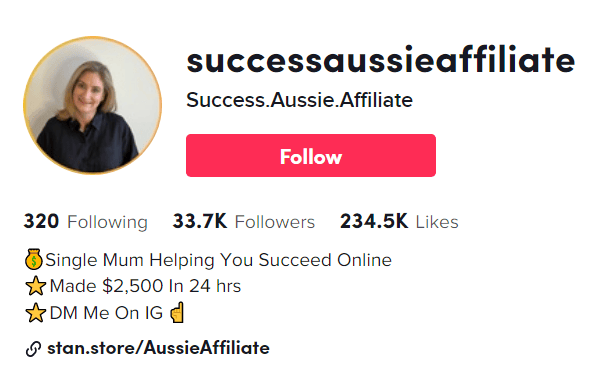 Step 3: Link to Other Platforms
Your next step is to link to your other platforms like Instagram and YouTube, for example. This is a quick and easy step like the one above. It creates a unified social media presence, helping people find and connect with you wherever you are. It also encourages people to follow you on multiple platforms, increasing your exposure across all of them.
Follow the same steps as you did above for your website link. You'll notice at the bottom of the page is the ability to add your Instagram or YouTube socials:

From there, you'll be taken to your account login page on either YouTube or Instagram. Simply log in, and you're done! Your accounts will be added to your bio automatically.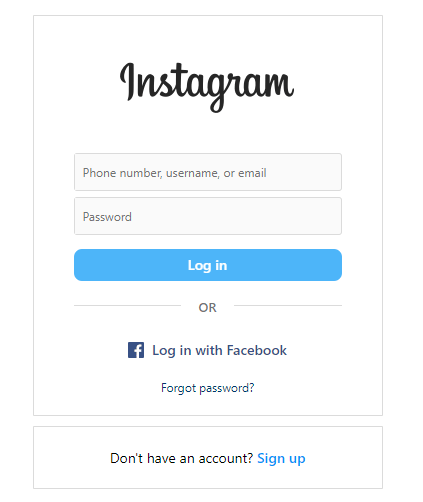 Step 4: Manage Your TikTok Affiliate Marketing Business
Now comes the fun part. Managing your account and watching it grow (with some effort, of course). Create videos promoting your affiliate products and post regularly.
To maximize your growth, it's essential to keep track of all the right data. This includes transactions, clicks, and sales for every affiliate partner. Your data tells you whether or not your campaigns are working. Perhaps, for example, you're not getting a high enough CTR for a specific product; you might need to make changes and tweak your content to appeal to a more targeted audience. Your CTR subsequently increases. You're then a step closer to understanding the type of content that drives results.
But how do you manage such a vast array of data?
The answer is in your affiliate data management tool. Strackr is a great example. With our software, TikTok affiliate marketers can connect to 190 affiliate networks, which means that all data from all their affiliate programs are manageable on one powerful dashboard. More still, your Stickr data can be updated multiple times throughout the day, so you can be confident that you've got the most recent data at hand to drive your decisions. Try us for free and see for yourself!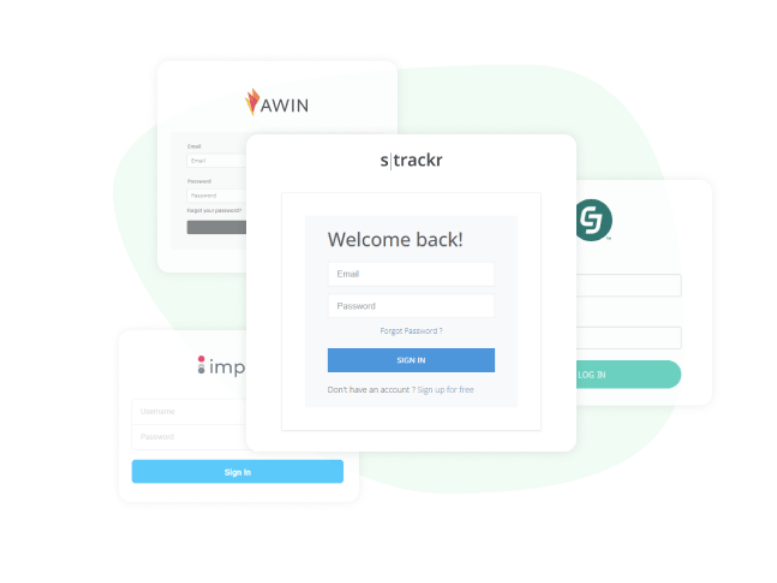 Affiliate Marketing on TikTok: Best Practices
Build an Audience
Building an audience on TikTok as a TikTok affiliate marketer is pretty important. You must engage with your audience and encourage engagement in return. You can do this by adding CTAs in your videos, asking questions, and commenting on other TikTok videos that are relevant to yours while also replying to any comments left on your videos.
Another option for building a TikTok audience is to collaborate with influencers who already have a decent following. Search for popular users within your niche and reach out with a proposition.
Create Videos That Your Audience Wants
It can be tricky to come up with new and interesting content ideas, especially for a platform like TikTok. TikTok recommends its users post 1-4 times each day, which means a lot of idea-generating.
Search for trends around your niche and put your own unique spin on them. You can run competitions, review your affiliate products, create a how-to video, tell a story, or reveal a life hack. The possibilities are endless. But you need to get your creative brain on.
This is also why it's so important to pick your niche carefully. If you're super interested in knitting, for example, you might have found an affiliate partner that sells beautiful knitted jumpers and cardigans. However, you'll probably run out of content ideas quickly.
Pick something you're interested in AND has lots of topics and subtopics to explore.
Clear Visuals and Trendy Music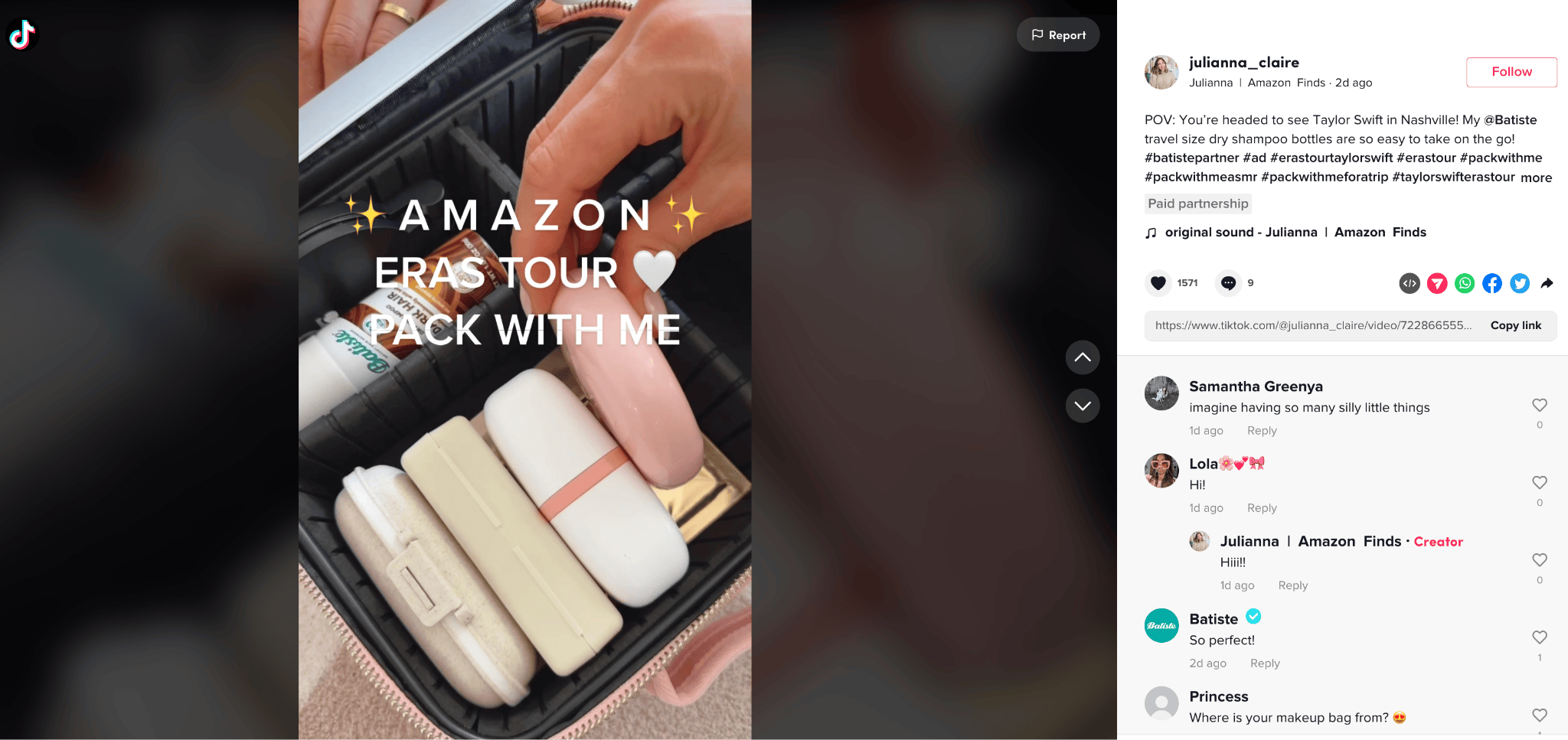 TikTok is very much a visual platform. Users watch your videos and form an impression of your brand and affiliate products. To make your videos stand out - and to present a professional image - ensure your videos are high quality. They should be crisp and clear, particularly if you're showcasing a product. To make more of an impact, add some trendy music to accompany it.
Utilize Paid Ads
TikTok paid ads aren't for everyone. But if your budget allows, they can give you a significant nudge in the right direction. You can get really creative with TikTok ads.
In  2021, TikTok launched Spark Ads. This is an ad program that allows brands to create ads from their TikTok videos. With this unique ad concept, users can interact with your ad just as they would with an organic TikTok video. That is, they can like it, comment on it, and share it. This helps you maintain an authentic brand image across the platform.   
Ready For Affiliate Marketing on TikTok?
If you're considering launching a TikTok affiliate marketing business, ensure you pick your niche carefully. Equip yourself with as much knowledge as you can about the platform, your chosen partners, and marketing your business. Follow the guidelines above to get started and stay on the right track.
Before you jump into your campaigns, select a powerful affiliate tool to help you streamline your efforts. Strackr allows you to connect with hundreds of different affiliate networks, making it simple to access the information you need when you need it. Sign up for free today and make managing your affiliate networks a breeze!
Share
Affiliate dashboard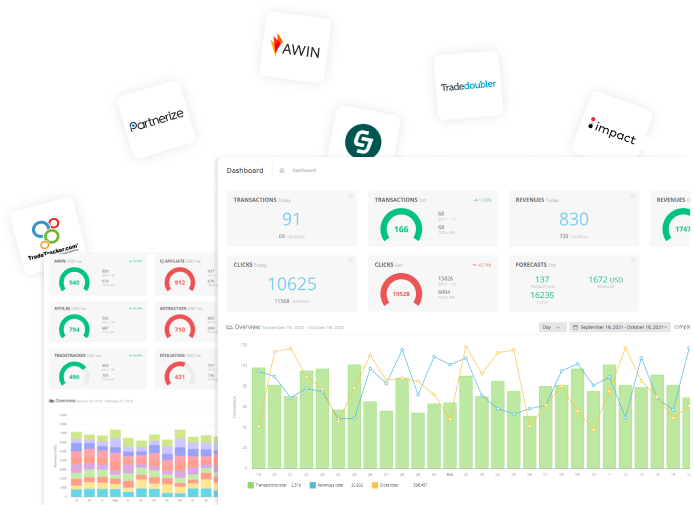 Connect all your affiliate networks with Strackr to access to unified statistics and tools.
Try for free