Cashback is one of the fastest-growing elements of affiliate marketing these days. It is well known that consumers respond better to offers that include either a time limit, some sort of scarcity scare, or a cashback offer. The more savings are involved in the deal, the more likely they are to pull out their card and swipe (or in this case enter their details to make a purchase).
The point is, cashback can be a valuable driver of sales in your affiliate marketing campaigns. Hence, we've dedicated this guide to understanding cashback applications and learning how to build one of your own, using Strackr as a support system for the management of your affiliate cashback. Let's dive in!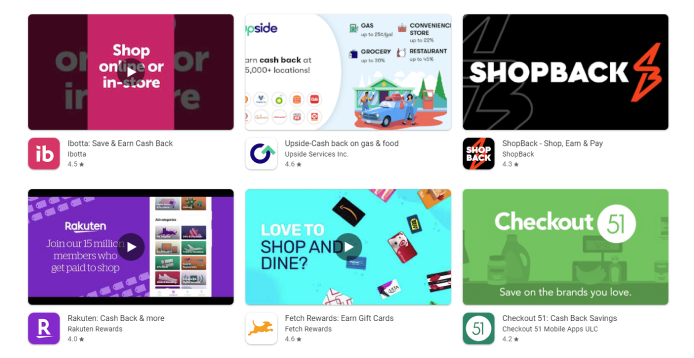 Most simply put, cashback is a system that allows buyers to get money back on their purchase and make some savings that way. Although cashback is typically a low percentage of the purchase, the amount of collected cash can add up easily, especially if you're an avid shopper.
Why Create a Cashback App/Website?
Businesses that offer cashback on each purchase tend to make the customer's experience more rewarding, which results in several benefits. For one, cashback can help you build a more loyal customer base, as your customers will be more likely to return and buy from you again as opposed to your competitors.
Time and time again we've seen customers return to businesses that offer savings on each purchase, even though the same or similar products are available elsewhere. You might even relate to this on a personal level — are you more likely to buy an item from a website where you will save some money instead of buying it elsewhere with no benefits?
On top of increasing customer retention, having a cashback offer will also result in an increase in average order values. AOV or average order values are an important metric every commerce business is familiar with. Naturally, everyone's aiming for higher order value and looking for ways to make more money per each customer.
Cashback offers are a great way to incentivize customers to spend more, because they will be saving more – pure consumer psychology. On top of that, studies have shown that cashback sites give businesses 3.4 times increase in conversion rates, as people are more motivated to pull the trigger on the purchase to get a good deal. The same source reveals that having a cashback offer increases the AOV by 46%, thus significantly driving the average order size up.
Consider This Before Creating a Cashback Website
When it comes to building a cashback website or application, user experience should be your number one priority. These days, people are looking for the quickest, shortest way to achieve their objective – even if it's something as simple as shopping with cashback. Hence, what you want to aim for is simplicity and an easy user experience.
If the buyer has to jump many hoops to get their cashback rewards, most likely they won't bother to return to your website. They are looking for a fast and simple process of collecting cashback and withdrawing the rewards into their account. Thus, you should be focused on making this process as transparent and straightforward as possible.
Step-by-step Guide to Create a Cashback Website
The easiest way to understand how the cashback affiliate marketing business model works is though the step-by-step guide of creating a cashback website. Let's start with the basics.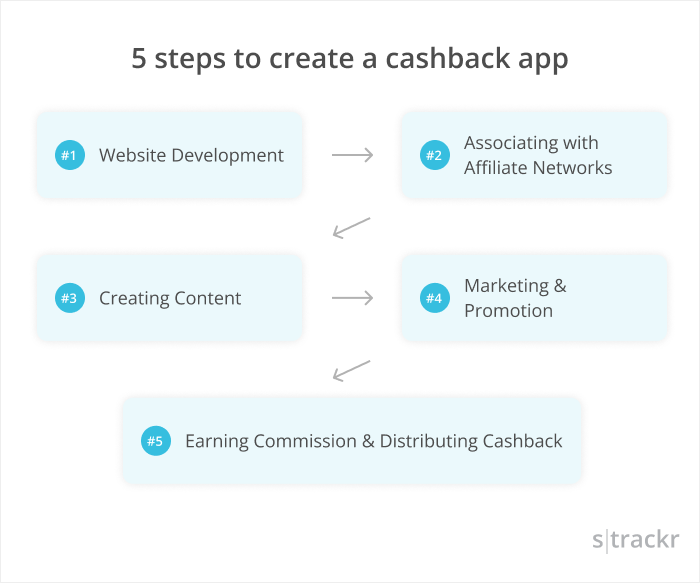 Step #1 Website Development
First thing's first – you're going to need a website or an application to host your cashback business. Unless you're a web developer, it will take us way more than one blog guide to explain how to build a website and all the technicalities involved in this process.
The good news is that you don't need to learn web development from scratch to start a cashback business. You can easily outsource the development process and have someone take care of the technical side of things for you.
However, before you dive into this task, make sure to research the cashback industry and build a thorough understanding of users, needs, and standard practices in this field. This insight will be helpful in creating a website that will ensure success for your business.
Step #2 Associating with Affiliate Programs
Once you've got the website ready, you will have to find and select affiliate programs suitable for your business. Given that there are hundreds of affiliate networks available out there, it's best to focus down on one particular niche in order to narrow down your options.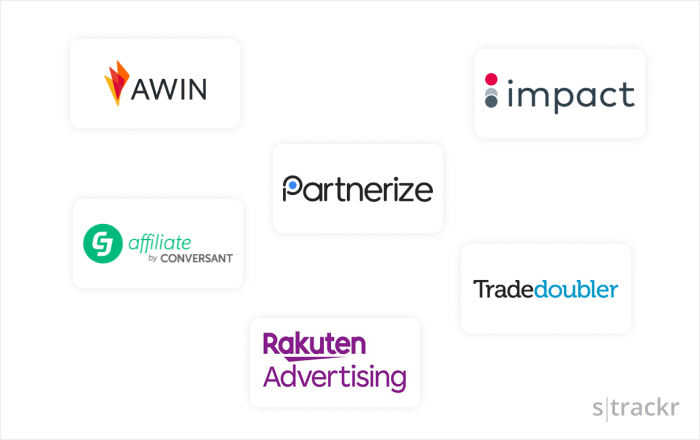 Besides, having a niche will make marketing and customer acquisition easier, as you will know exactly who your target audience is and how to target them. As they say, if you're speaking to everyone, you're reaching no one.
During your search for affiliate programs make sure to take into consideration the user experience associated with each program. Look for reviews and do deeper research beyond the network's main media outlets.
Step #3 Creating Content
One of the most important elements of your cashback affiliate website is going to be the content. The digital world we live in is heavily oversaturated, meaning there are likely thousands of websites similar to yours that are fighting for people's attention every day. However, this isn't meant to discourage you.
In fact, it's not that difficult to break through, if you're putting effort into the creative side of things in your business. The content on your website needs to be eye-catching and aesthetically pleasing. In other words, your design elements should be properly aligned, including color palettes, visuals, and other features.
Don't neglect the importance of content on your website. Make sure it is SEO-friendly and also optimized for better user-experience – the site needs to be easy to navigate and users should be able to intuitively figure out their way through different categories, deals, and offers you've got going on.
Step #4 Marketing & Promotion
When it comes to running a successful affiliate business (with or without cashback) it all comes down to your marketing efforts. No matter how polished your website is, it's not going to work until you have a significant amount of traffic visiting your landing page every day. To make this happen, you need to master marketing and promotion.
The most common way to advertise cashback affiliate websites and applications is through PPC or pay per click campaigns. Although these campaigns work pretty well, they can get quite costly if you don't know how to keep track of the right KPIs and make data-driven decisions.
Hence, make sure your approach to marketing is analytical and detail-oriented. Besides PPC campaigns, your second-best bet at promoting your new affiliate cashback business is social media. Create social media outlets to promote your offers and spread the word about the benefits your cashback deals provide to the consumer. Direct to consumer advertising works best in this space.
Step #5 Earning Commission & Distributing Cashback
Once you've got everything ready to go and there's traffic hitting your website, you will start earning your first commissions. The way this works is simple – the buyer will click on your cashback offer and get redirected to the merchant you're associated with. Once they make the purchase, the merchant will pay you your portion of the earnings.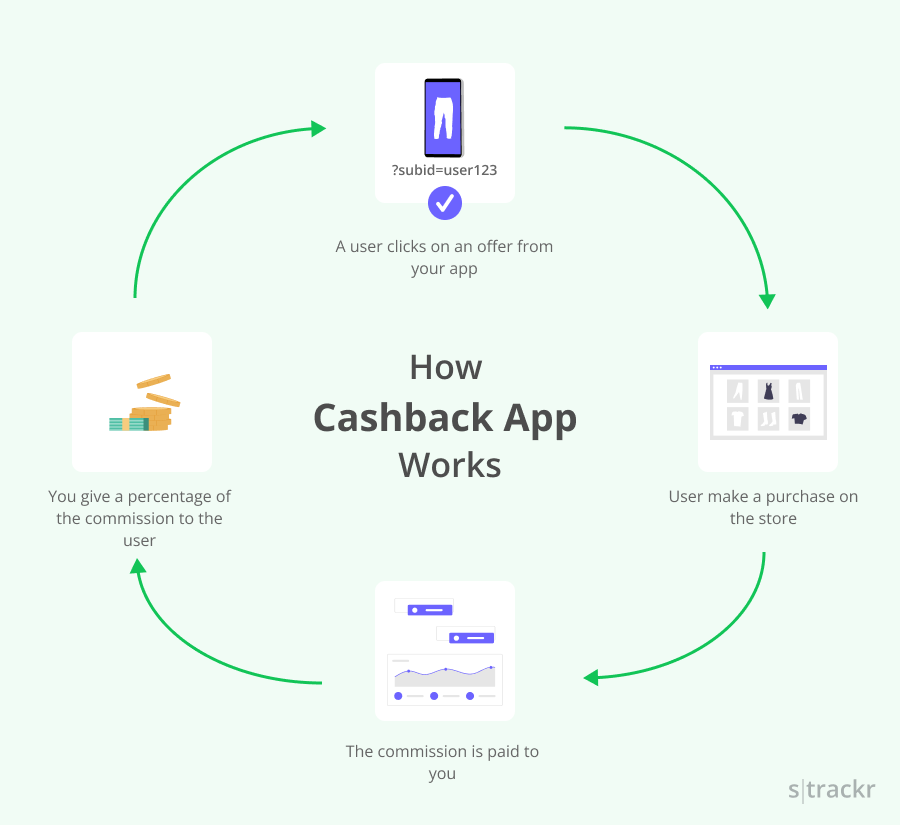 Now, it is your responsibility to pass on a portion of the commission to the buyer – which is known as the cashback. Doing so in a quick and transparent manner will make your customers more likely to stick around and shop with you again. After all, the success of your cashback affiliate marketing business will rely heavily on repeat customers.
How Can Strackr Help Your Cashback Affiliate Marketing Business
Although it may seem overwhelming to a complete beginner, building a cashback website or app is actually the easier part of running the business. The real challenge comes when you start receiving commissions from multiple networks, and you're suddenly responsible for making sure that every consumer on your website gets their piece of the cashback pie.
In order to make your cashback affiliate machine operate without causing you stressful headaches every day, you need to have a good management system in place. That's where Strackr comes in as one of the most advanced tools out there for affiliate marketers.
Strackr helps you manage affiliate networks in your cashback website or app in one single dashboard. Most simply put, Strackr provides a unified data structure and allows you to track all your data in one place, which will save you a lot of time and nerves as you're running the business.
In understanding how Strackr can help you build and run a successful cashback business; you need to know what the platform cannot do for you — it will not create affiliate network accounts for you. Instead, Strackr offers a unique API connection that makes commission management and cashback transactions easier and less stressful.
Although it may sound like a drawback, this is actually an advantage for your business because you get to choose which affiliation networks you want to be associated with and you get to directly influence the partnerships and negotiate commission rates. Strackr will not take that away from you by offering to form those partnerships for you.
Instead, this tool allows you to manage your data more efficiently and never miss a cashback payout – which will ensure your customers remain happy and willing to do repeat business with you. On top of that, Strackr does not host personal data of your users, which makes it DPGR compliant as well.
The way things work with Strackr is simple. You can easily monitor partnerships after applying for programs you're interested in. Once the partnership is accepted, you will be given a type of commission – a rate (percentage of the sale), a fixed commission, or CPC or cost per click commission. You can easily track and monitor your commissions within the Strackr's dashboard.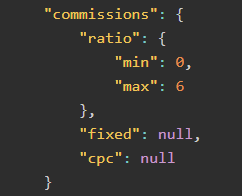 Having this data allows you to make more data-driven decisions as opposed to basing your marketing efforts on guesswork. However, most affiliate networks won't offer in-depth tracking. That's where the benefit of a tool like Strackr comes to play – you actually get the ability to track which user generated the transaction and from which page/element on your site. Strackr's Link Builder makes it easy to generate custom links to track your sales and gain insight into how different offers and types of content on your website perform.
Perhaps the most important part of your business is going to be transaction management, which refers to the management of each sale that happens through your affiliate links. Within Strackr, you will be able to track the transaction lifecycle as each transaction will go through different stages: pending, confirmed, or declined.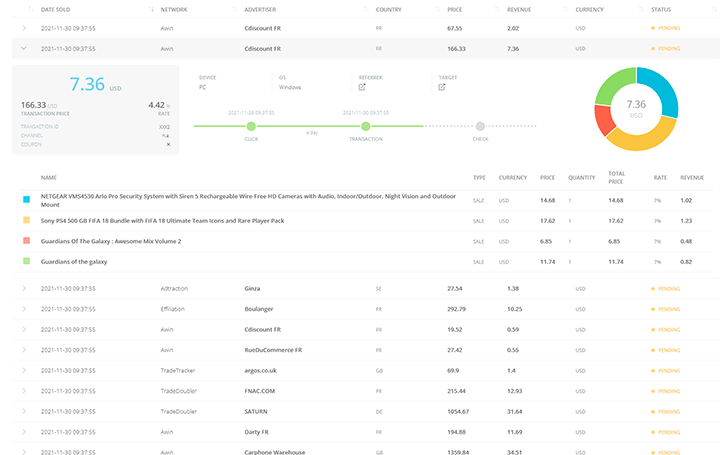 Within the Strackr cashback API , you will find important information such as the amounts, dates, and currencies of each transaction. This tool allows you to manage different currencies and thus make your cashback application available in different countries to increase your revenue streams.
Wrap up
Overall, running a cashback affiliate business may sound like a lot of work but, given that you have access to tools like Strackr, things can be simplified to the point where beginners can easily start a business of this type. However, keep in mind that the challenge is in maintaining the business operations rather than setting it all up.
If you're planning on building your own cashback website, we suggest you take an organized and proactive approach in seeking commission management solutions in advance, as this process will be the bread and butter of your business.
Strackr provides an efficient cashback solution that will run quickly and save you many headaches down the road. For more information on how to use Strackr's API solution and the benefits it offers, head over to their website at Strackr.com and you will find a detailed guide on how to develop a cashback app.
Share
Affiliate dashboard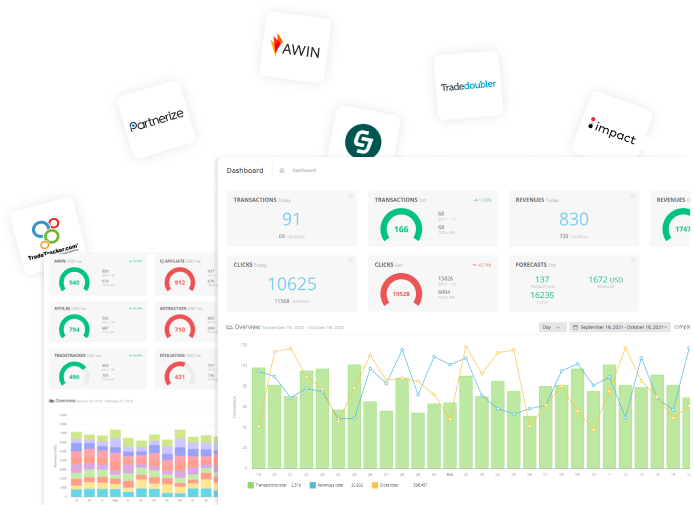 Connect all your affiliate networks with Strackr to access to unified statistics and tools.
Try for free