Do you think you need a website with millions of monthly visitors to make money doing affiliate marketing? If that's the case, you're completely wrong. In this article we will debunk the myth of having to work for years to build a popular website to make big bucks through affiliate offers.
Stop Wasting Time on Website Traffic
Let's face it, building a successful website is a slow game - it takes a lot of time, hard work, and patience to get a website off the ground these days. Today's market and search engines are way too saturized, and it has become extremely difficult to break through the barriers when building your own site.
If you're coming to the game with no SEO or content marketing experience, you're not going to have a great time. In fact, you will be competing with highly trained professionals no matter what industry you choose. Whether you want to build a website about spacecraft technology or something as simple as household plants, you are going to run into a lot of competition.
As someone who's just starting out in affiliate marketing, putting all your time and effort into building your own website is a huge mistake. Why? Because it will take years to build it up and actually see reasonable results. Besides, there's a much better way to go about this.
Here's How to Make Affiliate Money Without a Website
Think about it, why would you spend months trying to get people to your website in order to show them your affiliate offer when you can simply go where the crowd is already at? Instead of trying to bring the flock to you, it's way easier to find where your ideal customers are hanging out and get in front of them.
Whether you choose to take the organic route or invest in paid advertising, utilizing existing social networks is a much smarter way to get your affiliate products in front of the right people. While you're spending months trying to learn SEO and implement all the right strategies, some other beginner out there is already making thousands of dollars through affiliate commissions by using existing channels that have proven to work over the years.
With that in mind, here are four ways to do affiliate marketing without having your own website (or ever starting one):
#1 Online Communities
There are so many online communities out there where people who share a certain interest like to spend their time. Let's say you have an affiliate offer for a gaming mouse (taking a complete guess here), wouldn't it make much more sense to join gaming online communities and talk about your products there instead of trying to get all those gamers to visit your website?
The key is to figure out who your ideal customer is (depending on the product you're selling) and where do they hang out online. Once you nail down these two important questions, making sales will become easy. The right message placed in front of the right person will convert into a sale 9 times out of 10. That's what we've seen in the business/sales world over and over again.
So, invest your time into researching what your ideal customer wants, needs, and does in their spare time. Find out where their attention is invested - what groups do they engage in, what type of content do they respond to? Once you've got this data, your possibilities will be endless. Simply position yourself as a trustworthy figure in those groups and the right people will buy from you.
#2 Social Media
Another way to do affiliate marketing without having a website is to use social media to promote your offers. Again, social media networks like Instagram and TikTok are much better cashcows for affiliate marketing because people are already there. In this game, what you need to figure out is how to get their attention and direct it toward your affiliate offers.
Nowadays, a single viral reel or TikTok clip can put you on the map and make you millions of dollars in revenue. But, we have to be realistic - hitting the viral jackpot is difficult and unpredictable - it's definitely not something you can plan for.
Hence, instead of hopping to unlock that viral gold mine, you need a more sustainable, long-term social media strategy. Focus on one or two social media networks and put your time and attention into attracting the right person.
What many people do wrong when positioning affiliate offers through social media is that they post content that they think will work. In reality, you have to post the content that already works in your niche. The positive side of working with overly saturized markets and networks is that you don't have to reinvent the wheel.
Chances are that there's somebody out there who's using social media to sell the same or at least similar products to yours. Find those people and see what works for them. Use your competitors as an inspiration to build a content strategy around your affiliate offers and focus on the long-term rather than hoping to hit the viral sweetspot (you never know if or when it can happen).
#3 YouTube
Online selling is a very competitive space, regardless of what your affiliate offer is about. Having seen thousands of ads on a daily basis for over half a decade, customers are becoming more and more resilient to offers being thrown at them every day. That's why you need to build trust with your audience first.
Having an audience that trusts you and values your opinion is going to make affiliate marketing way easier for you. However, building trust is the tough part but luckily YouTube makes it possible. A platform such as YouTube allows you to connect with your audience through long-form video content, which is where the trust-building happens.
In comparison to 15 second reels or TikToks, longer form videos on YouTube actually allow your audience to make a connection with you. And, as you could've guessed, the stronger the connection the more affiliate sales you'll be able to make.
Hence, using YouTube for affiliate marketing is a really smart idea that will not only get your offer in front of people's eyes but also help you build the rapport needed to turn affiliate marketing into a long-term type of income source.
#4 Paid Advertising
So far we've discussed using online communities, social media, and YouTube for affiliate marketing, as opposed to building your own website. These are all great outlets you can use to gain traffic and sales organically, although you should keep in mind that each takes a lot of time and effort.
However, if you truly want to scale your affiliate marketing business and make the big bucks, your next best step would be to invest in paid advertising on social media. Over the last decade people have gone crazy for Facebook ads and some have invested multi-millions of dollars into single campaigns and seen enormous returns.
There's no doubt that paid advertising gets the job done, when executed correctly. A couple of ways you can make more money doing affiliate marketing is by utilizing Facebook, Instagram, and YouTube ads to promote your offer and bring more traffic to your social pages. This is still way more efficient than building a website or even sending paid traffic to your site instead of a video or a landing page.
Start Doing Affiliate Marketing without a Website
By now you should be convinced that doing affiliate marketing without a website is not only possible but also a much smarter way to do it. Instead of spending time and money trying to get the buyers to come to you, you can simply go to wherever they are and place your offer.
Many people who already have an established online presence don't understand the full potential it offers. Besides, you don't need 100k+ followers on Instagram or subscribers on YouTube to make affiliate sales.
Even small audiences can convert well if you've got the right message and product. In fact, you can get started with no audience whatsoever if you've got the budget to go straight into paid advertising.
Either way, one of the biggest challenges in your affiliate marketing career (especially if you're a beginner) is going to be keeping up with all the different affiliate networks, links, and commissions that you'll be swimming in.
Check out Strackr.com to learn how this tool can make your life as an affiliate marketer easier and less stressful. Strackr is an affiliate dashboard that lets you manage over 150 different affiliate networks in one place.
On top of that, you can automate link creation and increase your revenue by understanding the data behind your affiliate marketing. The tool includes easy publishing tools, reports, segmentation features and much more. With Strackr, you'll be able to take your affiliate marketing business to the next level without ever having to build your own website.
Share
Affiliate dashboard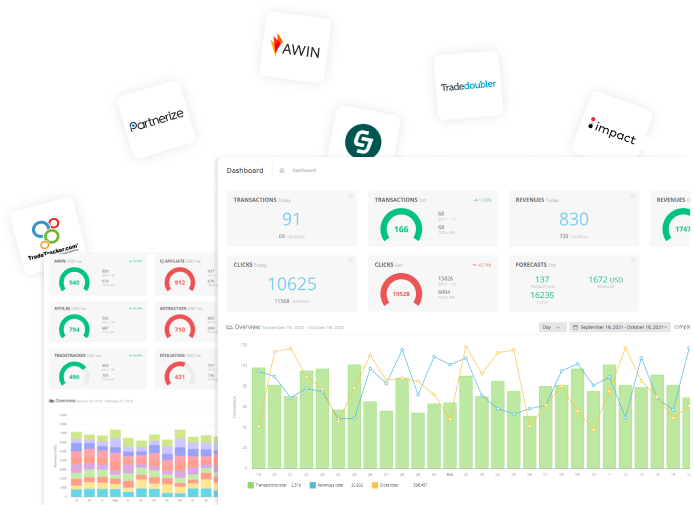 Connect all your affiliate networks with Strackr to access to unified statistics and tools.
Try for free