If you're looking for a profitable and fun niche to explore in affiliate marketing, you might want to consider Pet Affiliate Programs. Why? Because the pet industry is booming, pet products are diverse and in-demand, and the pet owners are loyal and passionate. In fact, The pet industry is projected to reach $358.62 billion by 2027, with a 6% compounded annual growth rate (CAGR) from 2022. That's a lot of potential customers and commissions for affiliate publishers!
But how do you get started with Pet Affiliate Programs? What are the best programs to join and promote? And what are the best practices to succeed in this niche? Don't worry, we've got you covered. In this Strackr guide, we'll explore everything you need to know about pet affiliate marketing, from the basics to the advanced tips and tricks.
Whether you're a pet lover or just a savvy marketer, this guide will help you make the most of this lucrative opportunity.
Let's dive in!
What is a Pet Affiliate Program?
Pet Affiliate Programs involve agreements between companies offering pet-related products or services and online platform owners, such as bloggers or social media influencers. The primary aim of these programs is for the online platform to promote the company's products to its audience, and in exchange, the platform earns commissions for the promotion. Within the pet niche, these programs can be especially lucrative due to the enduring popularity and devoted following of pet owners.
Typically, a pet brand participating in such programs provides a range of offerings, including:
Pet Supplies: Food, treats, apparel, grooming products, cages, toys, and more.
Pet Grooming Services: Well-equipped salons with trained professionals.
Veterinary Services: Quality care from licensed veterinarians.
Pet Boarding Services: Facilities available during specific hours.
Events: Engaging events for the pet community.
Eco-friendly Products: Sustainable pet products including toys, beds, and food.

Examples of Pet Affiliate Programs
The Swiftest Pet Insurance Affiliate Program

The Swiftest Pet Insurance offers a high-commission affiliate program for partners to promote their pet insurance comparisons. They provide dedicated support, granular reporting, and have a track record of success. Partners can expect competitive commissions, approval within 24 hours, and the opportunity to monetize their business while helping customers find the right pet insurance.
Chewy Affiliate Program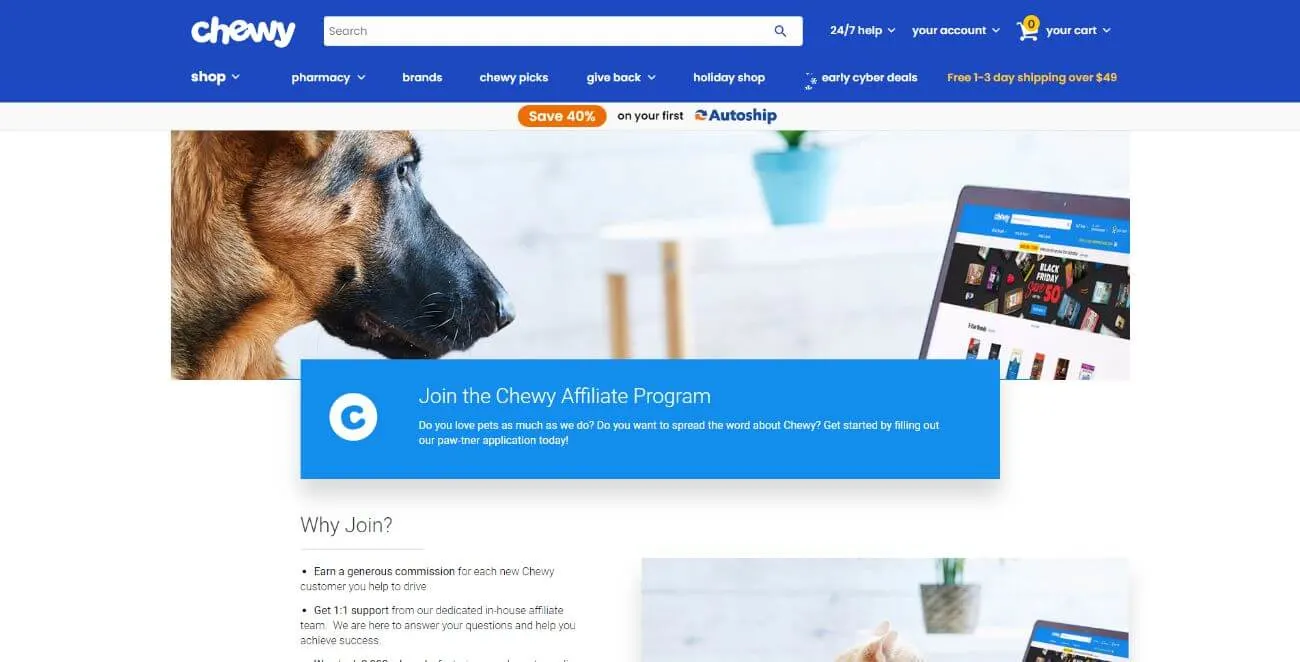 The Chewy Affiliate Program offers a 4% commission on customer orders, provides dedicated support from an in-house team, and features a wide range of popular pet supplies. It is free to join and offers real-time tracking, reporting, and commission payment through Partnerize.
Petco Affiliate Program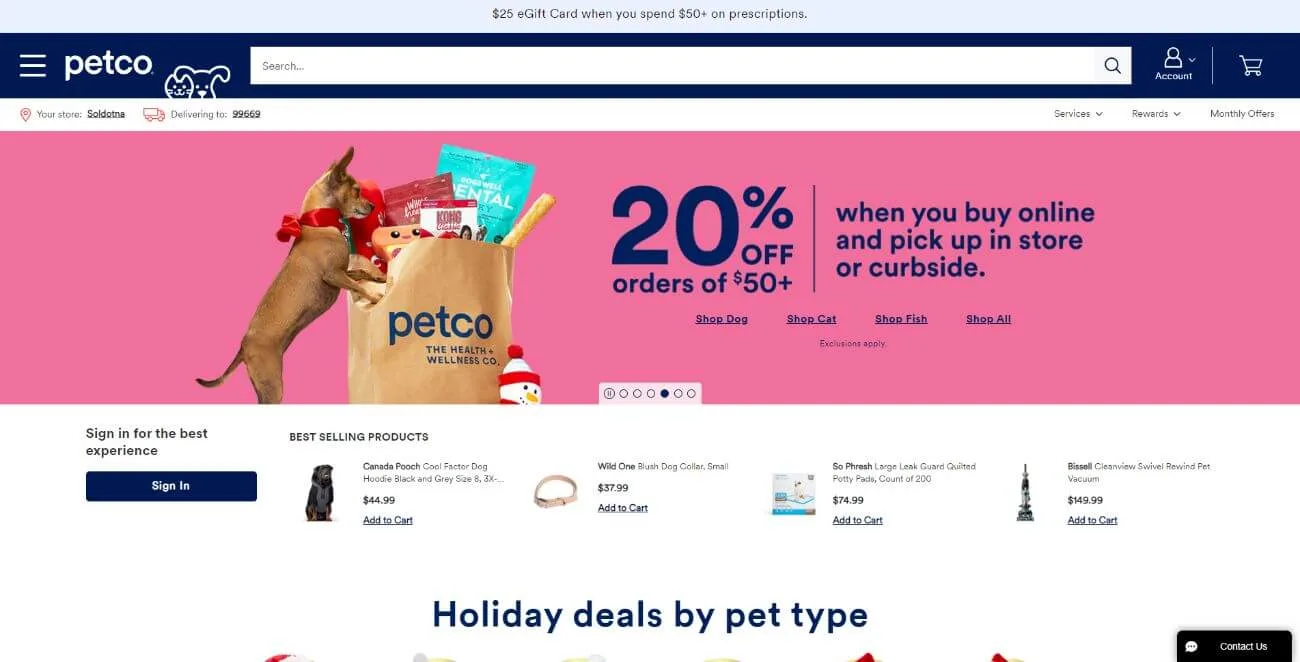 Petco has an affiliate program for individuals to promote products and earn commissions on sales. Joining is free and simple. Affiliates get tracking links and newsletters to stay updated on promotions and boost sales. Petco offers a range of pet food, supplies, and services, and they also have pet insurance plans through PetCoach, LLC.
Benefits of Pet Affiliate Programs
Commission Earnings
Pet affiliate programs offer a lucrative opportunity for content creators to monetize their content. Pet owners in the US spent $103.6 billion on their furry, feathered, and scaly friends in 2020 alone. This means there's a lot of potential for earning commissions in this niche.
Low Risk
Joining a pet affiliate program is a low-risk venture. As an affiliate, you are not burdened with the tasks of managing inventory, handling shipping, or providing customer service. Your main role is to promote the products and receive a commission whenever someone makes a purchase using your affiliate link.
Easy to Execute
Pet affiliate programs are easy to execute. Once you've registered for the program, you'll receive an affiliate link that you can use in your content. When your audience members use this link to make a purchase, you earn a commission.
Share Your Passion
If you're passionate about pets, joining a pet affiliate program allows you to share that passion with others while earning money. Pet owners are always searching for new products that will make life better for their animal family members. By promoting pet-related products and services, you're helping other pet lovers while also monetizing your content.
Criteria to Consider When Choosing Pet Affiliate Programs
Commission Rate
The commission rate is a crucial factor to consider when choosing a pet affiliate program. This rate determines how much you'll earn for each sale made through your affiliate link. For instance, the Petco affiliate program offers up to 4% commission on all purchases.
The Kind Of Product
Consider what kinds of products your audience would be interested in. For example, if you have a dog-related website, promoting dog food or treats would make sense. But if your site is focused on general pet care, consider promoting products like pet insurance or pet-sitting services.
Market Reputation
Before signing up for any affiliate program, it's essential to research and make sure that the program is reputable and a good fit for your site. You can do this by reading reviews and checking the program's track record.
Method Of Payment
The method of payment is another important factor to consider. Some programs offer direct deposit, while others use payment platforms like PayPal. Make sure the payment method suits your preferences and needs.
Cookie Life
The length of time that a cookie remains active and tracks conversions is crucial. It determines how long your affiliate link will stay active on a user's device after they click on it. If a purchase is made within this timeframe, you will receive a commission. Considering the potential earnings, the duration of the cookie life is a significant aspect to consider when choosing an affiliate program.
Best Pet Affiliate Programs
Paw.com Affiliate Program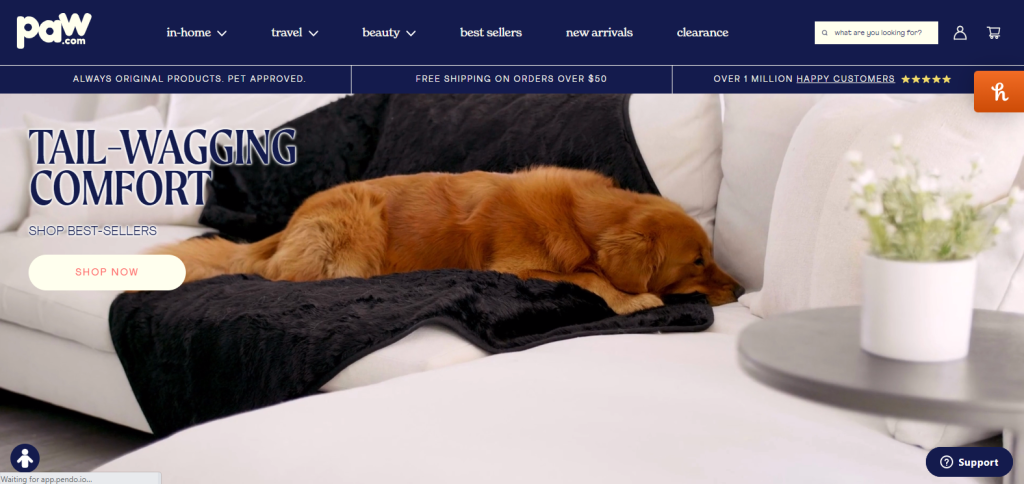 Paw.com has a top-notch affiliate program for pet lovers. Affiliates can endorse high-end pet bedding and accessories, earning competitive commissions while offering their followers deluxe and cozy products for their pets.
The program offers a 20% commission on affiliate sales, accepts USA affiliates, and has a 30-day cookie duration. Promotional materials include influencer, HTML banners, image banners, and text link banners. Payouts are monthly with no minimum requirement. The program uses Refersion affiliate software to manage its USA portfolio.
Commission Rate: 20%
Cookie Duration: 30 days
Ollie Affiliate Program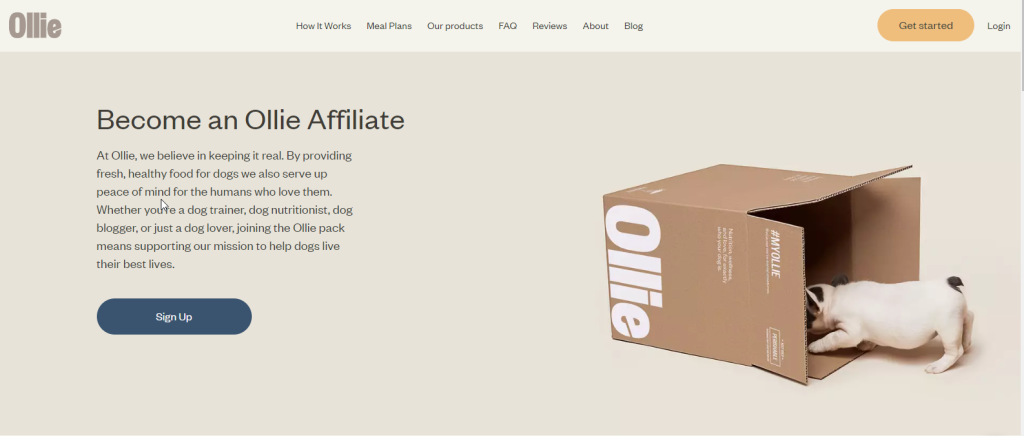 If you have a website or a blog that reaches pet owners, you can join the Ollie Affiliate Program and earn money by promoting their fresh, healthy, and personalized dog food. As an Ollie affiliate, you will have access to exclusive content, product updates, and special events.
Commission Rate: $60-flat rate
Cookie Duration: 30 Days
FurHaven Pet Products Affiliate Program

This program allows you to promote high-quality pet products on your website, blog, social media, or email list and earn a generous 10% commission for every sale you make. You just need to sign up for the program and get your unique referral link that you can use to direct your audience to FurHaven's website. The program also offers a long cookie duration of 30 days, which means you have more chances to earn commissions from repeat customers
FurHaven's affiliate program has a high conversion rate of 1 in 11 visitors. Selling higher-priced pet beds can increase your commission.
Commission Rate: 10%
Cookie Duration: 30 days
Pets Warehouse Affiliate Program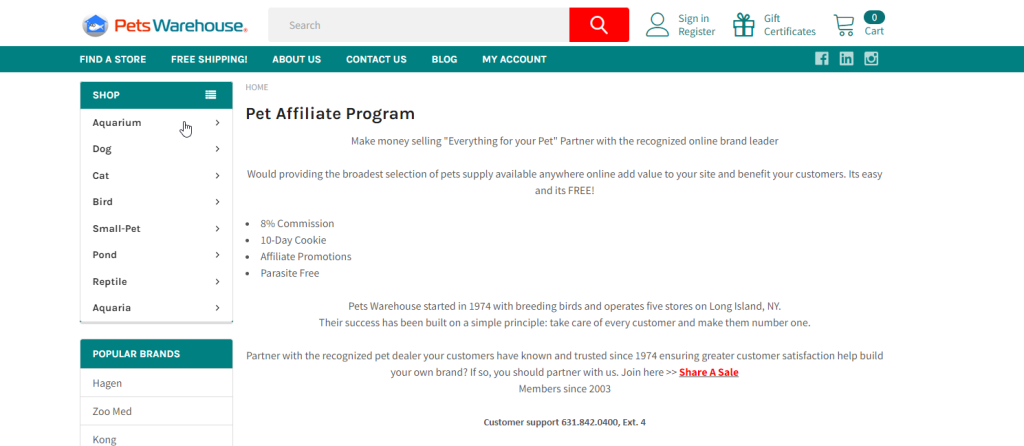 The Pets Warehouse Affiliate Program is a partnership opportunity that allows you to earn money by selling pet supplies from a reputable online brand. You can get an 8% commission, or more if you are a super affiliate, and benefit from a 10-day tracking cookie.
You can also offer your customers a wide range of pet products from Pets Warehouse, which has been in the business since 1974. The program is managed through ShareASale, where you can access banners, links, tools, and support to help you succeed as a pet affiliate.
Commission Rate: 8%
Cookie Duration: 10 days
Bulletproof Pet Products

Bulletproof Pet Products Affiliate Program offers a generous 10% commission on every sale that is made through your affiliate code or link. You can also access detailed reports on your referrals, conversions, and earnings, which will help you optimize your marketing strategies.
Moreover, Bulletproof Pet Products has a variety of premium, long-lasting products that appeal to dog owners, making it easier for you to promote them and earn commissions.
Commission Rate: Up to 10%
Cookie Duration: Not listed
Furbo Dog Camera Affiliate Program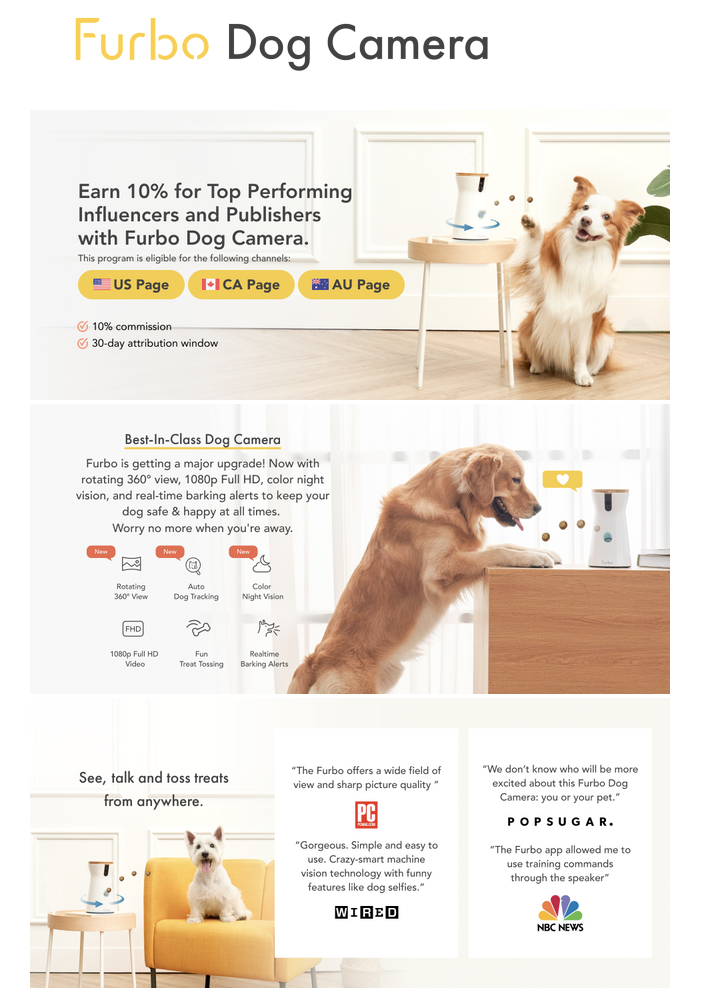 Furbo Dog Camera's affiliate program offers a CPS (Cost Per Sale) commission structure, with a commission rate of 5-10 %. Affiliates can promote Furbo's interactive pet camera and earn income from sales generated.
The program accepts worldwide traffic and provides promotional materials such as HTML banners, image banners, and text link banners. Payouts are made on a monthly basis with no minimum payout requirement.
Commission Rate: 5-10 %
Cookie Duration: 30 days
Hepper Cat Affiliate Program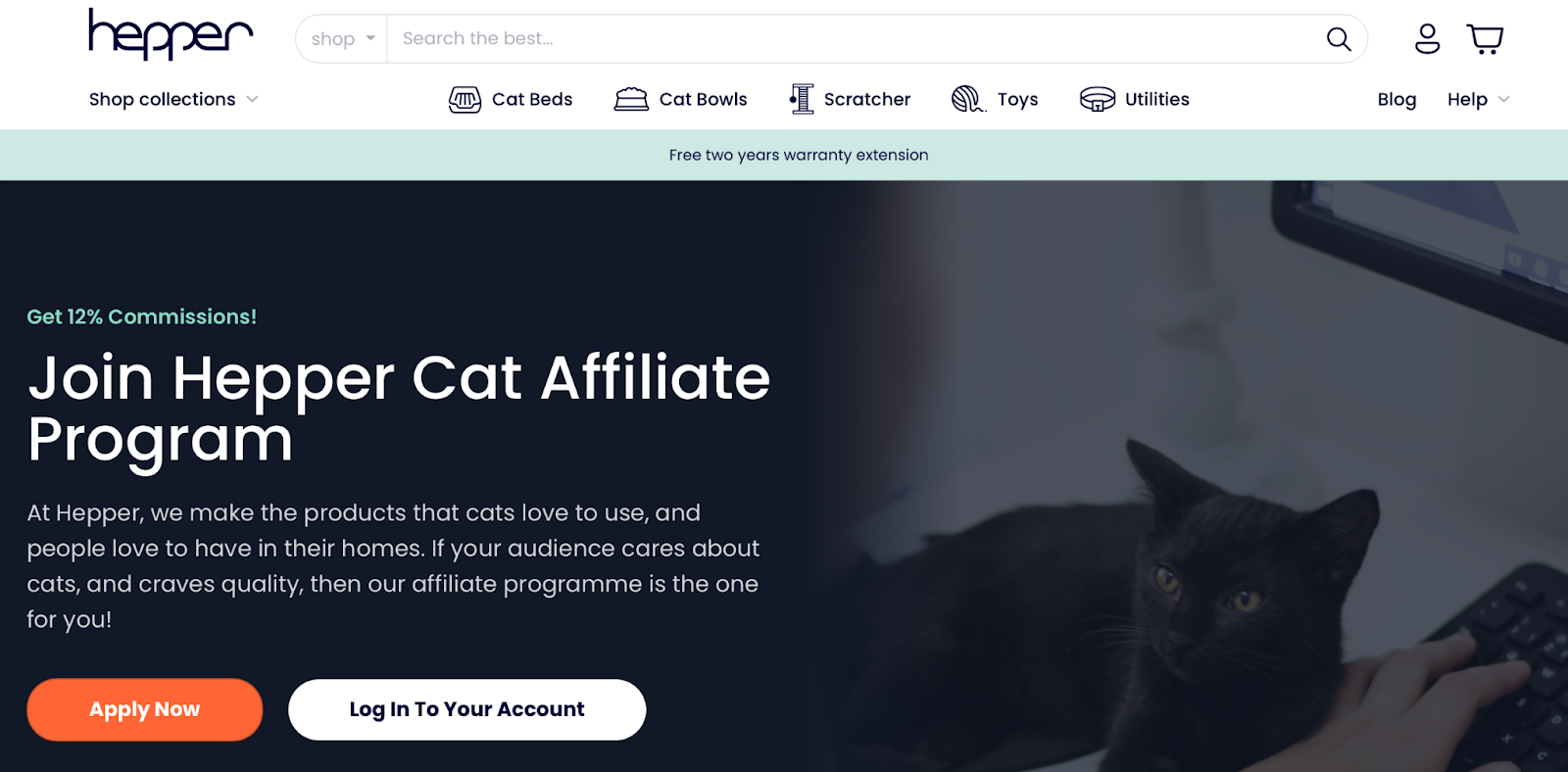 The Hepper Cat Affiliate Program is a partnership opportunity where you can earn a starting commission of 12% on every sale that you refer. The average order size at Hepper is over $60, which means you can make a good income from every sale.
Plus, you will get 1:1 support and advice from their experienced in-house team of affiliate marketers, who will help you succeed and grow your business.
Commission Rate: 12%
Cookie Duration: 30 days
If you're looking for an easy way to manage your earnings from multiple pet affiliate programs, Strackr is the perfect tool for you.
Our comprehensive tool is tailored to publishers and offers a range of features to make affiliate management simple. With Strackr, you can track your performance across different networks from one dashboard. You can also generate reports and analytics to optimize your campaigns and make the most of your pet affiliate programs.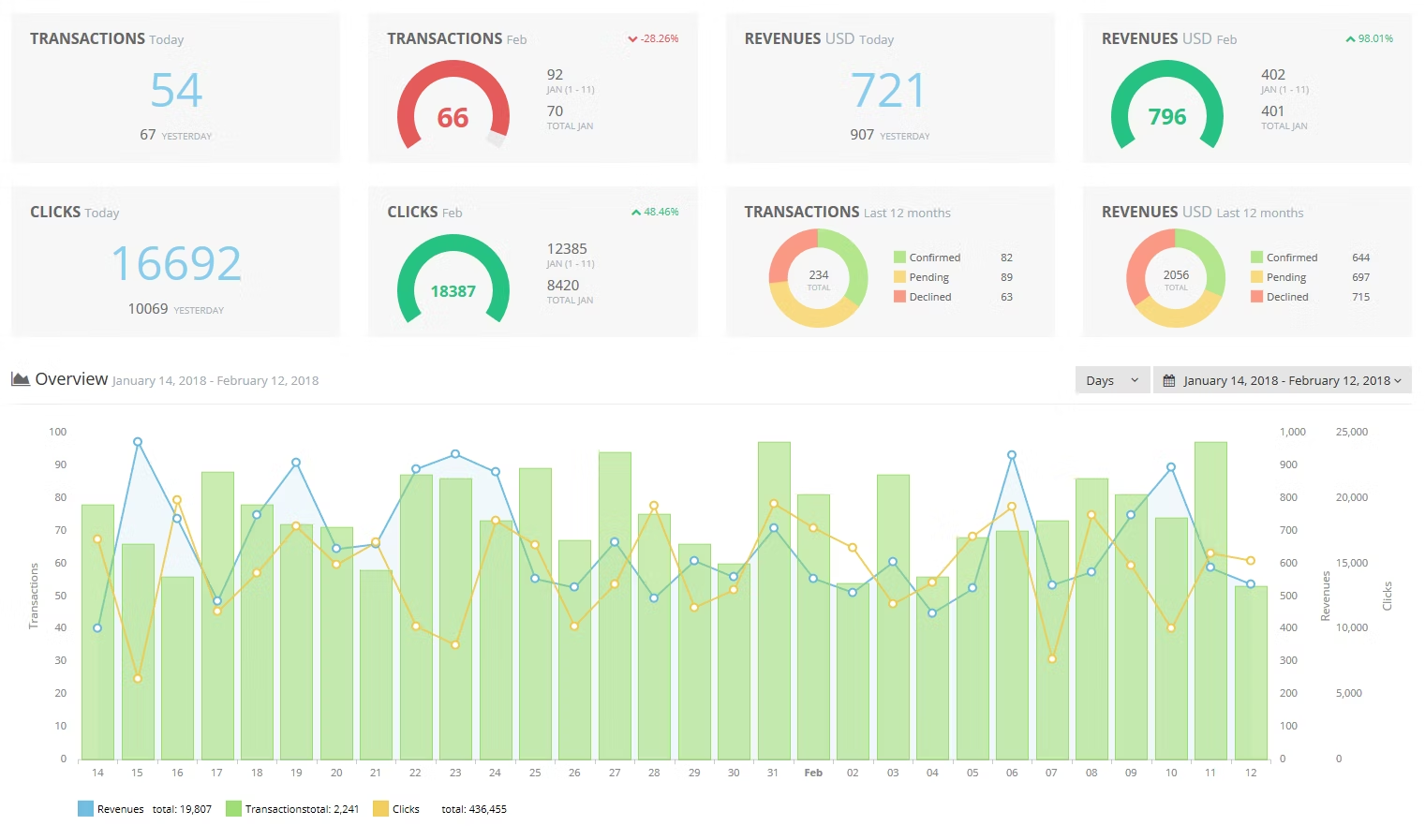 Conclusion
The world of pet affiliate programs offers a plethora of unique opportunities for both pet enthusiasts and savvy marketers. By carefully considering the criteria mentioned in this guide, such as commission rates, product relevance, brand reputation, payment methods, and cookie life, you can make informed choices about which programs to join.
To effectively manage multiple affiliate networks, streamline operations and boost performance, try Strackr. It's an all-in-one affiliate tool for publishers, offering unified tools, a single dashboard, and API. With Strackr, you can easily manage and track different affiliate programs, maximizing your earnings.
Simply get started with a 30-day free trial to discover more and take your marketing to the next level.
Share
Affiliate dashboard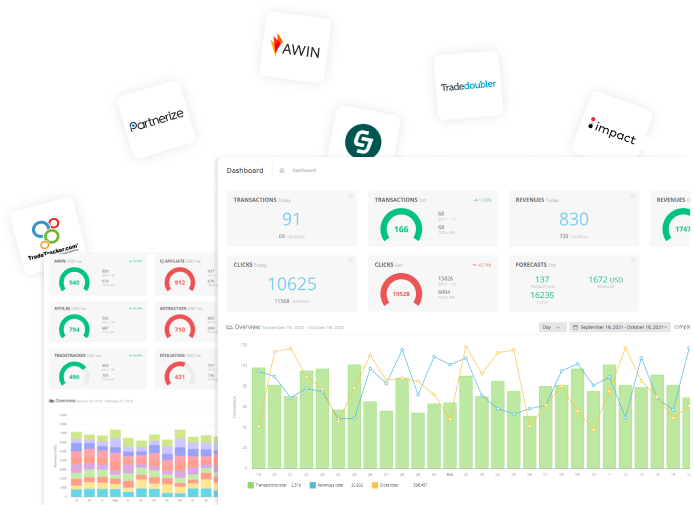 Connect all your affiliate networks with Strackr to access to unified statistics and tools.
Try for free