A winning affiliate marketing campaign needs effective affiliate program management. Whether you're promoting SaaS products or physical products, managing your programs successfully can lead to higher commission yields and brand reach.
Tools can be a huge help when it comes to affiliate program management. After all, having to juggle through multiple platforms can be extremely tedious. With affiliate program management software, you can streamline your efforts by managing all of your affiliate programs through one platform. Additionally, you can access analytics like click rates and conversion rates and discover which strategies are most effective.
But what does affiliate program management look like in practice? That's exactly what we here at Strackr will be going through today.
What is Affiliate Program Management?
Affiliate program management refers to the entire process of managing your affiliate campaigns. It includes developing strategies, implementing them, and measuring their performance so that you can continue to improve your methods.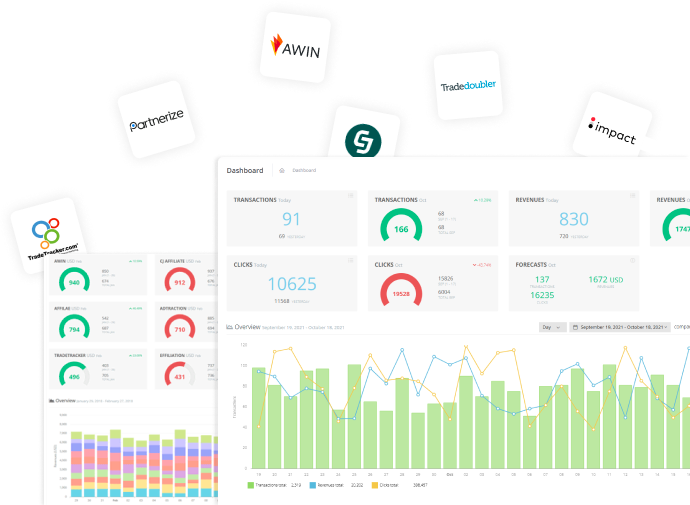 Publishers may work with a professional to manage their affiliate programs if, for example, they belong to a larger business as opposed to an individual. However, many will manage their programs themselves using an all-in-one affiliate management.
Why are Affiliate Program Management Tools Important?
Grow your following: Affiliate program management tools allow publishers to streamline their strategies to grow their following. Instead of having multiple networks scattered around the net, you can manage all your networks, and their corresponding metrics, in one place. This makes it easier to focus on growing your following.

Increase your revenue potential: Because tools help you to significantly simplify your affiliate campaign management, it's easier for publishers to participate in lots of different affiliate programs. They can branch out and promote many different products and services that appeal to different audiences. This increases their revenue potential.

Simple, time-saving, and flexible: Affiliate management tools are simple and flexible. For example, you get access to key data and reports that are simple to understand. You don't need to customize anything if you don't want to. You can also save loads of time searching for new affiliate networks to join using either the search box or the API.
Criteria to Consider When Choosing Your Affiliate Program Management Solution
Easy implementation and setup process: Unless you have a decent amount of technical knowledge, ensure your affiliate program management solution is easy to set up and implement. You should also consider how easy your chosen solution makes managing each network individually, as well as in bulk. Some solutions give you access to a demo or a free trial to test out how easy it is to use.

Available features: Be sure to check your chosen solution has features that'll help you manage, support, and improve your affiliate strategies. A good solution will give you access to plenty of data and metrics to measure your campaigns' success. You'll also want to affirm that data is processed in real-time, so you're always working with the most up-to-date information.

Price: Price is another important consideration when choosing your solution. Fees vary across the board. You need to weigh up the pros and cons of each solution and compare them with the price. Some solutions charge a set-up fee and monthly fee, while others might charge affiliate marketing commission fees for each sale you make. You're probably better off opting for a monthly charge to keep everything straightforward.
Best Affiliate Program Management Software
1: Rewardful

First up on our list is Rewardful. It's an affiliate program manager, which specializes in the SaaS industry, allowing businesses to set up their own affiliate and referral programs. Businesses can create separate login portals, that allows affiliates to access all the information and features they need in one place, allowing them to view affiliate stats, links, and commissions.
Additionally, Rewardful is partnered with Stripe, allowing for easy payment and collection of commissions. Plus, businesses can adjust commission percentages depending on performance on the fly, for all SaaS and subscription scenarios, making it a great choice for both businesses and affiliates alike.
Features
Easily integrates with many platforms in just 1-click
Multi-currency payments and the ability to set up custom rewards
Supports multiple commission structures, like fixed, percentage-based, and one-time commissions
Allows you to set up your own customizable dashboard, with company branding, custom text, and more
Easily recruit and invite affiliates through bulk invites through email, a hosted signup page, and auto-enrollment through Rewardful's API
Pricing

Rewardful's payment plans are very simple, with each plan being based on the number of features and the amount of revenue you get from affiliates per month. Prices start from $49-$99 for the Starter and Growth plans respectively, while prices begin at $299 per month for the Enterprise plan. The Enterprise plan can be customized to reflect your business needs, though this will incur an increase in price.
Pros and Cons
Pros:
Plenty of features right out of the gate
Easy integrations with supported platforms
Partners with Stripe for easier payments
Good price for what's on offer
Cons:
As a feature-rich platform, it can be difficult for beginners to learn
Setting up different reward structures can be tedious
2: Impact.com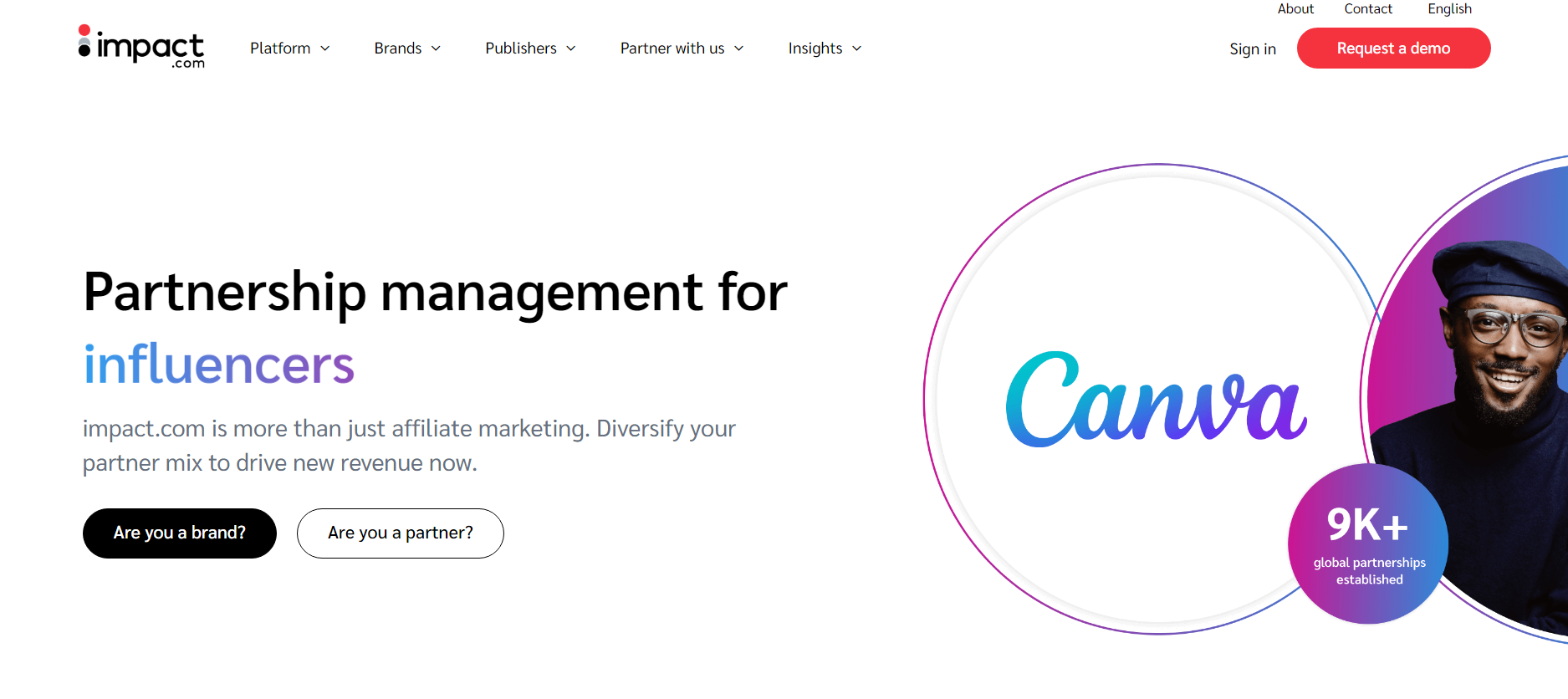 Impact is an affiliate partnership management solution that allows publishers, brands, and agencies unique insights into the entire consumer journey. This includes downloads, leads, and, of course, conversions. This in-depth look at each customer's journey allows users to understand the true impact of every marketing decision they make.
Impact is aimed at people with a more diverse partnership base, supporting a good range of partnerships like B2B, social influencers, and charities. The 'Discovery' tool can be placed on autopilot to find partnerships for you. This saves users lots of time sourcing partners relevant to their niche and industry.
Features
Cross-device tracking to track consumer behavior on any device they use.
Connect with some of the world's largest brands across a wide range of niches.
A variety of payout options, including PayPal and BACS.
A catalog featuring 9M+ products to promote.
Granular reporting with more than 40 performance reports.
Pricing
Even though you can sign up to Impact for free, it does not disclose its prices on the website. You can, however, bag a free trial of the software.
Pros and Cons
Pros:
Lots of detailed reports.
Discover partners quickly according to your specifications.
Good customer support.
Free trial and demo available.
Mobile app available.
Cons:
No pricing information on the website.
Getting started can be a bit complex.
3: Cake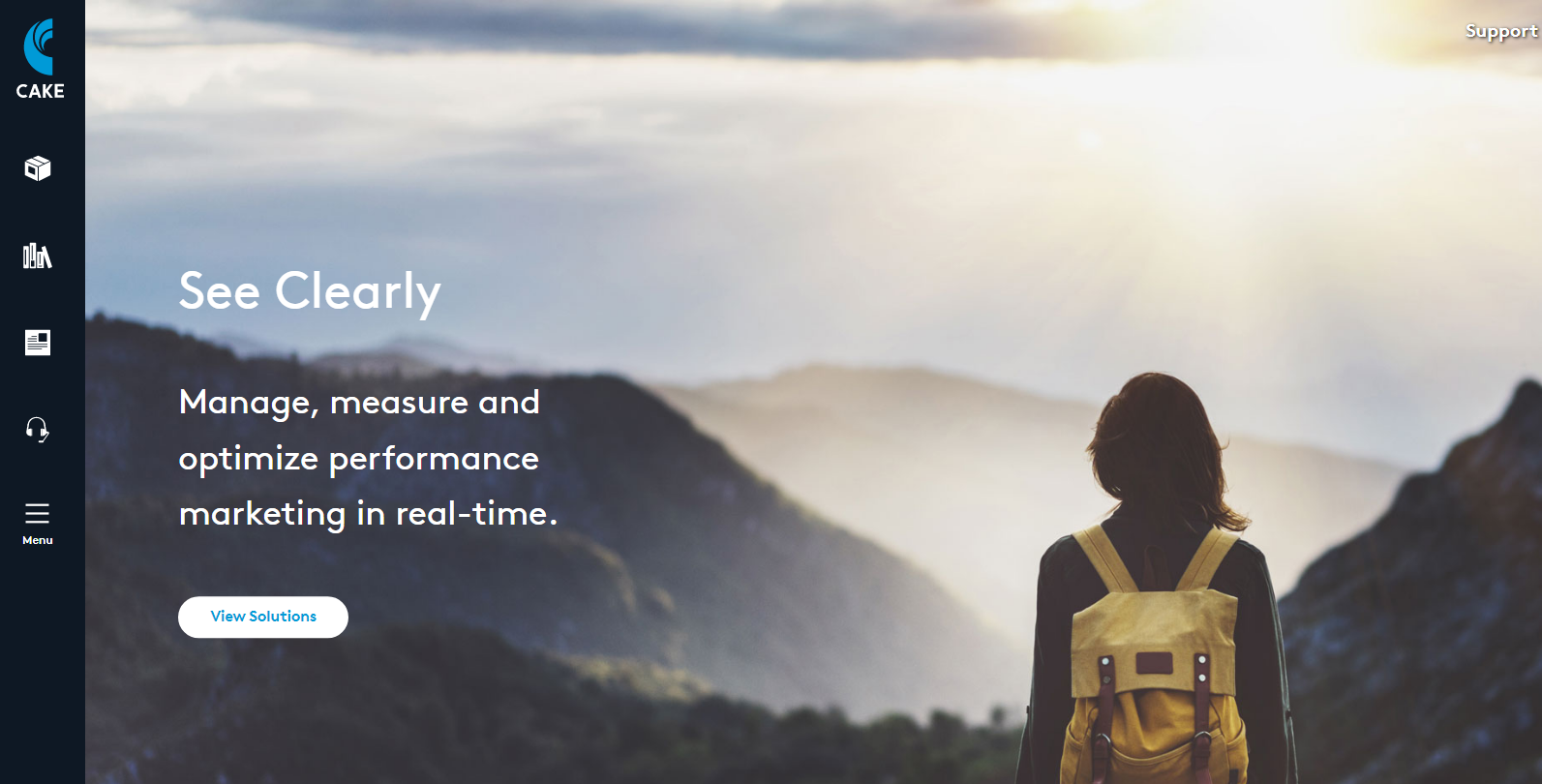 Discover and connect with more than 500 advertisers across the world with Cake. This affiliate program management solution aims to maximize the traffic through your affiliate links so you can increase your revenue. It does this by gathering detailed data like the location of your customers and the devices they use. Insights like these can help publishers identify consumer patterns and trends, which facilitates smarter decision-making.
Cake promises a 99.9% uptime, making it a reliable and powerful solution. Its infrastructure is cloud-based and hosted by Amazon Web Services. With Get Cake, publishers can enjoy intelligent scaling of their business, thanks to enterprise reliability.
Features
Enterprise-level infrastructure for optimum reliability.
Access reports on a granular level and discover detailed insights.
Customize your tracking with different variables.
Customize your dashboard for easy access to the data you want.
Alerts and pixel whitelisting help protect publishers from fraudulent 'customers'.
Pricing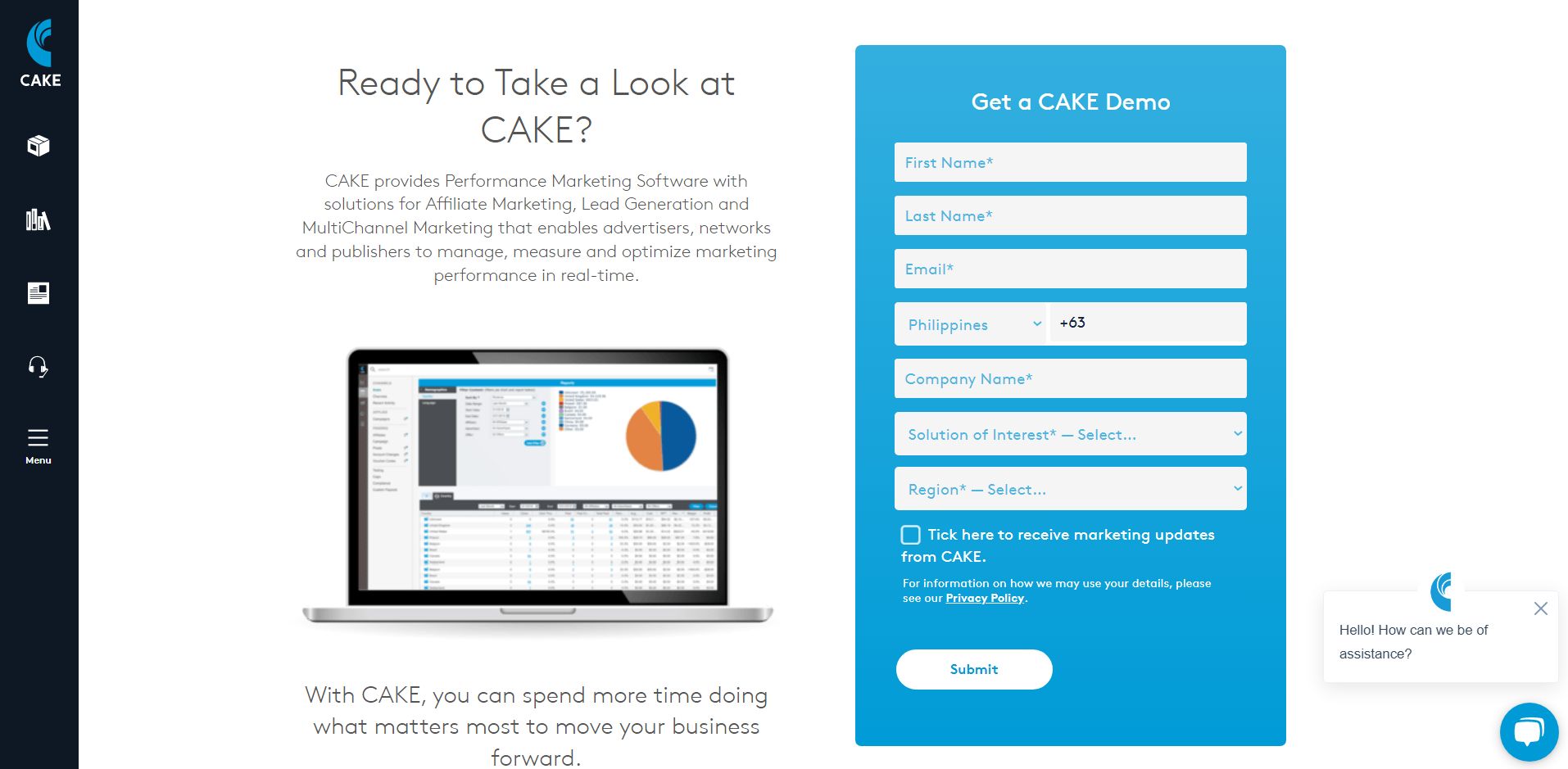 As with our previous recommendation, Cake doesn't reveal its cost on its website. Instead, publishers can sign up to request a Cake demo.
Pros and Cons
Pros:
Excellent round-the-clock customer support.
Granular reporting.
Demo available.
Scalable due to being cloud-based.
Clean interface.
Cons:
You have to sign up to get prices.
Finding the information you need is sometimes a challenge.
4: Tune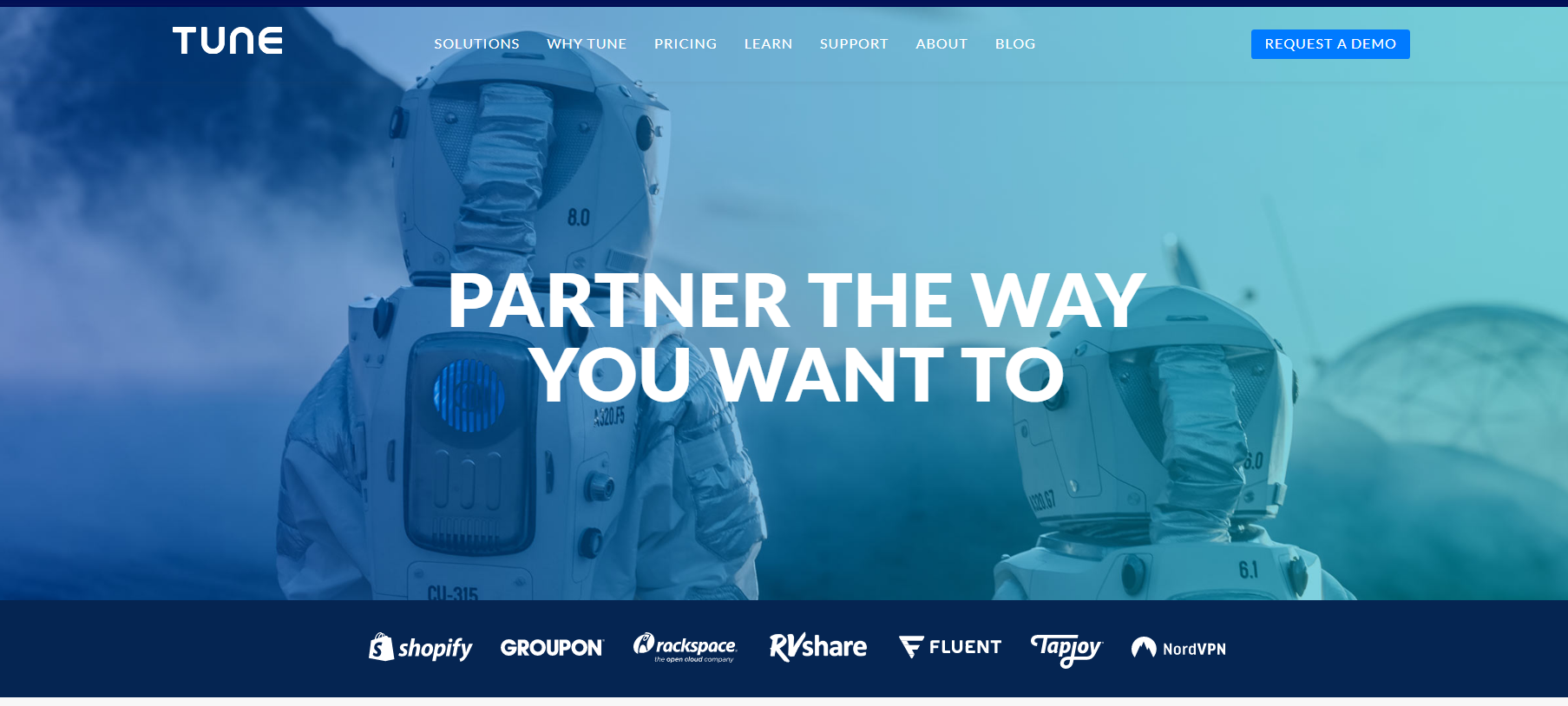 Introducing Tune, another cloud-based software. This SaaS affiliate program management solution allows for seamless consumer tracking across multiple devices. It hones in on the customer journey, enabling publishers to analyze each and every action with robust targeting.
Tune customers can enjoy real-time reporting from their intuitive dashboards. You can build and automate your workflows, whether they include payment processing, fraud prevention, or optimizing campaign performance. All these capabilities are accessible through your dashboard, where you can manage your networks, partnerships, and channels.
Features
Track link engagement in real-time.
Smart links enable affiliates to personalize the customer experience.
Customize aspects of your campaigns, like goals and payout tiers.
Granular reports for complete customer transparency.
99.9% uptime means Tune is ultra-reliable.
Pricing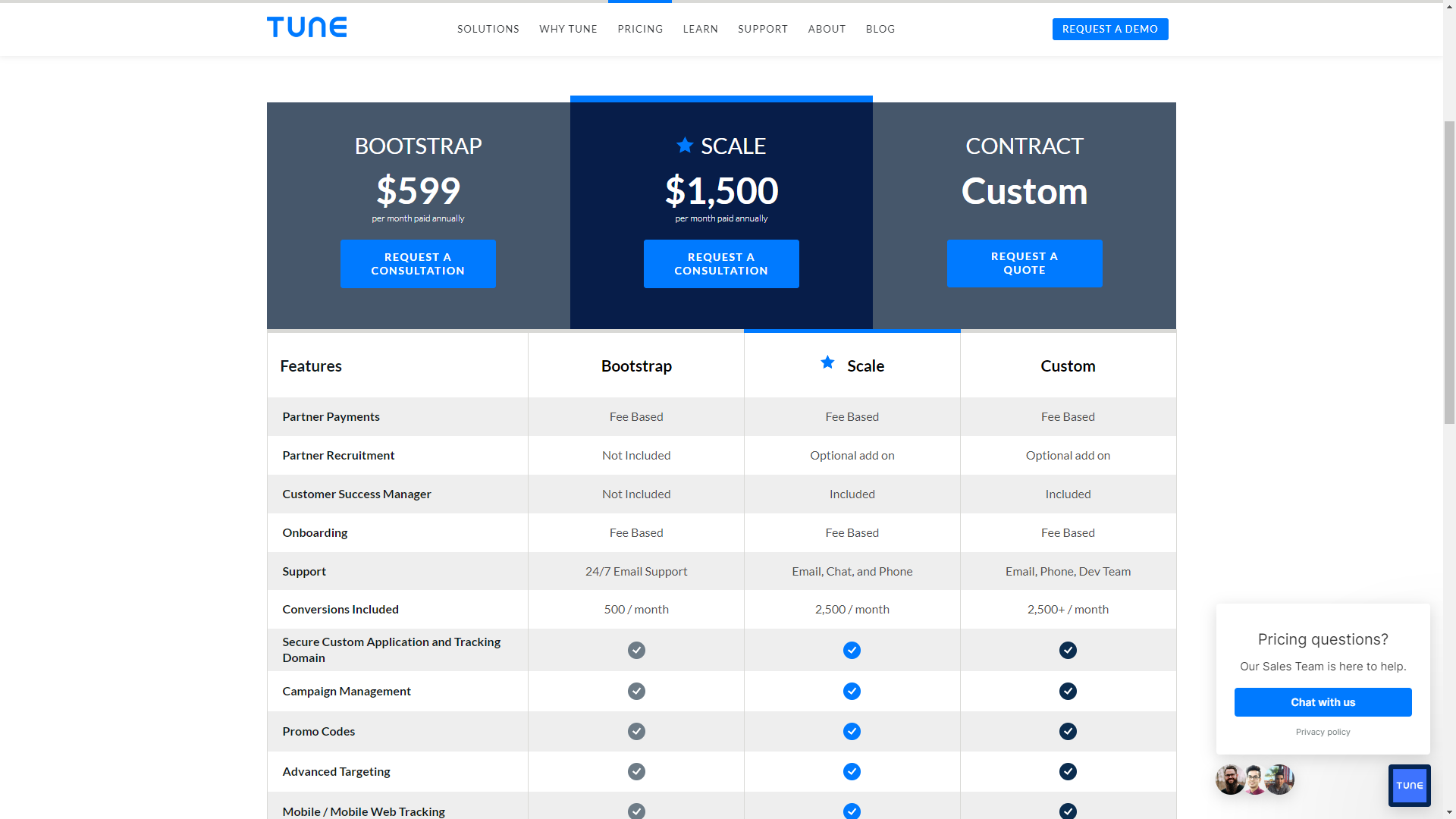 If you want to get your hands on Tune's affiliate program management software, it will cost you $599/month. This is a pretty hefty sum, especially considering it's paid annually. This cheapest plan allows 500 conversions per month and includes 24/7 email support. If you want to take your affiliate business even further, the Scale plan costs $1500/month, and again, this is billed annually. This plan allows up to 2,500 conversions per month.
Pros and Cons
Pros:
Customer success manager with middle-tier and higher plans.
Intuitive dashboard for quick decision-making.
An excellent customer support team.
Out-of-the-box software that's also customizable.
Demo available.
Cons:
Expensive software.
Takes some time to set up.
Final Thoughts
Logging into different partner platforms is tiresome and makes managing your affiliate campaigns unnecessarily complicated. With affiliate program management, you can manage your entire affiliate campaigns through one platform. Software like this can also help you leverage the right data to make sure your business thrives.
If you're wondering which affiliate program management solution is right for you, Strackr is a promising candidate. It's suitable for small and large affiliate businesses and features a range of performance-boosting tools, along with fair prices. Try Strackr for free and discover all its features and capabilities.
Share
Affiliate dashboard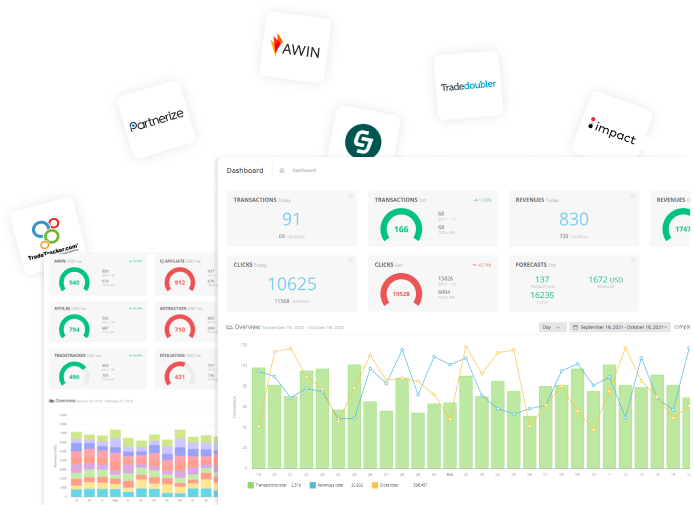 Connect all your affiliate networks with Strackr to access to unified statistics and tools.
Try for free