Marketing revenue attribution helps affiliate marketers track the effectiveness of their marketing efforts. It allows them to measure where their customers are coming from, how long they've been around, and how much revenue they generate. The data informs which channels and strategies are driving success and which ones need improvement.
If you want to be proficient with tracking revenue as an affiliate marketer, you'll need to know about revenue attribution. Strackr is here to get you up to speed on the concepts that'll put your business ahead.
In this article, we'll explore what revenue attribution is, why it's important, and how you can analyze and apply it to your own venture.
What is Revenue Attribution?
Revenue attribution involves clarifying which marketing activities are drawing how much revenue. The purpose is to assess the overall performance. You can then build upon successful campaigns and areas to obtain maximum return on investment.
For example, if you've shared a variety of different media like blog posts and social media videos, you'll want to know which format is making the biggest splash. This allows you to scale what works, and trim the fat on less profitable avenues.
It'll also offer greater visibility into the customer journey, enabling you to understand what drives customers to conversions. With this knowledge, you can personalize their experiences even further.
Why is Revenue Attribution Important?
It Gives a Clear-Cut Overview of Strategies
Affiliate marketers rely on strong strategies. They need to have a good understanding of how and where to drive traffic for their model to be successful. Revenue attribution is a big component of highlighting flaws and opportunities in an affiliate marketer's approach. Clients like numbers, and affiliate markets need to be able to communicate them clearly to instill confidence for the future.
It Helps Marketers Set Budgets
Ad revenue attribution can also help determine the budget needed to create and maintain campaigns. Understanding how each channel contributes will inform decisions on where to invest for ad spending, content creation, and other costs involved in executing a strategy.
With a more accurate picture of each channel's ROI, you can adjust spending accordingly. It'll also identify and eliminate sources of ineffective traffic or low-performing campaigns, so the budget can be better spent.
It Helps Lead Prioritization
Revenue attribution can be a powerful tool for affiliate marketers to prioritize leads. By attributing revenue to the source of each lead, you can get an idea of which sources are most profitable and worth targeting.
Revenue Attribution Models
A revenue attribution model matches costs to the revenue received. They analyze and convey what worked and what didn't. They can also help businesses understand where to allocate their marketing and sales spending with the objective of saving time and money.
Some of the key models include:
Multi-Touch Attribution - gives credit to multiple channels and correctly weighs the revenue contributed to the model as a whole.
Linear Attribution - assigns equal values to each touchpoint throughout the sales funnel.
Time-decay Attribution - algorithmic models which assign various values to touchpoints dependent on proximity to conversion.
Position-based -  focused around the first and last touch, assigning each 40% of the values. After, it divides 20% among the touchpoints at the midway mark.
Data-Driven - uses AI to track large quantities of consumer data. It assigns credit for conversions depending on how customers engage with the different ads.
How to Analyze Revenue Attribution on Strackr
Strackr has scoured the available tools to help you effectively analyze your revenue attribution. Having all your data in one hub keeps everything organized and sets the stage for deeper, more useful insights. Here are some of the best ways to analyze revenue attribution on Strackr.
SubID
The first way to go about analyzing revenue attribution is manually with SubID tracking.
Affiliate marketing is a varied and demanding role. Employing the use of a tool like SubID will take the weight off your shoulders when data analyzing.
SubID is a query parameter that attaches to the end of an affiliate link and enables you to collect useful data on your conversions. It involves adding extra information, such as a SubID, to a link or URL when someone clicks on it.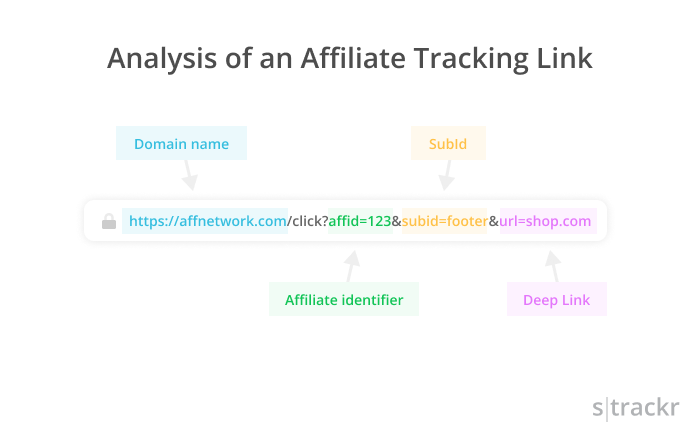 This can then be tracked back to the source that generated the click, giving insights into which campaigns are successful and which aren't. This kind of detailed analysis helps ensure that each marketing dollar is being used to its full potential.
The key benefits of tracking with SubID include:
Segment leads
Optimize campaigns
Improve conversions
Location on a page (top, article, bottom, etc...)
Calls to action
Type of page (reviews, overview, price listing, etc...)
Keywords / Ads
Sources (Organic, PPC, Email, etc.)
Sub-Affiliates
An overview for setting up SubID
Setting up SubID can be accomplished by following these simple steps:
Create the affiliate link and set the SubID parameter you wish to use
Embed the link on your website, and then share it across the social networks relevant to your campaign
Your advertiser will then receive your SubID parameter once the customer has followed your link through to the purchase page.
You can then analyze the report within your affiliate network. The data should reflect both normal conversion data and the additional insights provided by SubID.
Google Analytics integration
Google Analytics integration is another useful method for tracking affiliate data. By doing so, you'll be able to send key data straight to your GA account and evaluate performance from a comprehensive dashboard.
Some of the key advantages include:
Performance analysis of media channels, traffic sources, landing pages, and content
Quick and easy integration without the need for WordPress plug-ins that hinder link performance
No-coding required
100% confidential data transfer, kept between you and Google
Affiliate Marketing GA Integration
Integrating GA won't be as straightforward as setting up SubID. There are a few variations in the steps that could be required depending on your version or aims. Visit our in-depth guide on Google Analytics integration for the whole process.
Native Integration Data
You'll also be able to analyze the native data on the Strackr dashboard. One of the key metrics you'll want to pay attention to is the referrer.
The referrer is the URL that led a customer to convert. If you were to have an article entitled "6 Best Gaming Monitors in 2022" with the URL slug /best-gaming-monitors, and someone clicks a link to an affiliate program from that page, the referring URL is your domain name + /gaming-monitors.

Revenue Attribution Best Practices
With all the moving parts involved in revenue attribution, it's helpful to know some best practices to keep your activities on track.
1. Centralize data collection under one platform:
Getting perspective on your revenue can be confusing when a large number of data sets aren't centralized. Keeping your data under one hub allows for accurate and organized analysis. If you don't want to waste time manually pulling information from different channels, then you can thread everything onto one platform, like Strackr.
Strack allows you to keep data from all of your affiliate networks on one platform, so you won't have to log into different channels to manage different areas of your affiliate campaign. Try Strackr for free today!
2. Follow the money:
If a channel is generating strong revenue, your strategy is working. Focusing efforts on a campaign that's already bringing in money is usually a safe bet. Sometimes it's not clear exactly which component or asset is the winner, but thorough testing can help inform your next move.
3. Compare your revenue with your marketing and sales spend:
The ability to compare the money coming in against the money going out is fundamental to any successful business. Many marketers determine their effectiveness through tracking volume of leads. But with the innumerable complexities of today's landscape, it's more sensical to focus on your bottom line to determine success.
4. Assess and benchmark the process of converting a prospect into a customer:
The more familiar you are with the buyer's journey, the better you'll be able to compare and optimize your strategies. Take the time to explore and consider the finer details of all your customer touchpoints to tweak certain elements and strengthen conversions. When you've found a working formula, you can use that basis to compare further tests.
5. Compare and test different attribution models:
No model is the right one, but one might prove a better fit over another. Whilst multi-touch models are often the best way forward. It's worth comparing the viability of alternative models such as single-touch and full-path. Applying incorrect models can result in skewed data. Or, it won't be clear which are your high-performers and which channels you need to cut.
Take control of your revenue attribution with Strackr
You can take advantage of revenue attribution in a number of ways, dependent on your goals and the systems you have in place. Every affiliate marketer would benefit from the clarity that such a process provides toward their revenue.
Use revenue attribution to your advantage today with Strackr: the ultimate all-in-one affiliate tool for publishers. It's the best revenue attribution tool, designed to take the guesswork out of managing multiple networks and make it easier than ever to track and optimize your performance. With Strackr, you get a single dashboard, one unified API, and a range of powerful tools that make multi-network management simple.
Share
Affiliate dashboard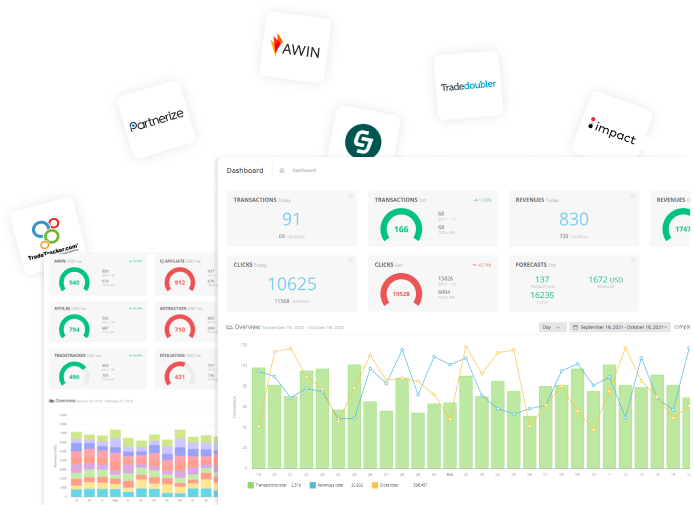 Connect all your affiliate networks with Strackr to access to unified statistics and tools.
Try for free