As an online publisher, you need to get your content and affiliate links in front of as many people as possible, and yet, many affiliate marketers still do not use YouTube as a resource to do this.
Last month YouTube was the second highest-ranking site in the world by traffic, with 80.5 billion visits, coming second only to Google. So ignoring YouTube as a platform for your affiliate marketing is, quite simply, insane!
By putting your content on YouTube and incorporating the right tools, like Strackr's all-in-one affiliate management tool, you can achieve significant increases in revenue and push your business to the next level. Ready to find out more about YouTube Affiliate Marketing? Let's go!
What is YouTube Affiliate Marketing?

Affiliate marketing on YouTube works in exactly the same way as it does on any other platform, and is an excellent way to earn passive income. It still involves the positioning of affiliate links just as you would normally place them on your website or blog post.
With YouTube, you simply upload your video and then have the option to either embed your affiliate links within the video itself (with annotations) or place them beneath the video in the description before you publish.
The monetization process remains precisely the same – viewers click on the link, and you get paid. What also remains the same is the need to track and scrutinize your affiliate program data to figure out what is working and what isn't…
Strackr allows you to track affiliate links efficiently and provides you tools to analyze your key affiliate data in one place including metrics, reports, and all your affiliate programs.
Metrics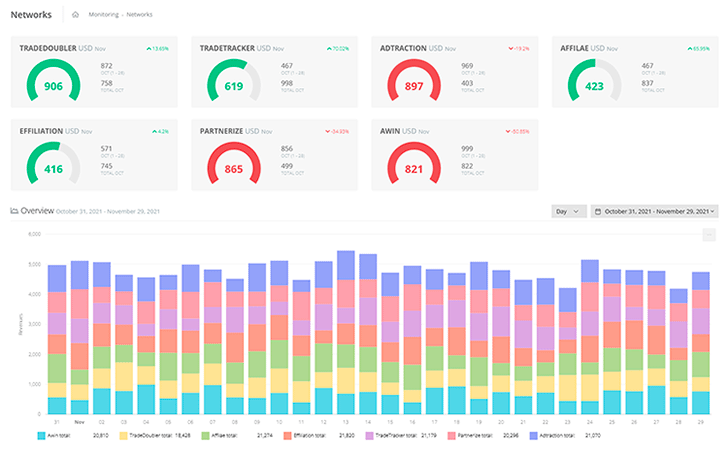 Reports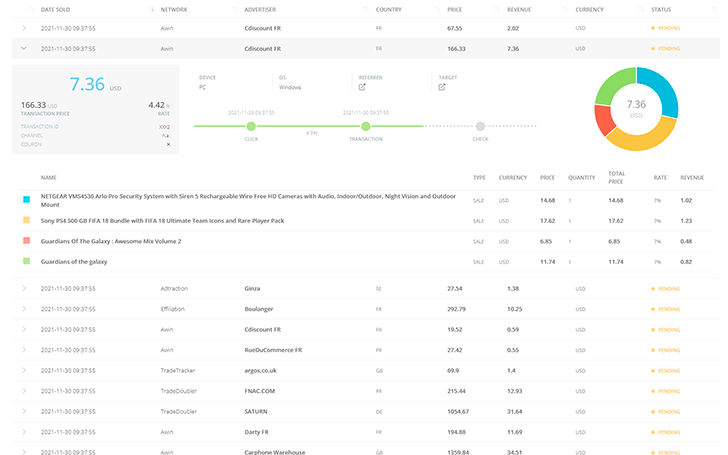 Affiliate Programs
Different Types of Videos Used in YouTube Affiliate Marketing
Product Review Videos
Product review videos are a fantastic genre of YouTube content for affiliate marketing because viewers watching have a higher-than-average buying intent, which makes them more likely to follow your call to action/click on your affiliate links.
There are three main types of product review videos
Brief Reviews - good for viewers with quick attention spans (which is a lot of them!) and YouTube shorts
Detailed Reviews - More in-depth reviews which often translate into higher conversion rates
Comparison Reviews - Stacking up the strengths and benefits of comparable products can help push the viewer towards the products you are promoting
How To Videos
How-to videos are great because they automatically build trust with viewers and improve their perception of your brand. By providing them with useful, actionable information, they are more likely to purchase products you recommend and return to your other videos in the future.
Below you will find a good video for you if you are considering starting a YouTube channel for your affiliate marketing business.
It's a complete beginner's guide to making a YouTube video - but make sure to take a look at how they use their affiliate links in the description to promote the equipment they are using in the video tutorial.
It's a soft-sell approach to which audiences are highly receptive.
Unboxing Videos
Unboxing videos have been a phenomenon on YouTube for many years and their popularity shows little sign of waning. No doubt this stems from their ability to tap into the nostalgia of viewers' childhoods - and this presents a huge opportunity for affiliate marketers.
"Unboxing" has essentially become synonymous with "product review" these days, so if you think you'd like to tap into the unboxing market, make sure you choose the right kind of niches, such as toys or smartphones.
There are numerous guides available to get you started on your own unboxing video.
"Best-of" Videos
"Best-of" videos are another kind of comparison product review content. Typically they involve reviewing the top 5 or top 10 products as opposed to a simple one-on-one comparison.
The major benefit is that you get to promote a number of different products within the same video, with the potential to earn more money from multiple affiliate links, which could be a great way to maximize your revenue as an affiliate marketer.
Just make sure you don't go overboard and put too many affiliate links to too many products in each video. Ideally, you want to promote a maximum of 2-3 affiliate links in a top 5 video and three in a top 10.
Also, ensure you clearly explain the unique features of each and why you would recommend your chosen affiliate products. It's best to take an honest approach here, as coming off as too salesy will more than likely dissuade some viewers.
Why YouTube Affiliate Marketing is Important
It's the Second Most Visited Website in the World
As we touched upon in the introduction to this article, next to Google, YouTube is the second most popular site and search engine in the world.
The monthly audience of over 80 billion visits (21% of which are US-based) is a huge potential customer base for affiliate marketing companies and content creators.
It's a Low-Cost Investment
You don't have to spend a whole bunch of money to launch a YouTube channel and start promoting your affiliate programs. In theory, you could do it with your smartphone without any upfront expenditure at all.
That being said, it is of paramount importance that you understand that nothing turns off a YouTube viewer faster than bad production value. If your videos are poorly lit, badly edited, or have terrible sound design, people are going to leave, and they won't return.
Take the time to learn the fundamentals of lighting, recording, and editing first, before you start dipping your toes into YouTube content creation.
YouTube Adverts Adds an Additional Revenue Stream
Whilst many YouTubers generate income through things like sponsorship - their primary revenue stream comes from YouTube ads.
By simply activating ads on your channel, you automatically begin to earn more income every time someone watches your video with no additional outlay of time or effort.
Beyond adverts, you can also choose to Livestream on YouTube. This opens up the path to receiving additional income from things like super chats and super stickers, and channel memberships.
That's potentially four more revenue streams from your YouTube channel on top of what you will earn from your affiliate marketing. And it goes a long way to assisting what we'll discuss next…
It Develops and Strengthens Relationships with a wider Audience
The whole point of introducing YouTube as a new platform for your affiliate marketing is to tap into a wealth of potential viewers.
Beyond that, YouTube affiliate marketing can potentially strengthen your relationships with existing users on your current platforms. If you decide to go in front of the camera yourself, it puts a face to your brand and humanizes it.
You only have to take a look at some of the more successful TV & Movie reaction channels to see how impactful this can be in building a new audience and turning them into extremely loyal customers.
How to Start YouTube Affiliate Marketing
1. Choose your YouTube Affiliate Programs
First, you should identify affiliate programs that align with your content and audience. There are loads of YouTube affiliate programs available for a huge array of content topics. For online publishers managing multiple affiliate programs you may find life is a lot easier doing that with Strackr's affiliate management tool which you can quickly asses with a live demo.
2. Know Where to Put your Affiliate Links
The most important part of affiliate marketing is to place your affiliate link in an easy-to-find, clickable spot.
The description is the primary location for affiliate links but don't expect that viewers automatically look at the description because many won't. Make sure to place it above the cut-off line of the description so that it's easily visible, and ALWAYS remind viewers to click on the link(s) in the video itself.
Experiment with placing affiliate links at different parts of your video with annotations and work out what works best for your channel.
"Like, share, and subscribe" should become part of every video script your write, as should prompting them to click on your affiliate links and visit your other platforms, website(s), and anywhere you are on Social Media.
3. Identify the Best Keywords
Keyword research is essentially about identifying the best terms to help people find your videos on YouTube. You will find various tools on the internet that can help you with this (some free, some paid). Two of the best are TubeBuddy and VidIQ.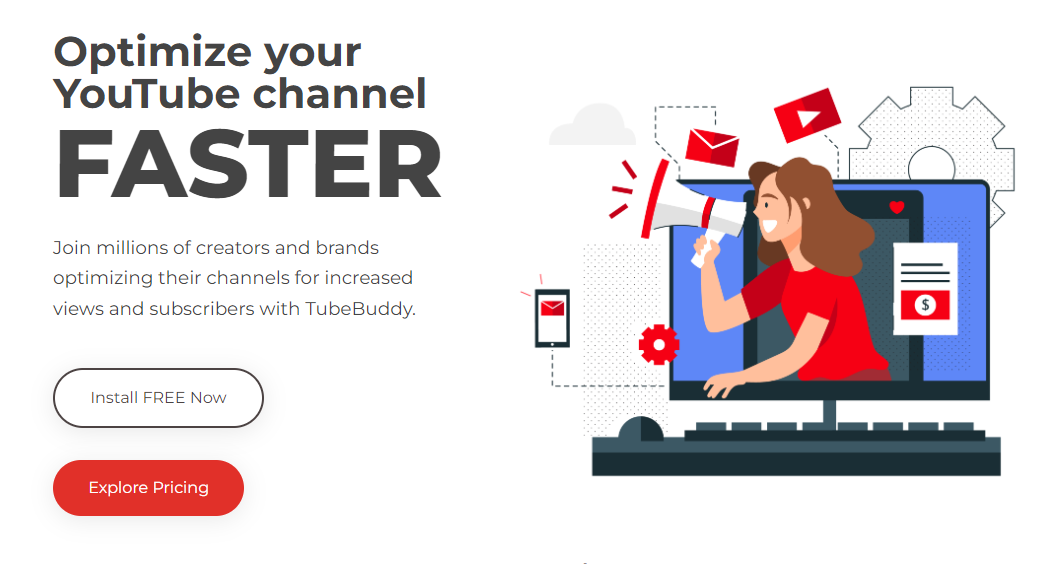 You want to find keywords for your video topics that are reasonably popular without being ultra-competitive. Obviously, they have to be keywords relevant to your video topic and target audience, as well.
Include your targeted keyword in a video's title and file name, and also include it in your video description but don't overdo it!
YouTube and Google don't like keyword stuffing (where you use a keyword too many times), and you'll be penalized in the search results if you do too much.
Conclusion
You should see by now that YouTube affiliate marketing is a powerful addition to any affiliate publisher's armory. It opens your business up to countless new potential customers and affords the opportunity to create numerous additional revenue streams with little to no extra work.
It will take time to become accustomed to managing a new YouTube channel for affiliate marketing, but things can be made a lot easier if you use the right tools.
At Strackr we give you access to all your data in a single dashboard and unify your data in a single API, making it easy to integrate APIs from multiple affiliate providers into custom applications.
To help manage and optimize your new YouTube channel alongside your entire affiliate network sign up with Strackr today for free.
Share
Affiliate dashboard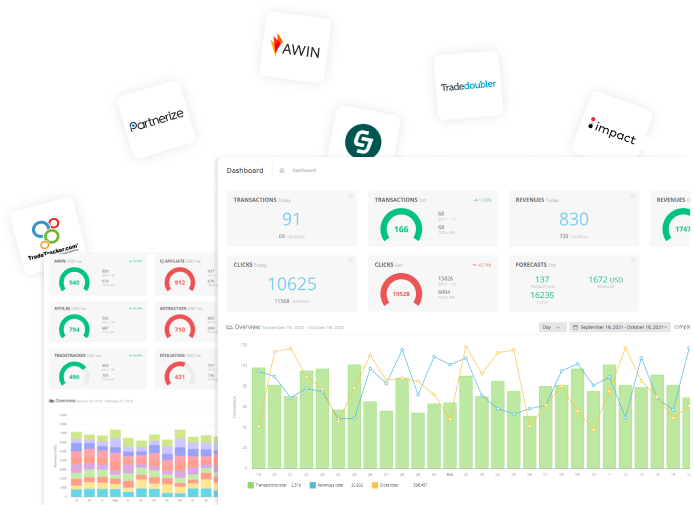 Connect all your affiliate networks with Strackr to access to unified statistics and tools.
Try for free