Many software development companies use affiliate marketing to create a direct connection with customers. And this strategy will continue to soar for the foreseeable future, as it's expected to grow to $8.2 billion by 2025.
Software affiliate marketing is often overlooked. However, this almost evergreen niche offers high-earning potential thanks to recurring payments from subscriptions, and you generally won't have any upfront costs other than running your website. In addition, here at Strackr, our tools help you to leverage your earning potential across all your affiliate programs.
As marketing guru Neil Patel once said, the key to successful affiliate marketing is finding the most lucrative niches and programs. And we agree, so we've highlighted 8 of the best software affiliate programs for various audiences.
What is a Software Affiliate?
A software affiliate uses its established online channels to market and sell software on behalf of a software company, earning a commission on every valid sale. Both affiliate and software brands get to expand their customer base, boost traffic to their channels, and increase sales and revenue.
Once you start a partnership, you'll gain access to their network, which typically includes essential tools to help you succeed. And many publishers end up with multiple dashboards to work with. However, Strackr is a unified affiliate tool designed for publishers. It combines all your networks for easier management and offers tools to help your business thrive.

How Joining a Software Affiliate Program Benefits You
Higher earning potential
The tech niche is among the best for affiliate marketing, with the potential to earn thousands of dollars each month. You'll find it difficult to run out of software to sell with new apps brought to market almost daily through rapid software development. And another big plus is the opportunity to earn recurring monthly or yearly payments through subscription-based sales.
In addition, 74% of users base their purchasing decisions on trusted social networks, so you're likely to make sales through your content.

Grow your connections in the software industry
You can find high-quality clients and develop long-term relationships through a software partnership. Sharing your content with other individuals or businesses allows you the opportunity to expand your reach and inspire new connections interested in your brand. This can create more opportunities in the software industry.
Strengthen your brand's rep
Joining the right software affiliate program for your business will go a long way in developing a solid brand and being seen as a guru in that space. Advocating for a high-quality software business developing software you believe in and would use yourself, helps you with authentic and effective marketing.
Your audience's purchases will give you a better understanding of their interests, which can also help increase your authority while you deliver more value to your audience.
Things to Consider When Choosing a Software Affiliate Program
Fair commission and a transparent payout structure
Carefully review the terms and conditions of the marketing contract to ensure it benefits you and the company. The expectations and requirements of both parties should be clear to ensure everyone's on the same page.
Most importantly, you should be satisfied that they offer a competitive service rate. The payout structure should be detailed and precise. Many software affiliate programs include a reporting dashboard to view your earnings, so confirm that they offer the same.
A communicative affiliate partner
You should expect reliable and regular communication through a dedicated contact at the software company. Reputable software companies will have this in place to keep you in the loop on new features, policies, payments, and performance.
Your contact should be available for any queries or questions you may have and also offer technical support. These details should be outlined in the contract.
Best Software Affiliate Programs
1. QuickBooks – Best for a small business owners audience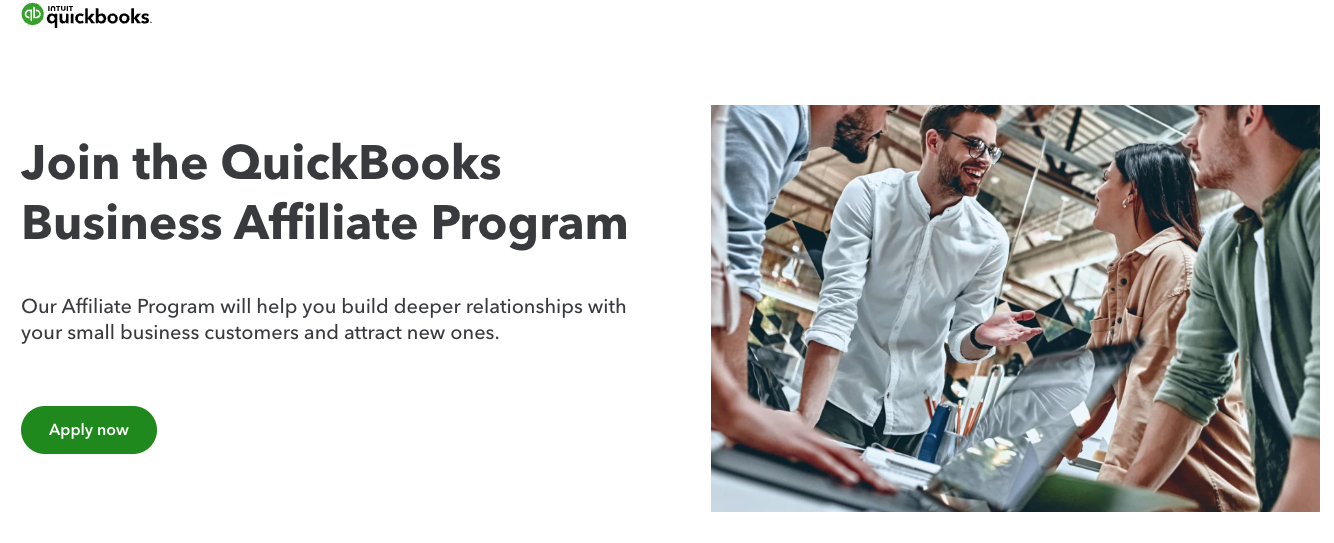 QuickBooks by Intuit is a popular accounting software package for small businesses. Its features provide easy access to financial statements, easy taxation, inventory management, and more. The QuickBooks affiliate program will be ideal if you offer resources for small businesses.
This program is open to US-based organizations, and you won't be accepted if you're enrolled on another QuickBooks affiliate program.
Commission: Up to 10% commission of sales for every sale.
Pros:
Grow your reputation as a trusted QuickBooks advisor
Access to a resource library with marketing templates, website banners, and other marketing material to include in blogs or place on your website, etc.,
Cons:
2. SEMrush Affiliate Program -Best for SEO and marketing audiences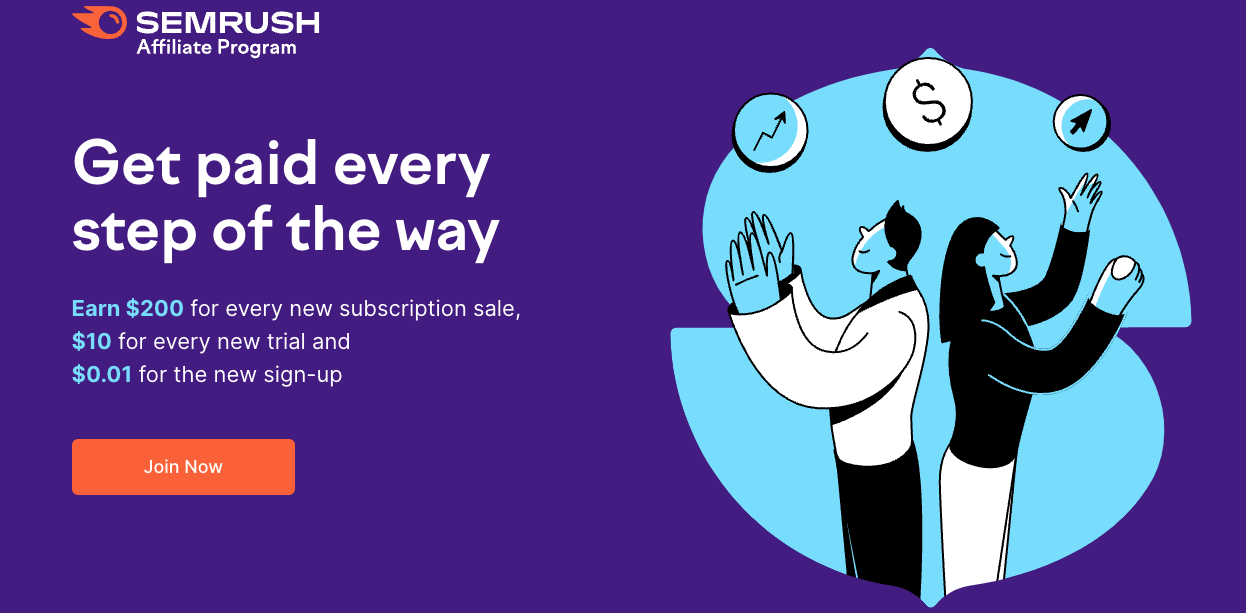 Semrush is a world-leading online marketing toolkit. They offer 40+ tools used by 7,000,000 marketers to help businesses grow. Their affiliate program is open to content publishers, course creators, and all-rounder marketers with an established audience, offering original content via their websites or social media accounts.
Joining this program is an excellent opportunity to partner with a company used by Fortune 500 companies.
Commission: $200 commission on every new subscription sale. This is the highest-paying affiliate program in the SEO industry.
Pros:
The commissions model includes $10 for new leads and $0.01 for new signups
120-day cookie window
Cons:
It may be slightly tricky for beginners to generate high revenue
3. LiveChat Affiliate Program - Best for audiences interested in CX improvement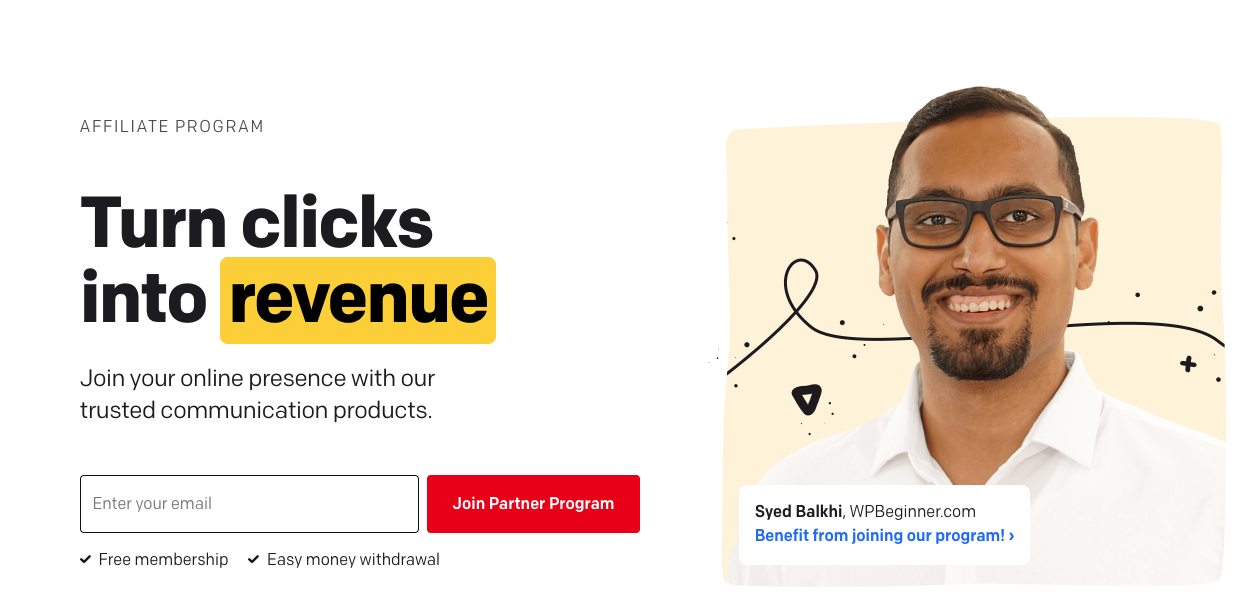 LiveChat is an online customer service software package with a live chat, help desk, and web analytics.  The LiveChat affiliate program is ideal for publishers and new affiliates wanting to help their audiences deliver the best customer service experience to their customers.
They operate on a SaaS model. Therefore, you can earn stable and consistent passive income through recurring payments. If your customer pays monthly, you'll earn a commission each month; if they pay yearly, you'll receive payments annually.
Commission: Recurring payments of 20% commission increasing to 22% once your affiliate link creates five new customers.
Pros:
You can try out the system using LiveChat for free
24/7 support
Cons:
4. Canva Affiliate Program - Best for audiences interested in graphics or website design

Canva is an online tool for designing social media graphics, presentations, business cards, Zoom backgrounds, and more. The Canva affiliate program is ideal for design influencers or educators with over a million monthly website visits.
Commission: A non-recurring payment of 15% on Canva Pro annual subscriptions and 80% on monthly customers.
Pros:
Tools to market Canva effectively
30-day cookie window
Cons:
5. Frase Affiliate Program – Best for content writers

Frase is an AI-powered content writing software to assist in producing SEO content at scale. And they are looking for SEO, content marketers, agencies, or freelance affiliates. The Frase affiliate program is split into two tiers, partner and premium partner. To be considered for the premium partnership, you must reach 40 active customers.
Commission: Up to 30% recurring monthly commission and 40% commission on the premium partner tier.
Pros:
The option to use deep linking for more engagement and better retention
They offer a marketing swipe file with copy and brand assets to help you convert
Cons:
6. Express VPN Affiliate Program - Best for all audiences

ExpressVPN is one of the world's fastest and most trusted VPNs, with more than 100 servers across 94 countries. The ExpressVPN affiliate program offers the best commissions in the industry and a flexible structure. The more paid signup conversions you make, the more they'll pay.
They focus on building long-term relationships and offer their service free for 30 days when you refer a friend to the program. And you'll earn 30 days free each time you refer a friend.
Commission: Between $13 and $36 commission based on purchases made for a 1-month, 6-month, or 12-month package.
Pros:
Affiliate newsletter including content ideas and upcoming events
Optimization advice for SEO, UX, content and more
Cons:
Fierce competition for new affiliates
7. Convertkit Affiliate Program - Best for content creator audiences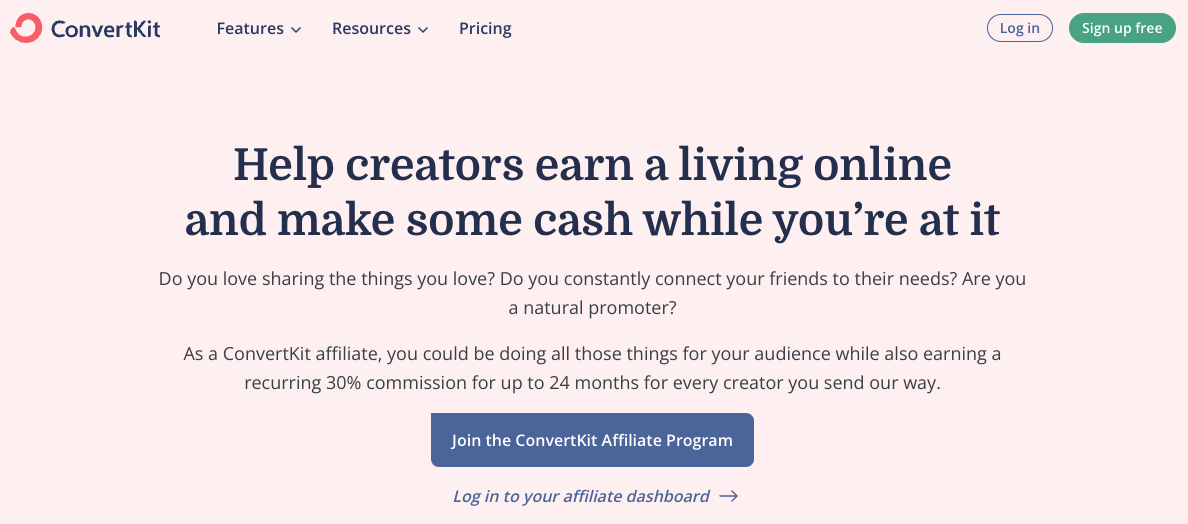 ConvertKit is marketing software for creators to grow their audiences, with features ideal for new bloggers and YouTubers. Once you sign up as a ConvertKit affiliate, you'll have 60 days to build traffic, which is reasonable compared to other programs.
One of the program's standout advantages is access to a training course with Pat Flynn (one of the most successful affiliate marketers).
Commission: 30% commission for 24 months for every paying customer.
Pros:
Help resources include assets to help your content creation
No payment threshold. Even if you refer one customer you'll be paid
Cons:
It could take up to six weeks to hear from them after submitting your application
8. Wix Affiliate Program - Best for website builders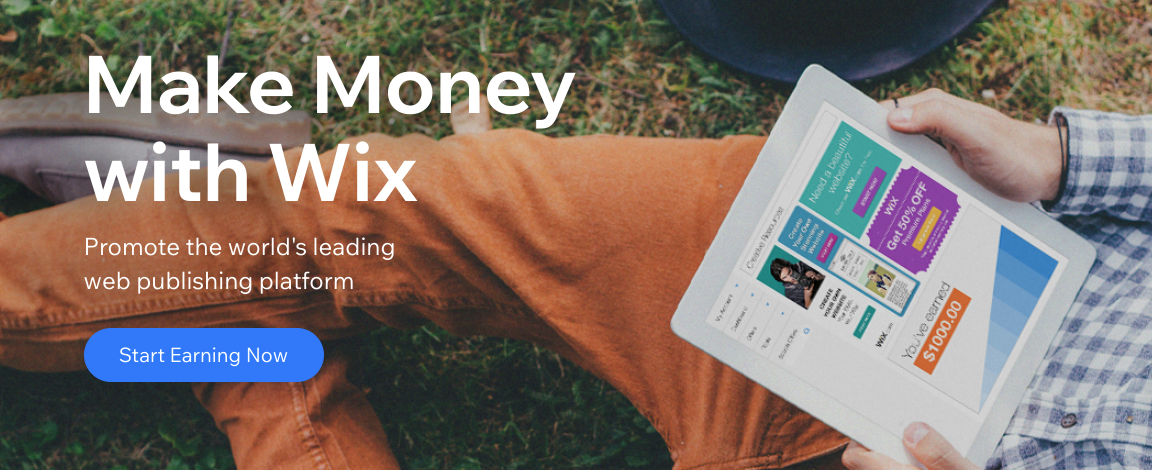 Wix is a website builder with hosting and design services, with over 200 million customers. The website builder niche is expected to grow to 2.7 billion by 2026. Therefore, joining their affiliate program is worth considering if your audience is into learning how to create and host websites.
Commission: Flat commission of $100 for every premium package continued after the 14-day free trial.
Pros:
Known as the best website builder
Dashboard with information and material to drive sales
Cons:
You must meet their monthly target of $300 per month to get paid
Use Strackr to Manage and Grow Your Revenue
Software affiliate programs offer several advantages to publishers. Aside from the lucrative earning potential, you can strengthen your brand's authority and make valuable connections in the industry. When done well with the right audience, converting customers shouldn't take much extra work.
Most programs include a dashboard with basic features to help you track and manage the program, but accessing different dashboards slows productivity if you run several. Strackr solves this problem by integrating all your affiliate networks, allowing you to monitor them from one place. They offer several metrics that affiliate networks don't to help you understand your audiences better and set you apart from your competitors.
Try Strackr for 30 days for free to see for yourself.
Share
Affiliate dashboard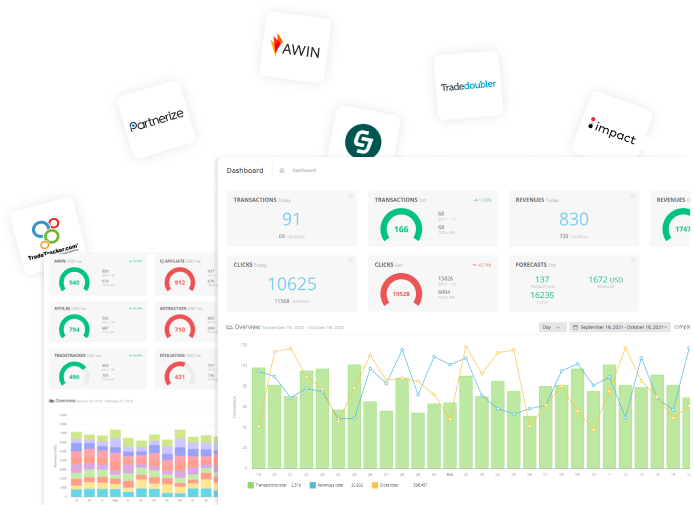 Connect all your affiliate networks with Strackr to access to unified statistics and tools.
Try for free