Making a living off of publishing content online can be hard work. The internet is a very large place, so building a steady income can take time. Fortunately, there are ways to speed up this process — you can partner up with other networks or platforms in order to get some passive income.
One popular example is using affiliate links to market and drive sales for other sites. While there are some stipulations for most affiliate programs in terms of who can join, they're more or less open to everyone with an established audience. You can discover and manage your affiliate programs using Strackr's wide range of tools.
What is an Affiliate Link?
An affiliate link is simply a unique URL made for you, which leads to another website. This website should be the one you're promoting and trying to drive traffic to. Each affiliate publisher should be given their own link to use in their content — this link can then be tracked to check for things like click rates and conversions.
Different programs will offer different payment schemes. Some pay you a percentage of each sale you drive whilst others give you a set commission. There are recurring affiliate programs that provide you with long-term passive income, and one-time commissions that only pay you once.
Types of Affiliate Links
Unattached Affiliate Marketing
This type of marketing involves affiliate publishers that have no connection to the product or service they're promoting. This means you don't participate in that niche and have no expertise or authority when it comes to speaking about the product.
Companies will pay third-parties to advertise their affiliate link, usually for their fame or audience reach. Affiliate publishers will get paid for every click their link receives.
Related Affiliate Marketing
This type of marketing involves affiliate publishers who actually have some kind of relation to the product or service they're promoting. This usually means you share a niche with the product, which means you have a level of expertise that makes you a more trusted source of information.
Involved Affiliate Marketing
Affiliate publishers who participate in this type of marketing are ones who are actual customers or users of the product they're promoting. This is a much more personal form of marketing and the most authentic one amongst the three. Affiliate publishers should genuinely enjoy the product and wish to recommend it to their viewers.
Why is it Important to Join an Affiliate Link Program?
You Earn Passive Income
You can earn some passive income by receiving affiliate marketing commissions. For every conversion you drive, you can earn a commission fee. You can join multiple programs or seek out high-ticket affiliate programs to increase the amount you earn. You won't have to constantly publish in order to make money — one marketing campaign can be enough to earn multiple commissions.
Drives Great Offers to Your Audience
You can provide your audience with some great offers or simply recommend quality products to them. Some affiliate programs provide discounts if customers use your affiliate link to make a purchase.
Sponsorship Deals
You can receive sponsorship deals from brands you promote if they happen to notice and like your work. Companies can pay affiliate publishers to advertise their products, which means you will receive income regardless of whether you drive any sales. If you're successful with your campaign, brands may decide to sponsor you again.
How to Create an Affiliate Link
Step 1. Select Your Program or Network
First of all, you have to choose an affiliate program or network to join. You can choose multiple programs or start off with just one for now. Strackr has a collection of over 170 affiliate networks to choose from, each with their own set of programs. Go on Strackr and select the 'networks' tab to view a list of brands.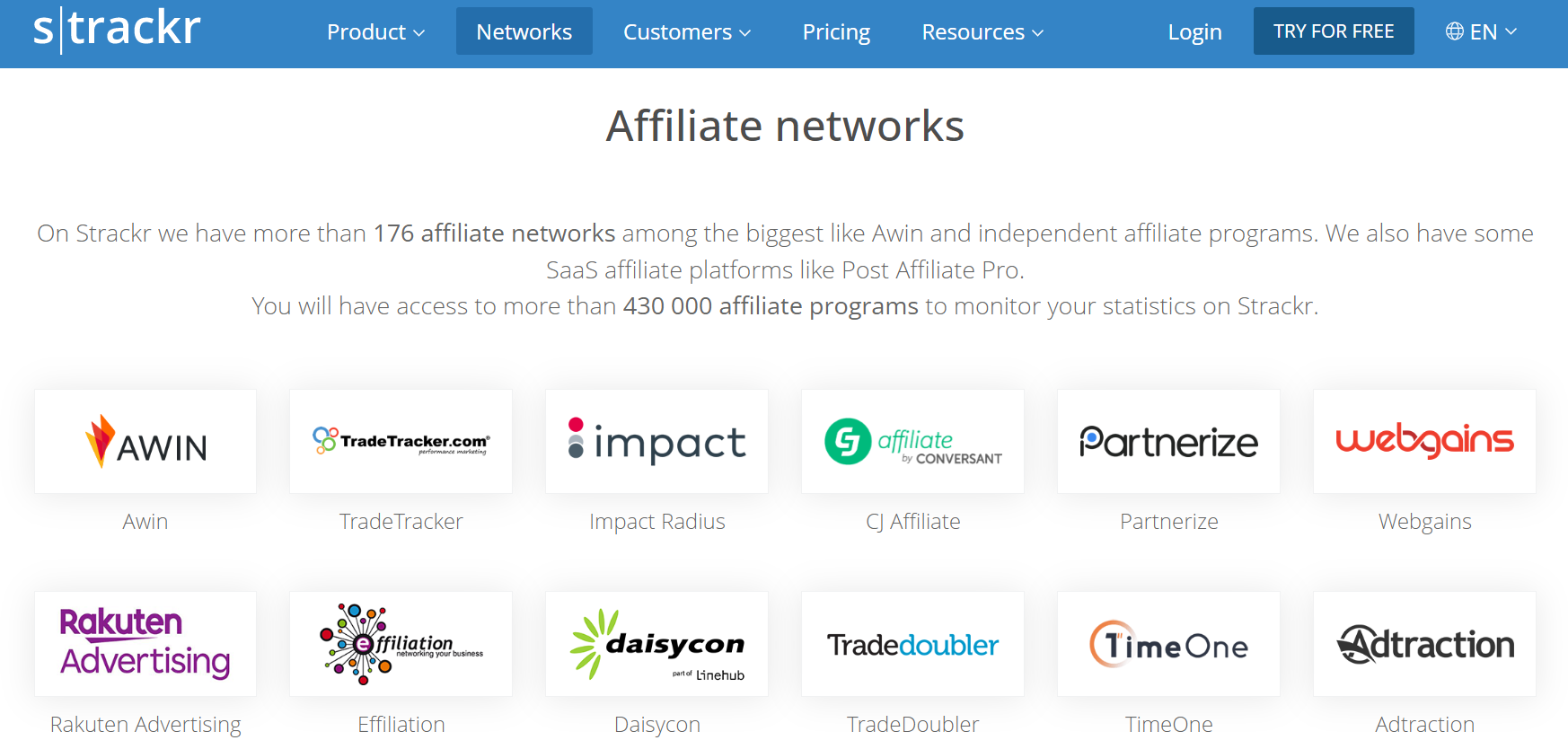 Make sure to opt for one in your niche — it will better suit your audience and brand if you promote a product you're knowledgeable about. You can also streamline the search process using Strackr's search tool, which you can use to find specific affiliate programs. You can then filter them by country, network, and status.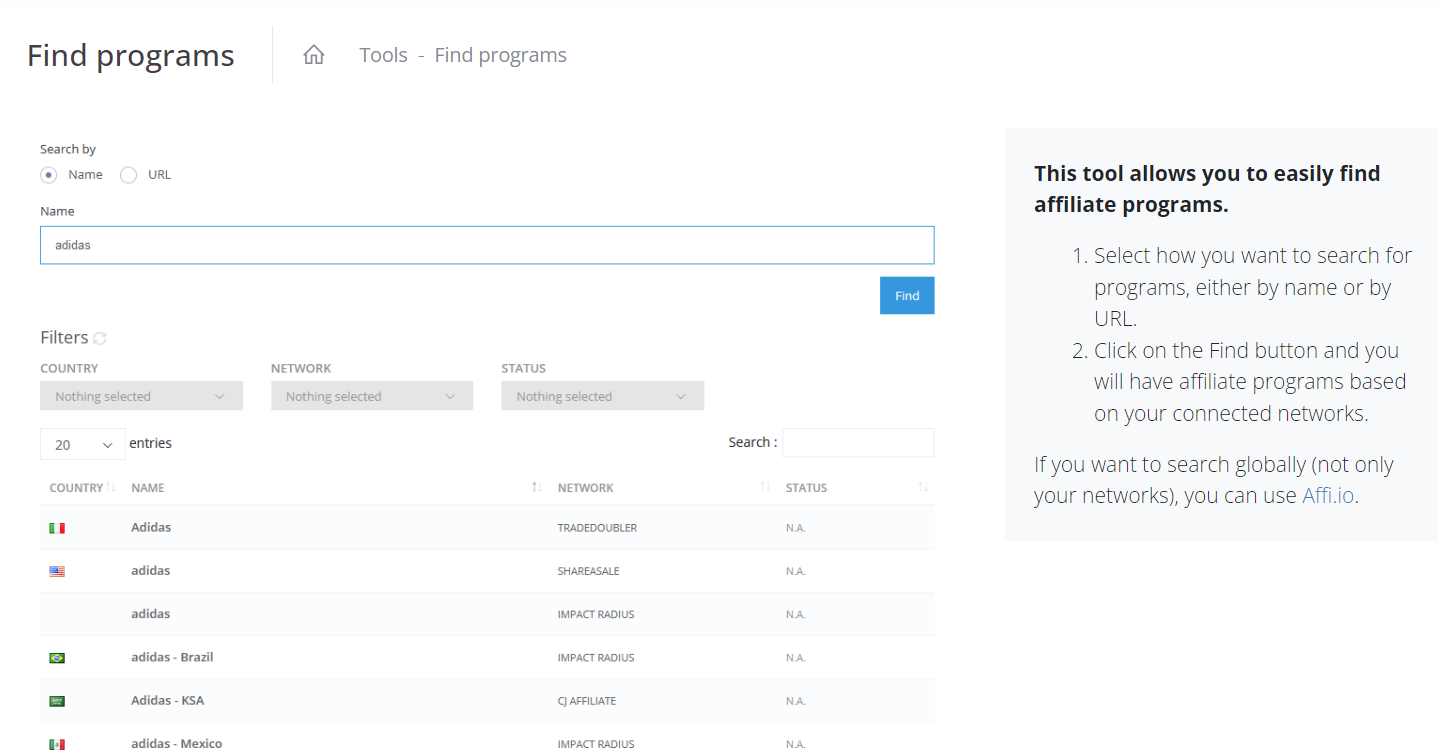 After selecting an affiliate program or network, you'll have to connect your account and follow the setup process.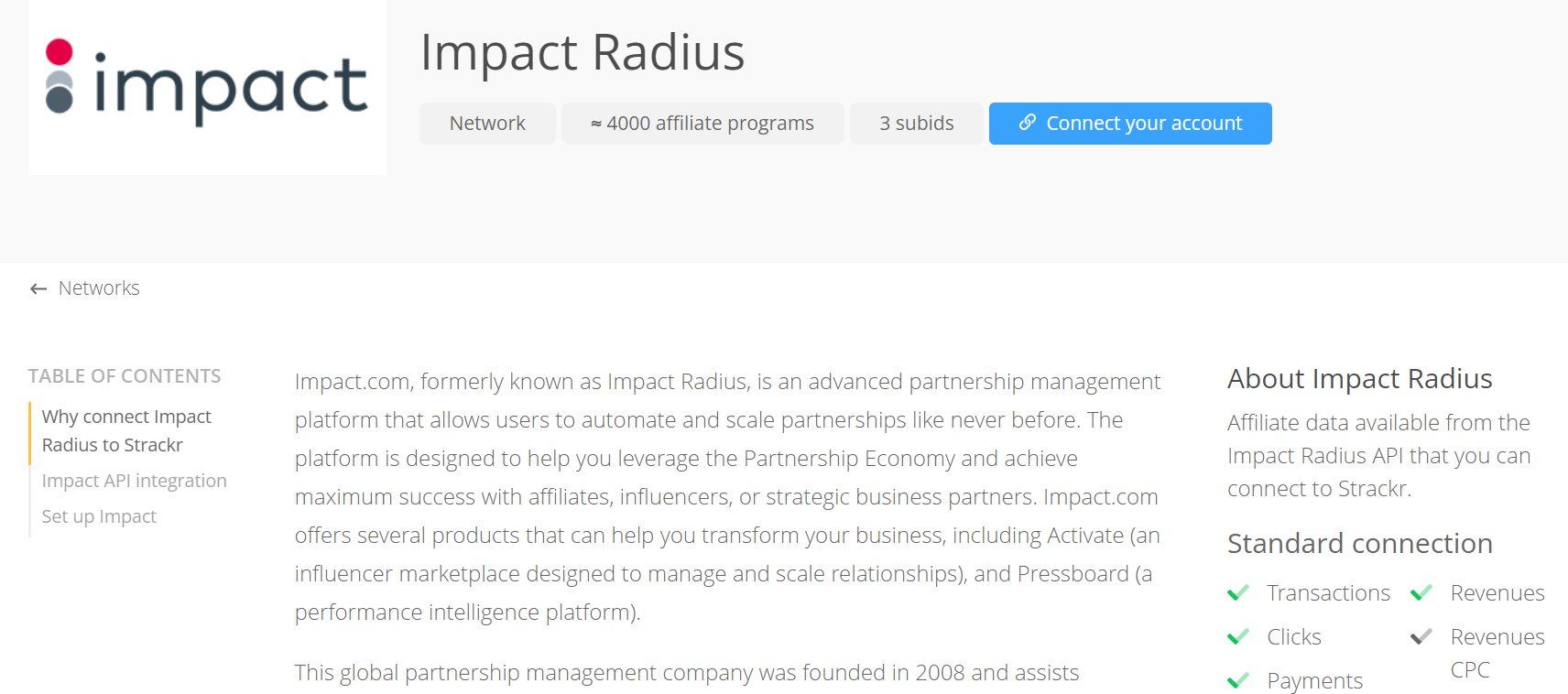 Afterwards, you'll have to wait and see whether you're accepted into the affiliate program. Use Strackr's monitoring tools to track your program statuses. You can also see which programs are currently closed or suspended.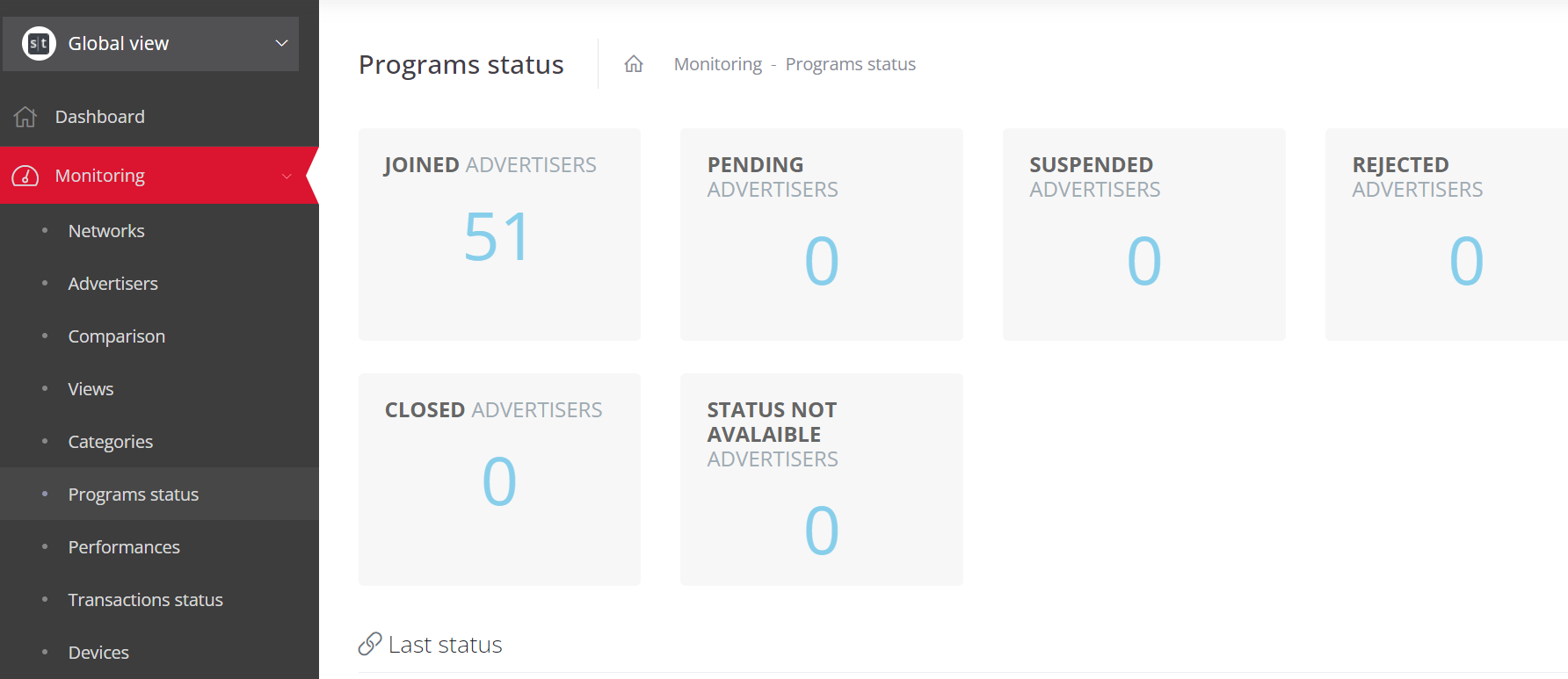 Step 2: Create a Campaign
Now that you've joined an affiliated program, it's time to create a marketing campaign for them. You need to plan your content and how you'll incorporate an affiliate link effectively. For example, you could do a product review based on personal experience, and discuss your thoughts.
Whilst you can create one campaign for multiple products, it's best to tailor each campaign towards a specific product. You don't want to bombard your audience with more than one affiliate link/product. It can come across as tacky or in-your-face.
Furthermore, it's more effective to dedicate a whole piece of content towards promoting a single product. Remember — the aim is to drive conversions and too many CTAs can be overwhelming or easily forgotten.
Step 3: Design Your Link
Finally, it's time to actually create your affiliate link. Make sure the URL is identifiably yours — for example, you could include your brand name. It will make it easy to track your affiliate link later on.
Use Strackr's link builder to create your own affiliate link. You just need to input a deep link and SubID code (if applicable).
Deep Links
A deep link is a direct link to a specific page rather than just the default homepage on a website. Choose a suitable page on your chosen network's website, such as a:
Product Page
Sign-Up Page
Deep links make things more convenient for customers since they don't have to waste time searching for the right product or page. The easier it is to make a conversion, the more likely a customer will do it. Whatever page you choose to link should be relevant to your campaign.
Custom Codes/Tags
You can also add custom tags to your deep link, which will take customers to specific page elements, such as certain images or pieces of text. This directs them immediately to a place on the page, saving them the trouble of scrolling or searching themselves.
Create Affiliate Link
Once you're done inputting the deep link and custom code, select 'get tracking links' to generate your affiliate link.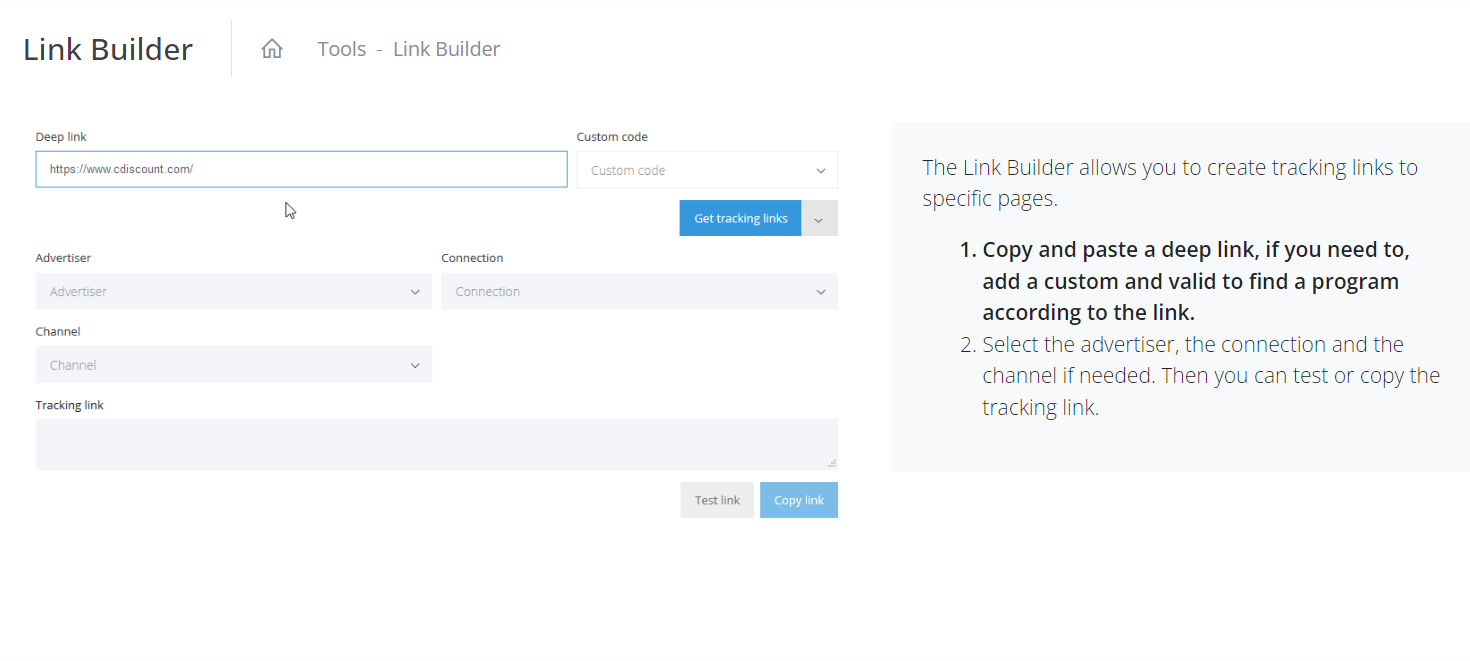 Test Your Affiliate Link
You can test whether your link works by inputting the:
Advertise/Network
Connection
Channel
Affiliate Link
Select 'test link' to see if it works as intended — it should take you to the correct webpage. If the link is supposed to offer a discount, make sure the right prices are being shown on the webpage.
Deals/Offers
You can also search for deals offered by different affiliate networks using Strackr's deals tool. You filter by:
Advertiser
Country
Network
Type
Status
You should see a list of deals, along with their start and end dates.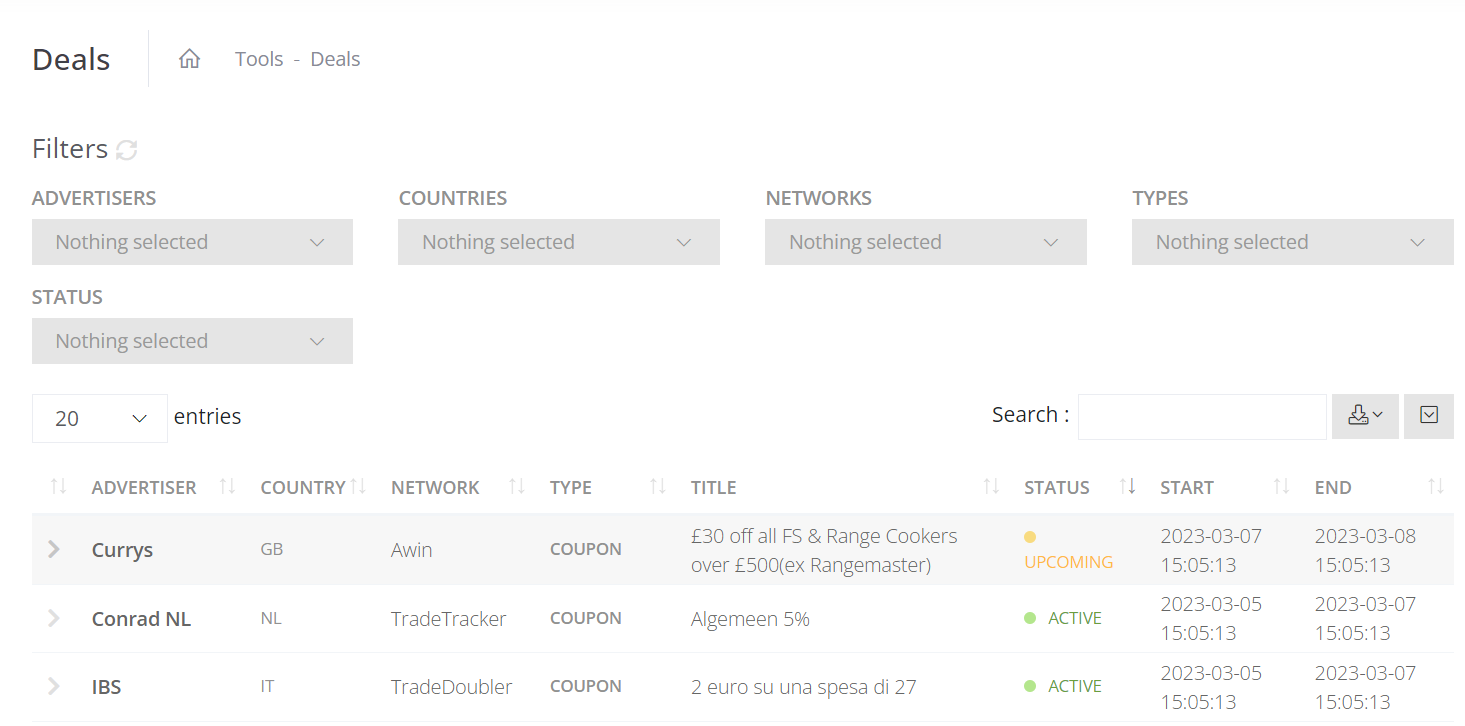 You can also search for deals using advertiser/network names or URLs.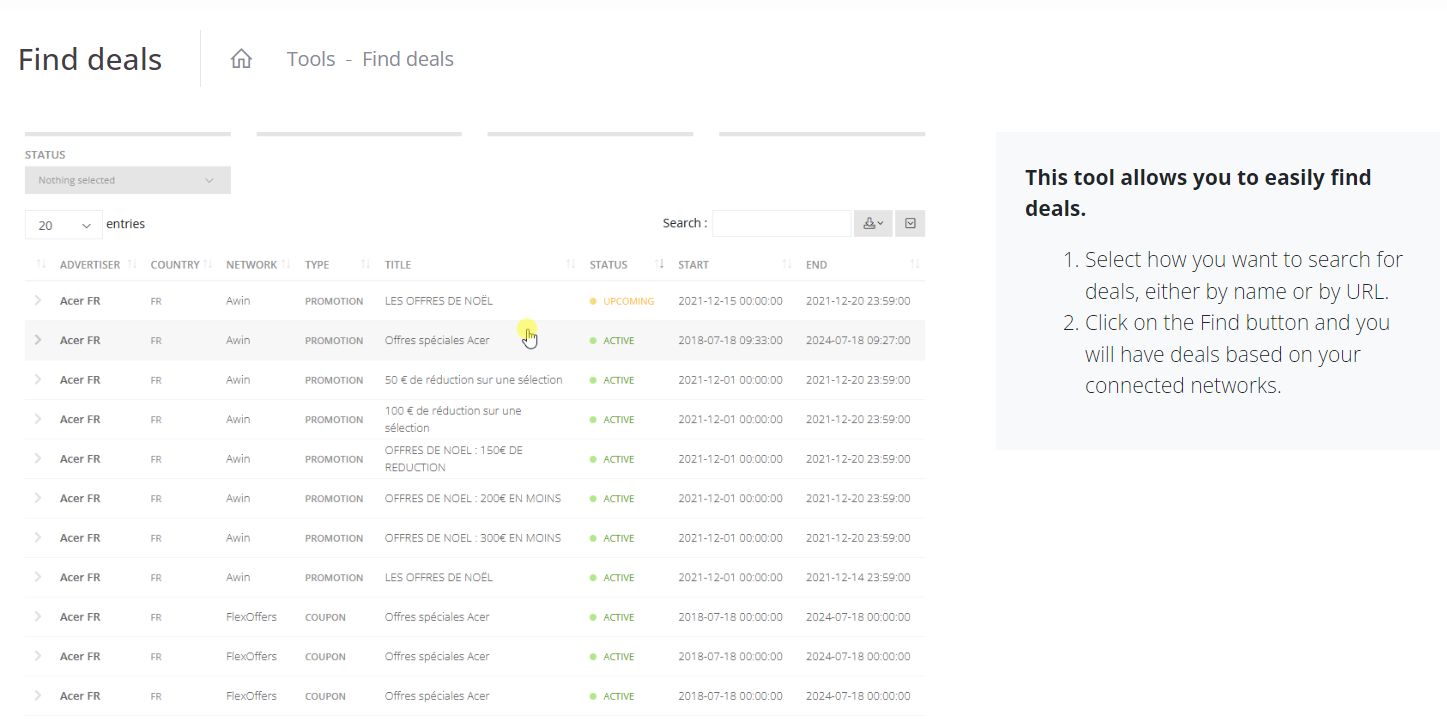 Step 4: Promote Your Affiliate Link
Now that you've designed and created your unique affiliate link, it's time to actually promote it in your content. This is where you execute your campaign ideas, and track their success using Strackr's dashboard, monitoring feature, and other affiliate tools made for publishers.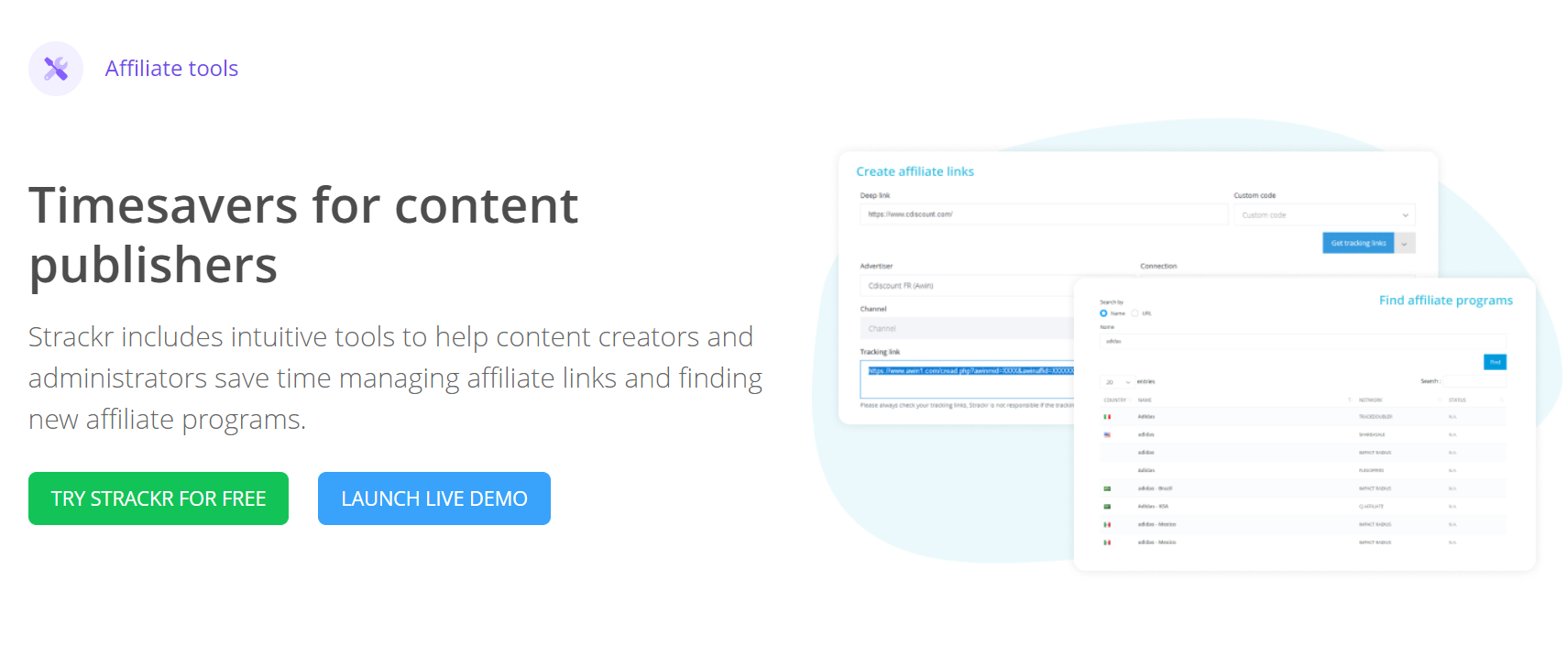 Affiliate programs usually provide a cookie window for your affiliate link, which basically means that you only get paid if a customer makes a conversion within a certain time period after clicking your link. Companies use this time constraint to determine whether a conversion was a result of your affiliate link or something else.
Cookie windows usually range from 30 to 90 days. This means you should include relevant CTAs in your content to convince your readers to make conversions soon after visiting your link.
Link Tracking
Once you've begun promoting your affiliate link, you should monitor your KPIs to see how successful your campaign was. You can do this by using Strackr to track your link, and view statistics on your dashboard, such as:
Transactions
Revenue
Clicks
Forecasts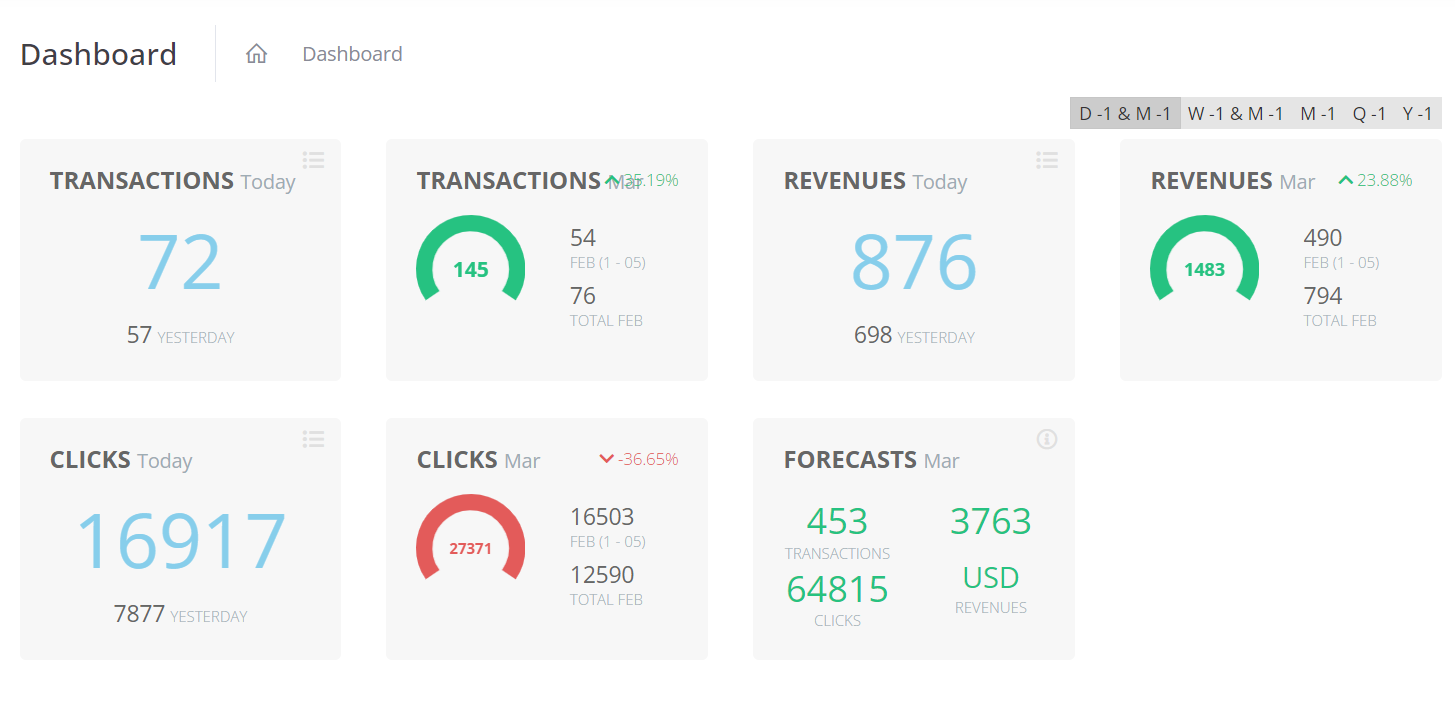 You can also view detailed reports about your:
Transactions
Products
Revenues
Clicks
Payments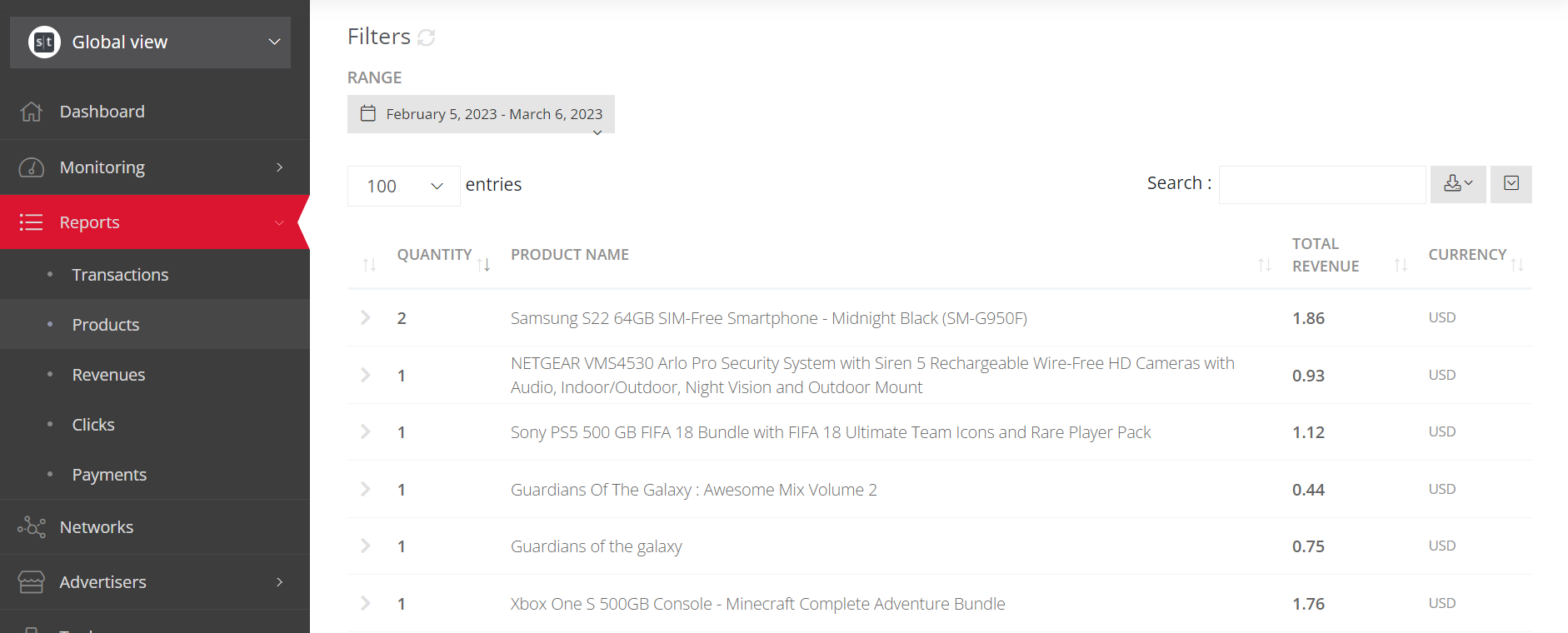 You can even monitor your website traffic, performance analytics, and more using the monitoring tools.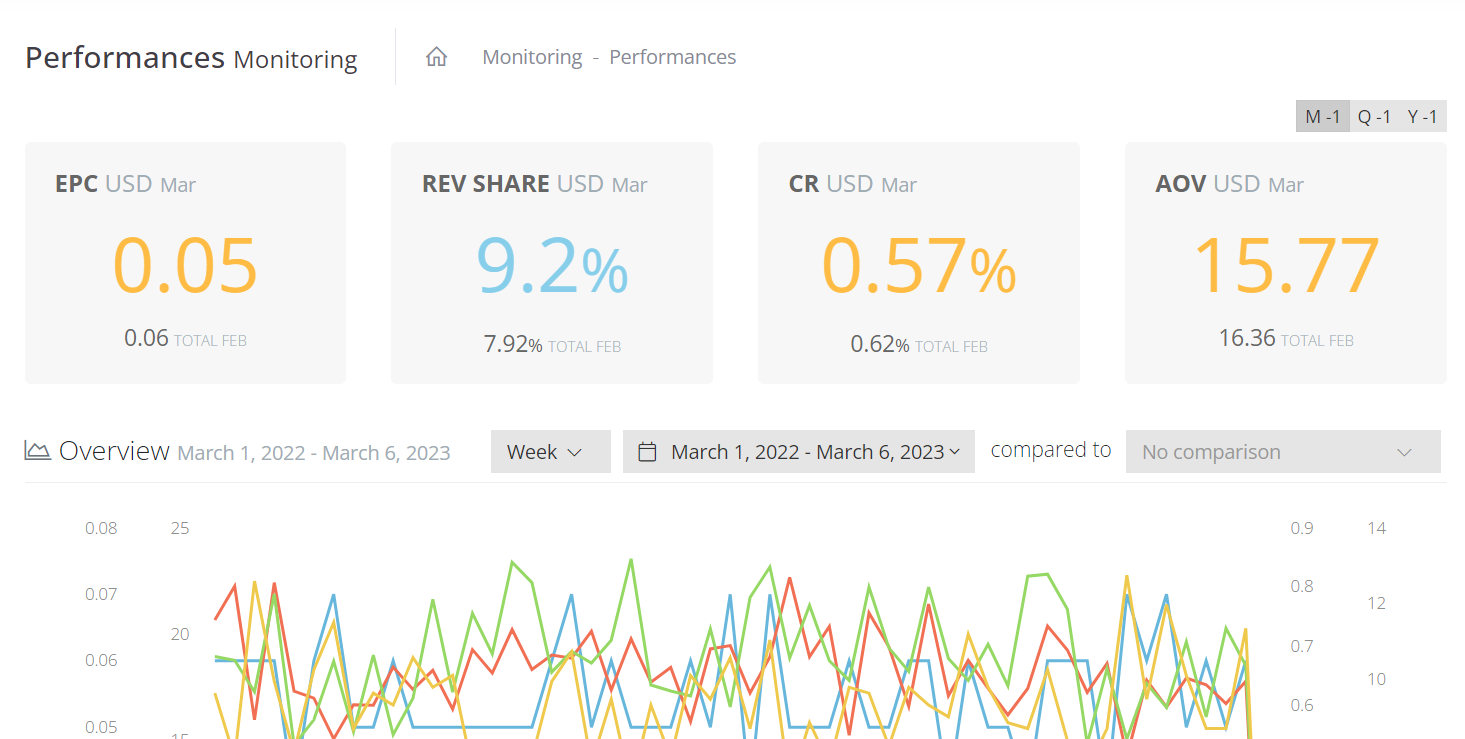 Conclusion
Publishing online content whilst making revenue is a tricky task, which is why many choose to join affiliate programs, and use affiliate links in their work. The process for creating and designing your own affiliate link can differ depending on the program, but Strackr makes it easy to customize your own link in just a few steps.
Strack is an all-in-one tool made for affiliate publishers, and offers features for both creating and tracking affiliate links. View our live demo to see our tools in action or sign up for free today to begin your affiliate marketing journey.
Share
Affiliate dashboard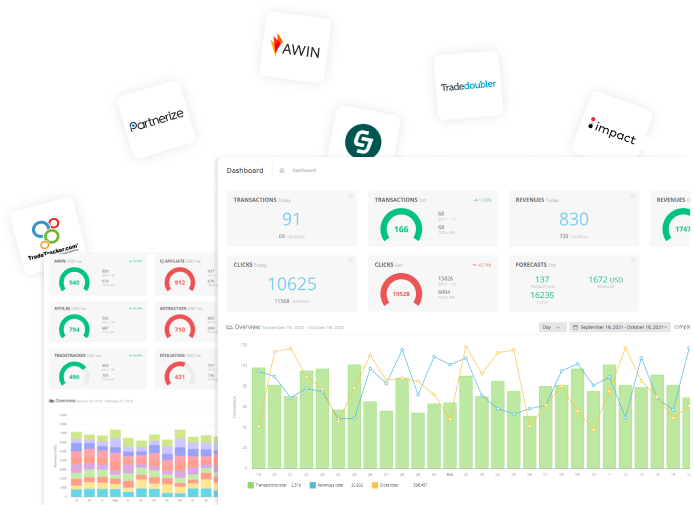 Connect all your affiliate networks with Strackr to access to unified statistics and tools.
Try for free