In 2023, the affiliate marketing industry is valued at $17 billion as more businesses recognize its advantages. As a digital publisher, you probably rely on affiliate marketing to get your website and digital assets recognized. So, you'll need an affiliate programs software tool to ensure your networks run smoothly and you can earn your passive income.  
At Strackr, we recognize that affiliate marketing is a tool for success, which is why we want publishers to take full advantage of their own affiliate programs. In this article, we'll explain why you need affiliate programs software and share our top picks, so you can choose the software that's right for you. 
What is Affiliate Programs Software?
An affiliate network connects publishers with businesses and brands that want to promote their products and services. 
Affiliate marketing is when one party pays a commission to a third party for any sales that result from their referrals. Affiliate programs software helps you to manage your affiliate networks efficiently. 
Core features include;
Affiliate onboarding 
Referral tracking and reporting 
Communications 
Commission payment management 
Ultimately, with comprehensive affiliate programs software, you can track and expand your page conversions much more efficiently.
Let's take a more in-depth look at how you can benefit from this software. 
Why Affiliate Programs Software Tools are Important
Helps Save Time and Resources
Implementing an affiliate programs tool helps you save time by automatically tracking all your affiliate links, so you don't have to. This benefits your marketing strategy, as you can focus your efforts on connecting with new beneficial partnerships. 
Tracking Metrics
Keeping track of your metrics allows you to identify where your conversions originate from and ensures you get a satisfying return on your investment. For instance, Strackr helps you track affiliate analytics collected using clear visual aids to see which affiliate channels are performing well or falling behind. This way, you can focus on the advertisers that bring you the highest profits.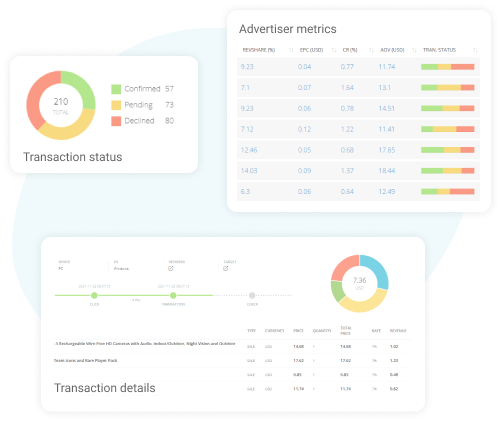 Performance-Based Revenue Tracking
Affiliate programs software tend to be quite performance-oriented, so that you get more value out of your affiliate link promotion. Some can simply pay publishers right when a sale is completed, but some use other conversion metrics such as newsletter signups. This is beneficial because as a publisher you want to promote affiliate links that will encourage an action.
With performance-based tracking you'll get better at knowing which promotion methods bring in the most conversions, which will lead to your output being directly proportional to your input.
Criteria to Consider When Choosing Affiliate Programs Software 
Before we dive into our top choices for affiliate program software, we need to specify the factors you should prioritize when deciding which one to choose. An excellent software tool is comprehensive and has all the necessary automated functions, taking some of the work off your hands. 
Easy Set-Up: If an affiliate program software has a difficult onboarding and setup process, it would be best to avoid it. Your tool is supposed to be user-friendly and make your process smoother, so you shouldn't find that you need supplemental tools to get it up and running. Choose software that has everything ready right at the start, and all you need to do is input your essential data. 

Easy Integration: Tools that integrate easily with other essential tools you already use are a solid investment.

Managing Multiple Networks from One Account: You'd want to prioritize software with this feature because you need to keep up with your multiple affiliate programs as they grow. 

Price: Keeping your budget in mind is essential to ensure you get your desired return on investment. Many affiliate marketing tools offer you different price tiers, including various features. So, make sure to choose the one that's the most cost-effective.
5 of the Best Affiliate Programs Software
Key Takeaways:
#1: Strackr
Best for keeping track of your affiliate revenue.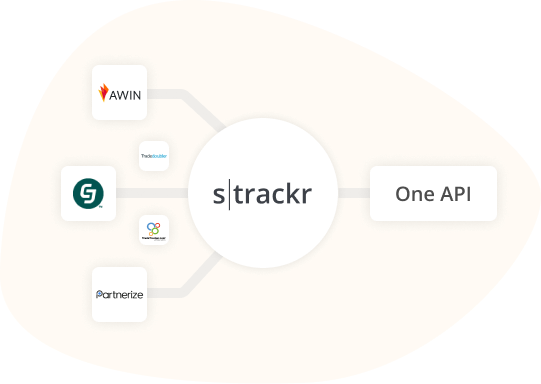 Strackr is an affiliate programs tool that enables you to handle multiple programs from one dashboard and one affiliate marketing API. It's specifically designed for email marketing, cashback and coupon channels. Easily track your data from multiple affiliate systems such as Awin, Amazon, ShareASale, Impact, and more.
Features 
It collects all your affiliate data, like clicks recorded, leads generated, transactions and payments, and displays it on one dashboard. This makes it easier to monitor your affiliate networks and direct affiliate programs. 

Provides access to metrics that affiliate networks won't have, such as commissions, conversion rate, and earnings per click (EPC). You can easily view all your affiliate reports to compare their progress and identify your best performers.

The program sends you a daily summary of your revenue via email, so you always have a record of your affiliate earnings. 

One cross-network API to handle all your affiliate tools, which helps save time monitoring your affiliate links and searching for new ones.

Strackr prioritizes security as all connection data is encrypted. 

Pros: 
Keeps publishers updated on all affiliate revenue
An all-in-one place for all your tools
Integrates with a wide range of tools such as Google Analytics, Slack, and emails
All data is secure
Includes a live chat support system to address any user queries
You can get a 30-day free trial without registering a credit card
Mobile application
Cons:
#2: Hotjar
Best if landing pages are your main conversion method.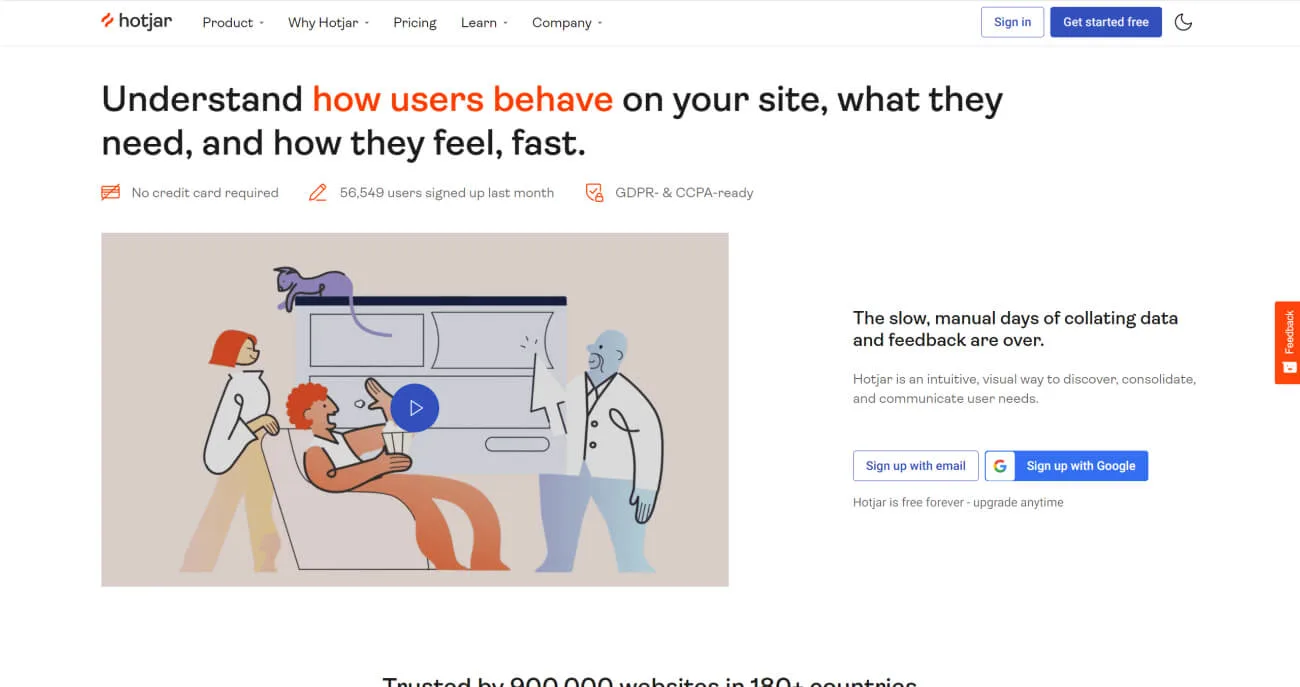 Hotjar is a marketing tool that helps publishers and businesses to understand customer behaviour on their websites. 
Features
The tool offers features like heatmap tracking to help understand what customers are looking for on websites by visually representing their clicks and scrolling behaviour. 

Hotjar works great for affiliates who want deeper insights into why a webpage isn't converting compared to others. It provides conversion funnels so that publishers can see where customers are dropping off. 

You can see what your customers see through the tools recordings, surveys, and feedback support. Ultimately, helping you identify how you can improve your websites for your customers. 

The tool's form analysis feature helps to improve online form completion by monitoring which fields are left blank, or taking the longest to fill. 
Pros: 
Works great for small websites
Better understand customer behaviour on your websites
Comprehensive visual displays of your data so you can clearly see what your customers are seeing
Achieve form analysis to help you improve form completion
You can recruit test visitors directly from your website to test new improvements you've made
Cons: 
Primarily designed for landing pages and not long-form content
#3: ConvertKit
Best if email marketing is your main conversion method.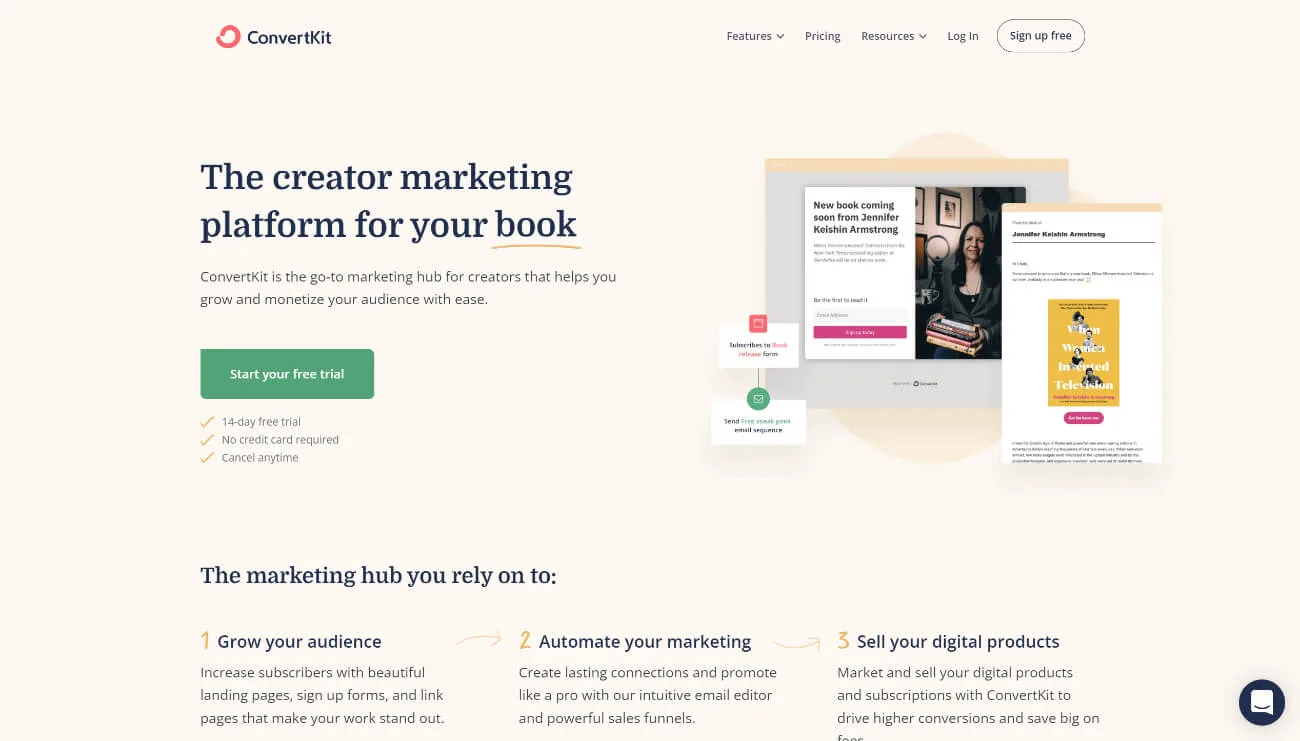 ConvertKit is a comprehensive marketing suite made for publishers and affiliates to expand and monetize their digital assets. It is especially popular for its email marketing tool. 
Features
The suite provides a seamless user experience for website owners so that you can grow your audience by promoting new and relevant projects from affiliate networks. 

You can create fully customizable landing pages and simple page links.

To enhance your email marketing and strengthen your networking relationships, the platform has features such as an email editing tool, email templates with customizable designs, sign-up forms and automation options. 

The suite has real-time integration with other useful platforms like Shopify, Squarespace, Automate.io, Rewardful, eWebinar and many more, which helps makes your processes much smoother.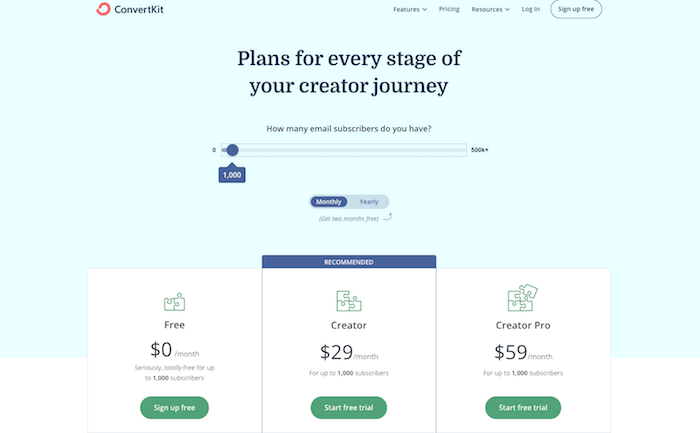 Pros: 
It has a design-first ethos tailored for publishers
You can maintain relationships with the automated email tool
Integrates with many platforms
Easily monetize your digital subscriptions
Automation allows you to send tailored content to the right networks
Seamless user experience
Cons:
Pricing increases as your email subscribers increase
#4: Short.io
Best for shortening your links.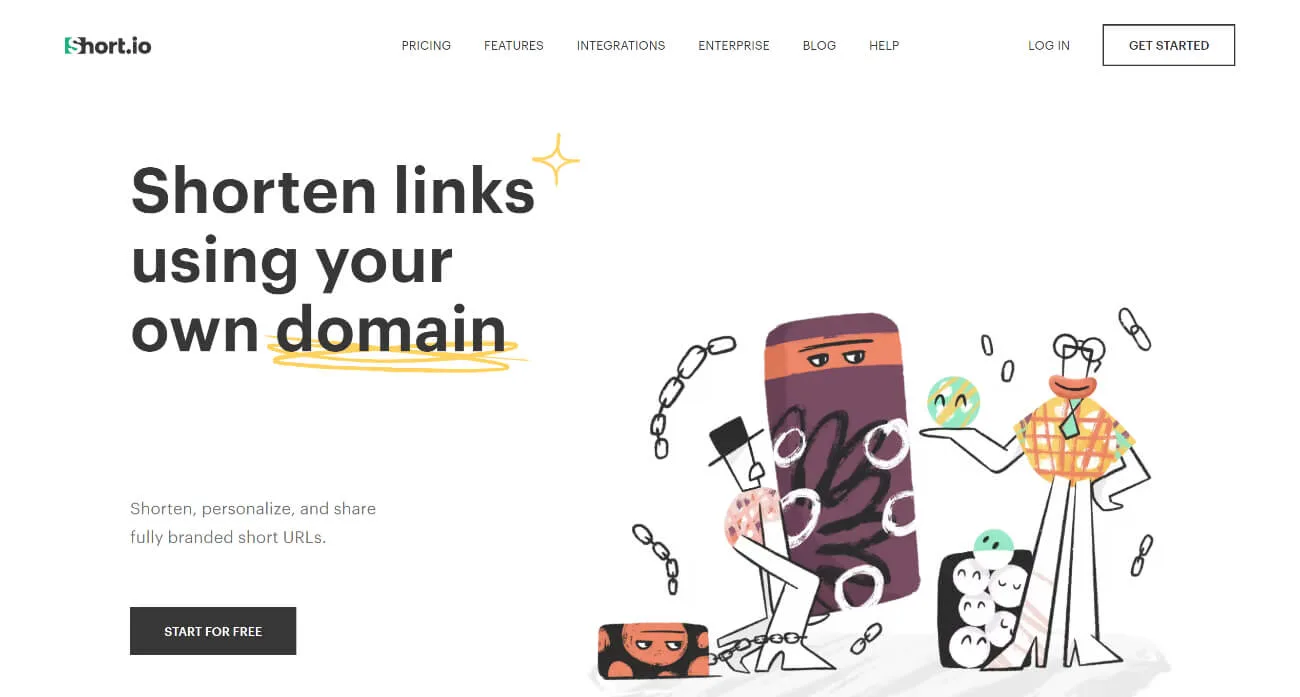 Short.io is a link cloaking tool that helps publishers shorten URLs and customize affiliate links to make them more flexible, attractive and shoppable. 
Features
The tool is great for affiliates who want to apply their links on a wide range of platforms and increase click-through rate.

Short.io has a single checkbox process to pass through setup parameters. This makes it easier and faster to organize and post your links.  

You can track your clicks in real-time with live clickstream analytics. By tracking individual clicks, you can get detailed and useful data about the type of users who are clicking on your short URLs. 

The tool allows you to apply integrations with your social media channels so that you can automatically share your URLs. 
Pros: 
You can use custom domains for link shortening, with no DNS required
Track and analyze the performance of your clicks with detailed analytics
You can attach an expiration to your links so that you're only providing relevant content
Mobile links available
Geo-targeting so your users get sent to the relevant links according to their location
Password protection for your destination URL
Cons: 
May need more features in their basic / free plan
#5: Winamaz
Best for building your affiliate network.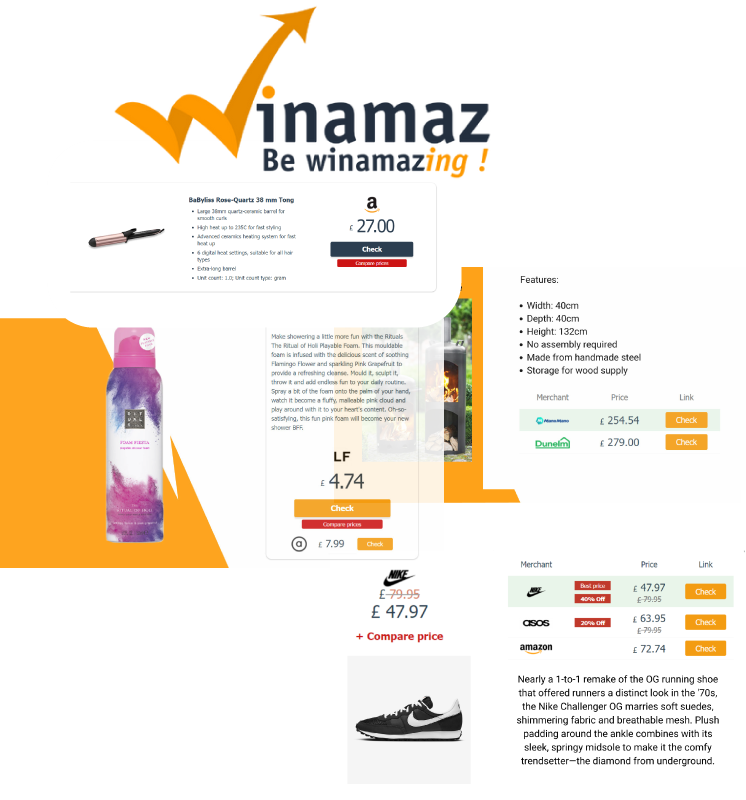 Winamaz is an Amazon affiliate plugin that aims to make the process of creating affiliate links much smoother. 
Features
The full-version of the tool allows you to manage multiple affiliate platforms like Amazon or others. The best part is Winamaz can be fully integrated into your website and adjusted to match your design.

If you don't want your site visitors to know you run an affiliate website, the tool offers link cloaking.

Winamaz supports multi-regional and multilingual affiliate programs. This includes the US, the UK, France and Spain. Their affiliate network is still expanding so you can expect more regions to come.

If you're selling products on your site, the Winamaz tool will automatically provide price updates or out-of-stock notifications.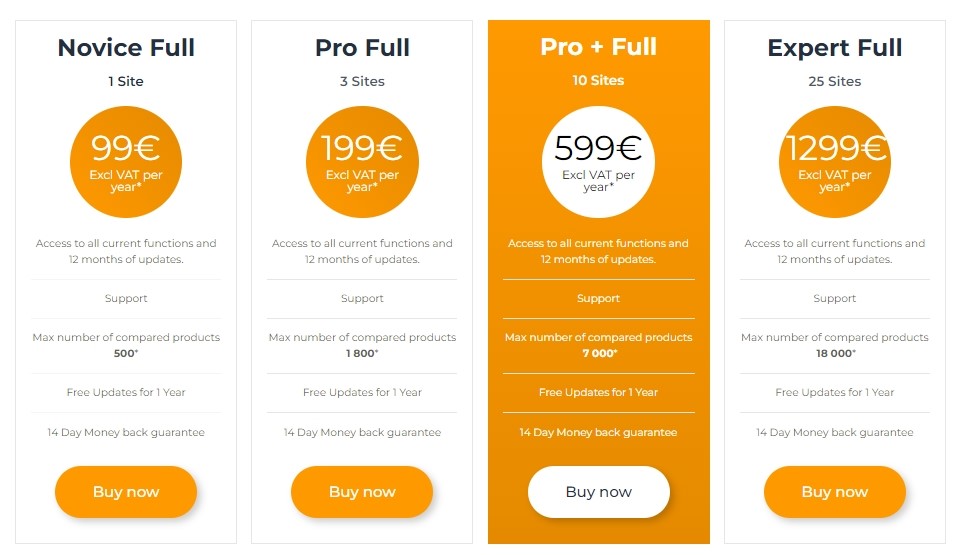 Pros: 
Compatible with multiple affiliate platforms across the US and Europe
Attractive product presentations to help customers convert
Multi-regional & multilingual 
Multiple integration options with different websites 
Affiliate link cloaking 
Easily customizable to match your website design 
Cons: 
Some features are still in progress so choosing the right plan may be confusing 
Wrapping Up
If you want to start running a successful affiliate marketing program, you can't go wrong with investing in one of these tools to manage it as you scale. You'll have more time to focus on your content and look at other channels to grow your brand presence. 
Feel free to keep researching these tools. But, if you're ready to start your journey, try out Strackr's free 30-day trial to get the hang of how beneficial this software can be for you. No card, no commitment!
Share
Affiliate dashboard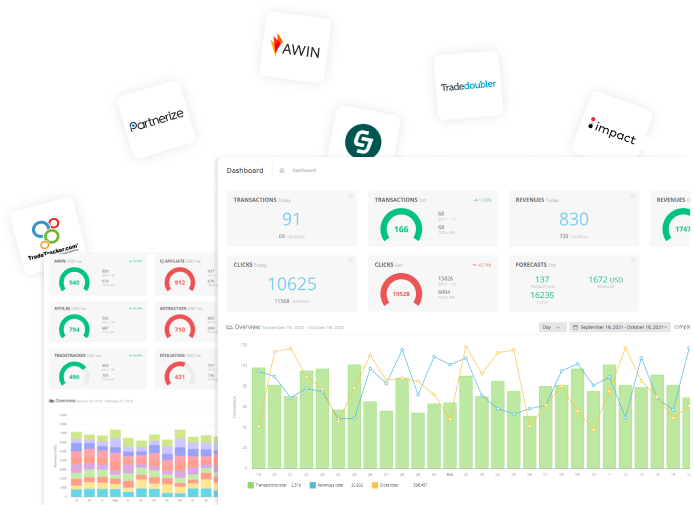 Connect all your affiliate networks with Strackr to access to unified statistics and tools.
Try for free