Affiliate APIs are a vital tool in the world of affiliate marketing. They provide real-time access to product data, which is essential for keeping your site up-to-date with the latest product information and prices. This real-time data collection and processing capability of affiliate APIs is a significant advantage for publishers.
Statistics show that affiliate programs generate between 15% and 30% of revenue for advertisers. This underscores the importance of affiliate marketing as a revenue stream, and by extension, the role of affiliate APIs in facilitating this process.
In this Strackr guide, we'll explore six of our top affiliate APIs and delve into the details of how each can benefit you, ensuring you can leverage these tools to their full potential. Whether you're a seasoned affiliate marketer or just starting out, this guide will provide valuable insights into the world of affiliate APIs.
Let's dive in!
What is an Affiliate API?
An Affiliate API, also referred to as an Affiliate Application Programming Interface, is a collection of subroutine definitions, protocols, and tools that facilitate communication between different software applications. In the realm of affiliate marketing, APIs are utilized to transmit information between programs without requiring user interaction.
Affiliate API integration allows affiliate marketers to programmatically access data and features from an e-commerce platform or affiliate network. Essentially granting affiliates the ability to seamlessly incorporate and interact with the platform's structured data, products, and services.
Benefits of Using an Affiliate API
Affiliate APIs offer many benefits, such as:
Broad connectivity with affiliate networks and their partners which enables direct access to advertisers
Automatic updates of the latest information between the application and affiliate websites
Real-time statistics for data-driven decisions
Reduced manual labor and increased efficiency
Preformatted links for easy use
Criteria to Consider When Choosing an Affiliate API
To choose an Affiliate API, consider these criteria:
Reliability: The API should have good uptime and provide accurate and real-time data.
Integration: The API should work with different technologies and data formats.
Support: The API provider should offer clear documentation, examples, and updates.
Ease of Use: The API should be clean, organized, and easy to use.
Security: The API should protect the data of all parties involved.
Scalability: The API should handle more data and adapt to changing needs as your business grows.
Pricing: The API should offer a reasonable pricing structure that matches your budget and value.
6 Best Affiliate APIs
Strackr: Best for publishers managing multiple affiliate networks with unified tools and comprehensive metrics.
Referral Rock: Best for businesses creating and managing their own affiliate marketing programs with referral tracking and reward management.
LeadDyno: Best for e-commerce businesses tracking and managing affiliate marketing programs with commission tracking and automated payouts.
AffiliateWP: Best for WordPress website owners integrating an affiliate marketing system with affiliate registration, tracking, and commission management.
TUNE: Best for enterprise-level businesses needing a robust and scalable affiliate marketing platform with fraud prevention and real-time reporting.
Post Affiliate Pro: Best for businesses of all sizes requiring a comprehensive affiliate marketing solution with affiliate tracking and campaign management.
1. Strackr
Strackr is an all-in-one affiliate tool that allows publishers to manage 197 affiliate networks in one place. It offers a range of features such as unified tools, API integration, and comprehensive metrics to help publishers increase their revenue and streamline their affiliate marketing efforts.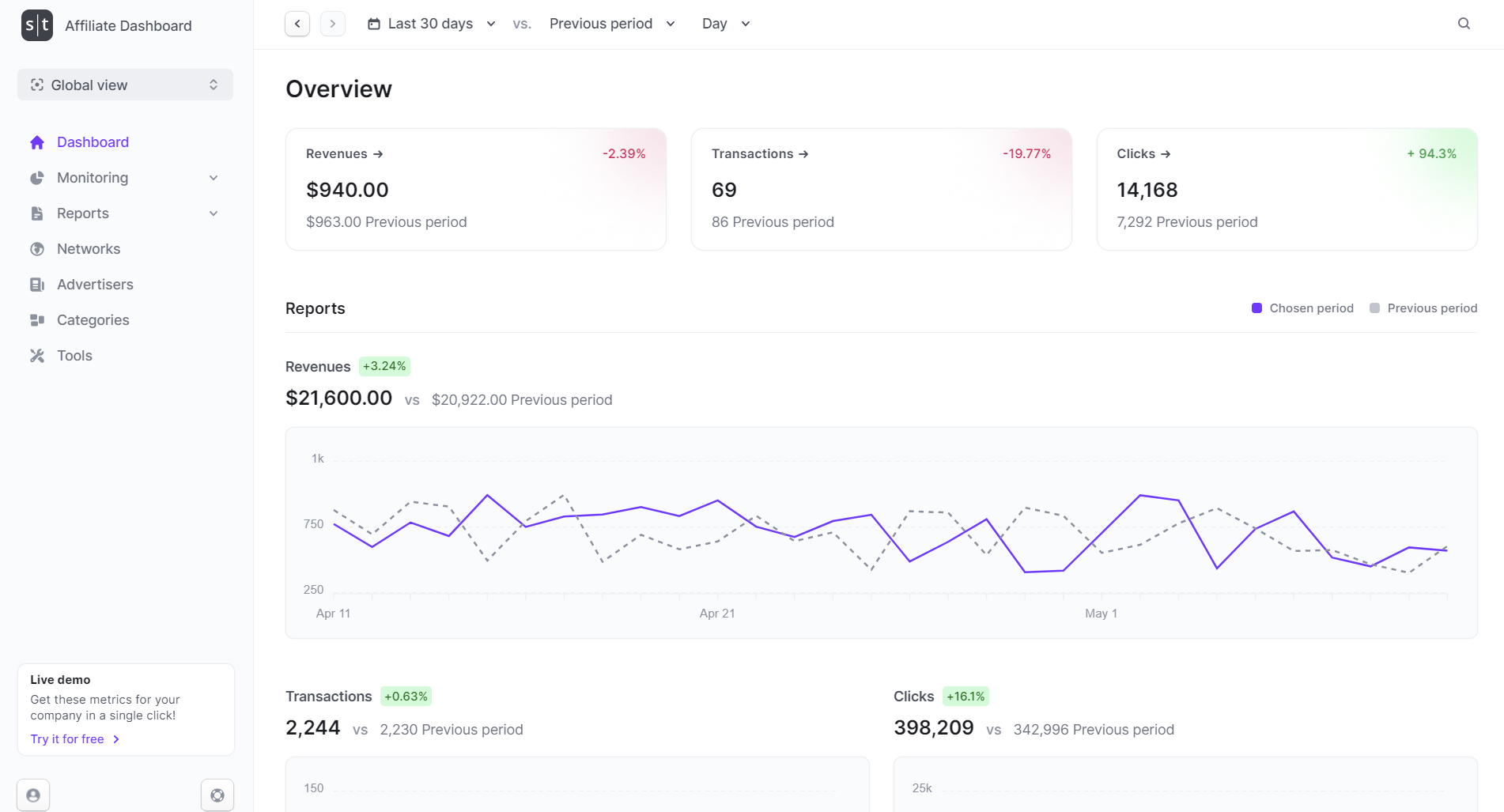 Relevant Features
Affiliate API: Allows you to integrate and interact with affiliate networks, enabling seamless communication and data exchange.
Collect Data: Gather data from various sources, such as websites, social media platforms, and other online channels.
Status Page: Strackr offers a free status page for users to stay informed on any incident or maintenance updates.
Analyze Data: Provides tools and capabilities to analyze the collected data such as program status, revenues, clicks and more, helping you gain insights and make informed decisions.
Affiliate Tools: Provides a range of tools specifically designed for publishers. This includes a Link Builder to create tracking links to any page on an advertiser's website.
Segmentation: It allows you to segment your data based on various criteria, such as customer demographics or behavior, enabling targeted marketing strategies.
Pricing
The pricing for Strackr starts at €10 per month for the Starter plan, with increasing features and capabilities as you move up to the Professional and Enterprise plans. There is also a Custom plan available for tailored solutions.

2. Referral Rock
Referral Rock offers referral marketing software that aims to help businesses transform loyal customers into active promoters. Their software automates refer-a-friend and affiliate programs, boosting referrals and brand recognition. Through customization, integrations, and insights, businesses can optimize their referral efforts and track ROI.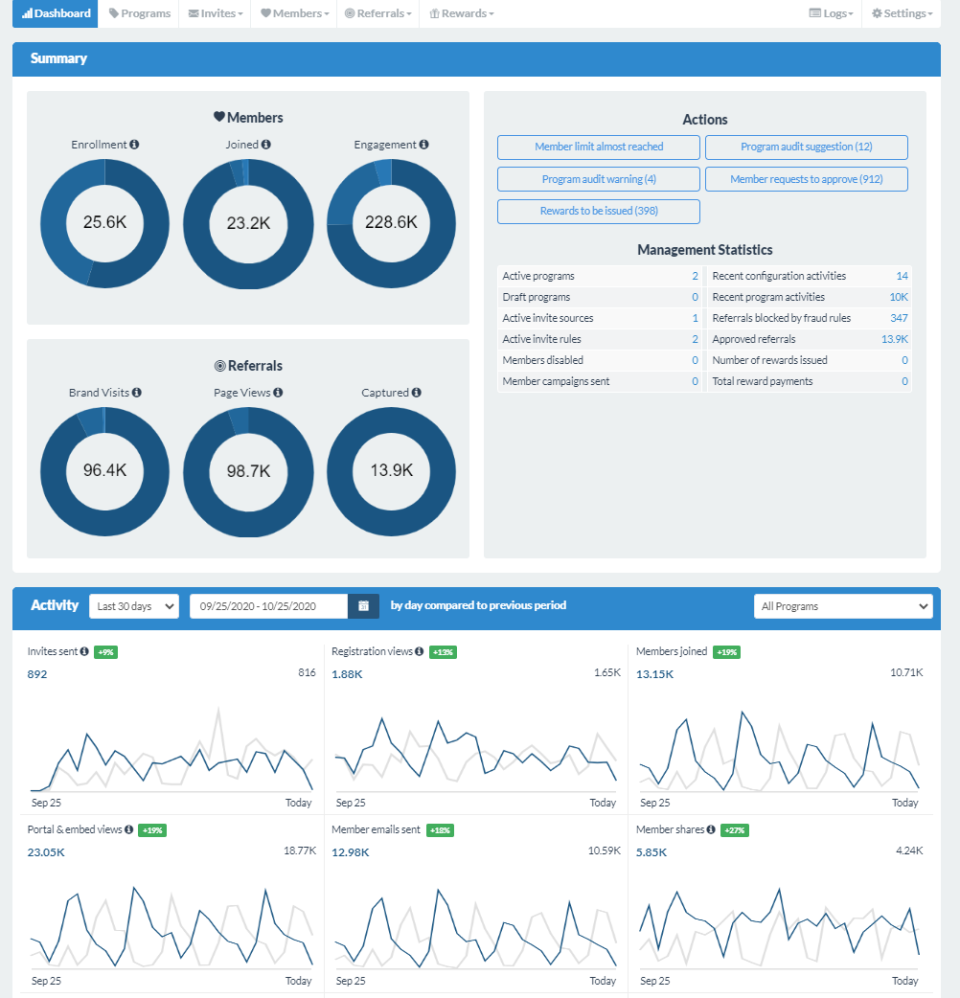 Relevant Features
Increase customer referrals: It offers marketers top-quality software and services to maximize customer referrals.
Enhance sharing frequency: You can optimize your referral program to stimulate customers to share more frequently.
Customize rewards: You can design rewards that align with your specific business needs.
Track insights from referral activity: You can gain valuable insights into their referral program's performance by tracking referral activity.
The onboarding specialists provide guidance and support throughout the process.
Pricing
Referral Rock offers flexible pricing plans to meet different business needs. The Starter plan is priced at $200 per month, the Growth plan at $400 per month, and the Established Business plan at $800 per month.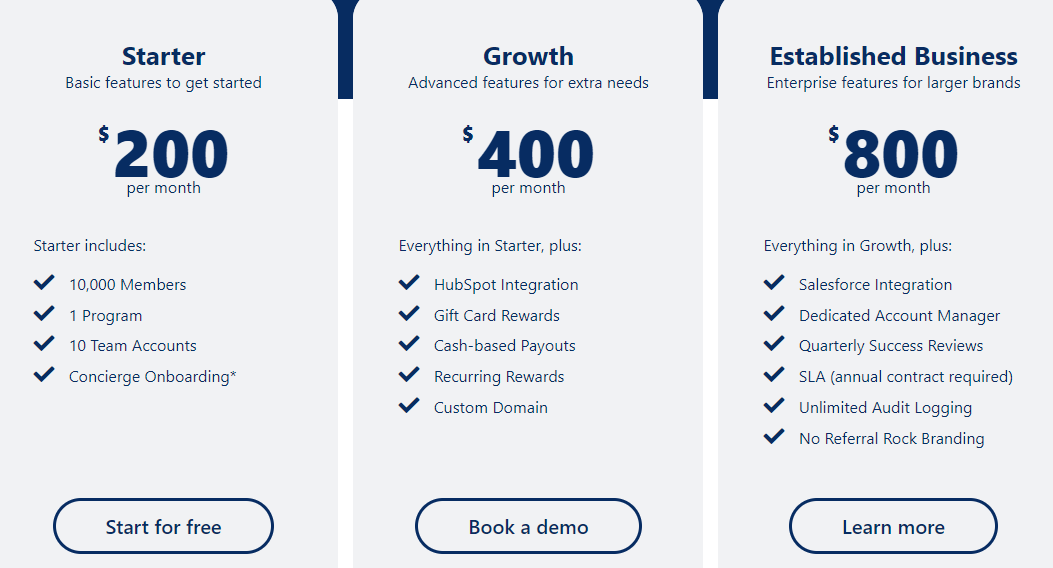 Pros and Cons
Pros
Integration with Salesforce and HubSpot
Easy social sharing
Robust configurable reward rules
Automated program invites and email invite campaigns
Member/advocate portal for easy tracking
Cons
Salesforce integration requires purchasing the most expensive plan
No iOS/Android app available
User interface/design could be improved
Limited customization options for email and registration pages
3. LeadDyno
LeadDyno is a powerful platform that helps you launch, manage, and grow your affiliate, ambassador, and influencer marketing programs. It enables you to measure the return on investment of your affiliate program, track the traffic, leads, and sales generated by your affiliates, and reward those affiliates who are effectively promoting your brand.
Relevant Features
Affiliate Recruitment: Bring affiliates, influencers, and customers into your program with ease.
Affiliate Management: Monitor your affiliates' performance, including visits, leads, sales, and recruitment.
Commissions: Customize commission plans for various referral types, payment options, frequencies, release timing, and more.
Reporting & Analytics: Gain insights on affiliate program performance with detailed reports.
Pricing
LeadDyno offers four pricing plans for their affiliate marketing program: Starter, Plus, Pro, and Premium. The plans range from $49/month to $749/month and include various features such as visitor, lead, and conversion tracking, unlimited affiliates and transactions, email and live chat support, and customization options.

Pros and Cons
Pros
Easy configuration for different affiliate groups
Responsive support team
Provides various affiliate email templates and terms & conditions templates
Transparent affiliate dashboard
Integrates well with Shopify and has good reporting tools
Offers multilevel marketing and integrations with Chargebee
Cons
Limited analytics in the affiliate dashboard
Outdated system interface
Poor support experience with delays and difficulty in reaching someone
Vague setup instructions for those unfamiliar with affiliate marketing
4. AffiliateWP
AffiliateWP is a powerful WordPress affiliate management plugin that allows business owners to easily launch and manage their affiliate programs. With features like advanced tracking, customizable dashboards, 1-click payouts, and fraud detection, AffiliateWP can help businesses grow their revenue by leveraging the power of affiliates.
Relevant Features
Advanced Affiliate Tracking: Track referral links, coupon codes, custom landing pages, cross-domain promotions, and more.
Affiliate Management: Customize affiliate registration, approval process, payouts, and more to streamline management.
Detailed Affiliate Reports: Gain insights into the performance of your affiliate program to optimize and increase sales.
Smart Fraud Detection: Automatically detect and prevent affiliate fraud to protect your revenue.
Pricing
AffiliateWP offers three pricing plans: Personal, Plus, and Professional. Each plan provides different features and benefits to cater to the needs of businesses of varying sizes and goals.

Pros and Cons
Pros
Features are highly praised, especially for driving traffic to websites and increasing the number of customers
Affiliate tracking is straightforward and saves time
Easy way to get influencers to join and promote products
Offers add-ons for additional functionality
Provides dashboard widgets and email notifications for easy tracking
Cons
Some users find the interface non-intuitive for administrators
Limited marketing integrations with other affiliate programs
Monthly report generation could be more streamlined and intuitive
5. TUNE
TUNE Partner Marketing Platform offers customizable tools, intelligent optimization features, and secure controls for managing marketing partnerships across mobile and web. It aims to help maximize ROI, build relationships, and work efficiently with partners.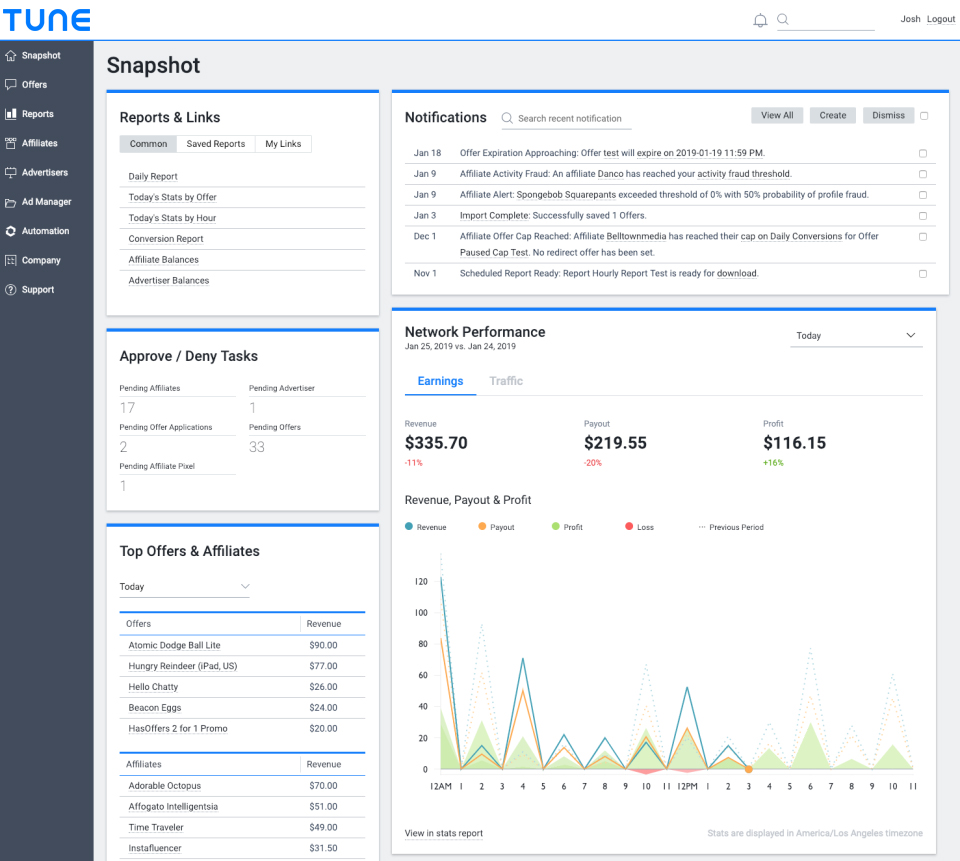 Relevant Features
Complete Partner Management: It offers tools to manage and optimize marketing partnerships with affiliates, networks, influencers, agencies, and other business development relationships.
Proactive Fraud Prevention: It provides measures to prevent fraudulent activities in partner marketing.
Real-Time Data Streaming: Real-time reporting and data streaming enable better decision-making based on up-to-date information.
White Labeling and Customization: It allows you to customize the platform with branded partner experiences, personalized dashboards, and interfaces.
Pricing
For Advertisers
TUNE offers different pricing plans to cater to the specific needs of advertisers and networks. The pricing plans vary in features and services included, ranging from the Bootstrap plan at $599 per month to the Custom plan, which can be tailored based on individual requirements.

For Networks
TUNE offers different pricing plans, including the Enterprise plan at $899/month (paid annually) with unlimited active offers, clicks, and partners, along with advanced features like fraud prevention and advanced targeting. Custom pricing options are also available.

Pros and Cons
Pros
Easy to use and user-friendly interface
Responsive and engaged support team
Customizable campaign management tool
Regularly updates for a better user experience
Simplify campaign and finance control
Streamline partner collaboration
Cons
Data size limits for report generation
Initial learning curve for new users
Lack of simplified documentation for payout history
Pricing may be high for scaling businesses with lower conversions
6. Post Affiliate Pro
Post Affiliate Pro helps you manage multiple affiliate programs and improve partner performance. With features like accurate tracking, promotional materials, automation, and extensive integrations, it's a reliable choice for affiliate marketing.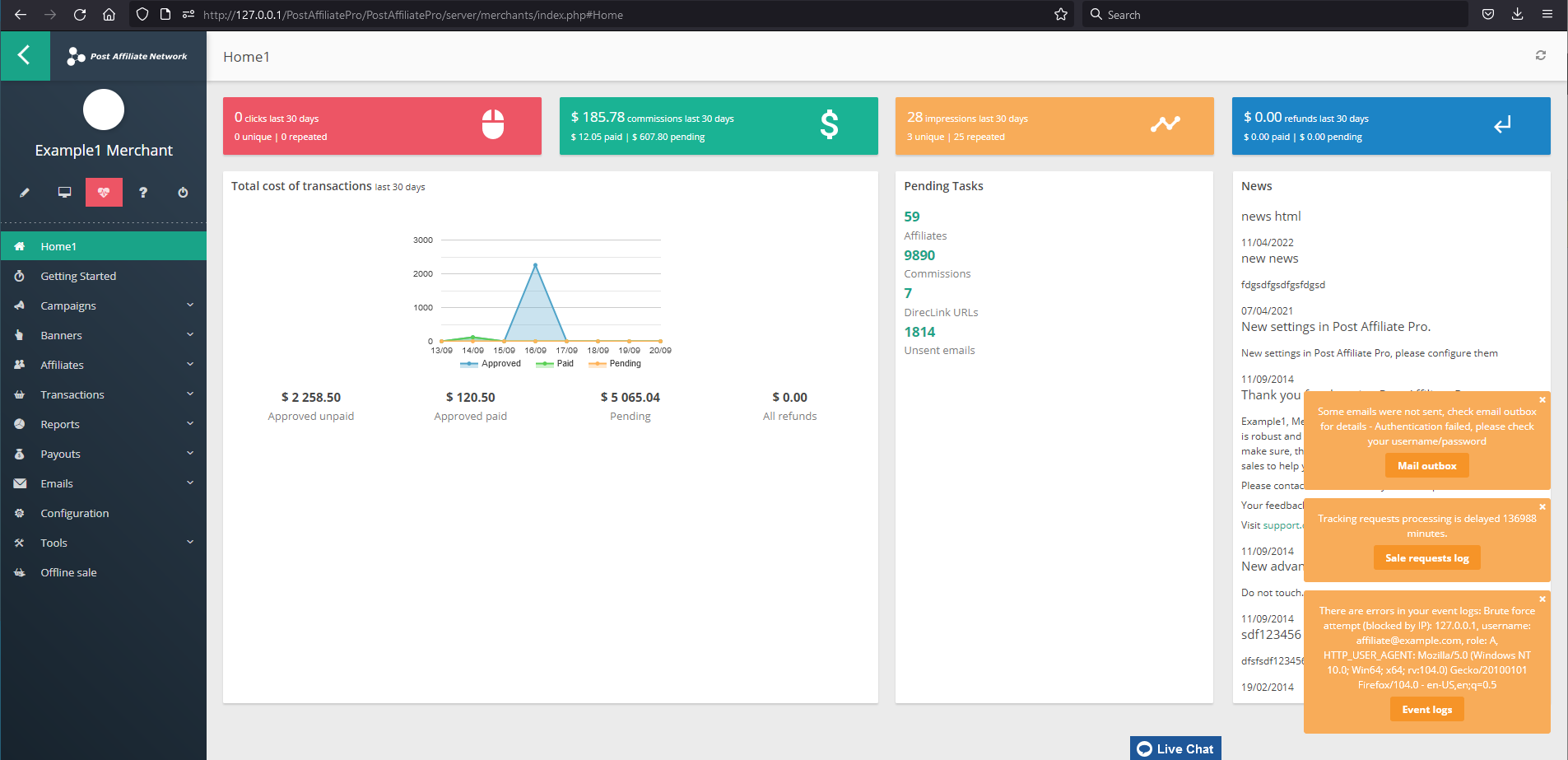 Relevant Features
Affiliate Program Software: It allows you to create and manage an affiliate program.
Affiliate Network Software: You can set up your own affiliate network.
Affiliate Tracking: It tracks your affiliates and their activities.
Affiliate Marketing: It helps you create promotional materials for affiliates.
Pricing
Post Affiliate Pro offers three pricing plans: Pro ($129/month), Ultimate ($249/month), and Network ($599/month). Each plan is tailored to different needs, from simple affiliate programs to building an affiliate network.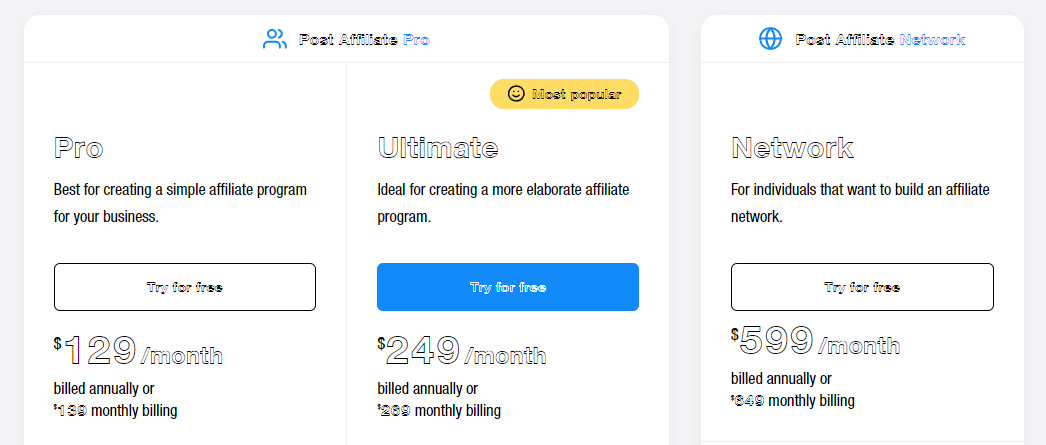 Pros and Cons
Pros
Intuitive, fast, effective affiliate software
Access to Merchant and affiliate panels for easy management
Automates entire affiliate program
Suitable for small to medium businesses
Multiple support options available
Cons
Some users reported email delivery and custom domain setup issues
Confusing banner section, lacking certain ad options
Some users faced difficulties during setup
Conclusion
In affiliate marketing, your choice of affiliate API can be the linchpin of your success. The criteria we've explored – reliability, integration, support, affiliate program quality, ease of use, security, scalability, and pricing – form the foundation of this decision. By carefully considering these factors, you can pave the way for a prosperous affiliate marketing journey.
As you navigate this landscape, Strackr stands out as an exceptional all-in-one affiliate tool for publishers. It offers a single dashboard, a unified API, and a wide range of tools, simplifying the management of multiple affiliate networks. Strackr is a comprehensive solution for affiliate marketers looking for efficiency and effectiveness in their affiliate program management.
Sign up for free with Strackr today and revolutionize your affiliate marketing game!
Share
Affiliate dashboard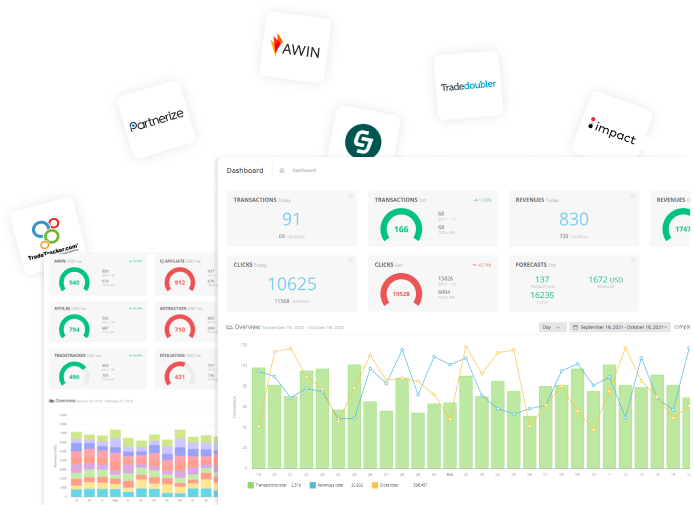 Connect all your affiliate networks with Strackr to access to unified statistics and tools.
Try for free