Over the last decade, affiliate marketing programs have soared in popularity, with the affiliate marketing industry now valued at over $17 billion. This is more than double the value recorded in 2020.
For e-commerce platforms like Etsy, affiliate marketing schemes present an effortless way to obtain more advertising. Likewise, Etsy affiliates benefit from earning commissions on the sales they bring in with their affiliate links.
There's no limit to how many affiliate marketing programs you can join. In theory, the more you enter, the more money you can make.
With that in mind, it's good to have a tool like Strackr. With one dashboard, Strackr makes it easy for publishers to manage all of their affiliate marketing networks in one place, including Awin – the partner that facilitates Etsy's affiliate marketing program.
What is the Etsy Affiliate Program?
The Etsy affiliate program allows participants to earn a commission based on each Etsy product sold through their affiliate link.
After being approved for the Etsy affiliate program, affiliates can include links to Etsy products on their site or social media pages. When a site/page visitor clicks on the link and purchases a product, the affiliate earns a small commission – usually around 5-30%  – on that sale.
Affiliates can be bloggers, social media influencers, or other individuals/small businesses with an audience online. Various entities can join the Etsy affiliate program if they have a suitable website or social media page to promote the platform's products.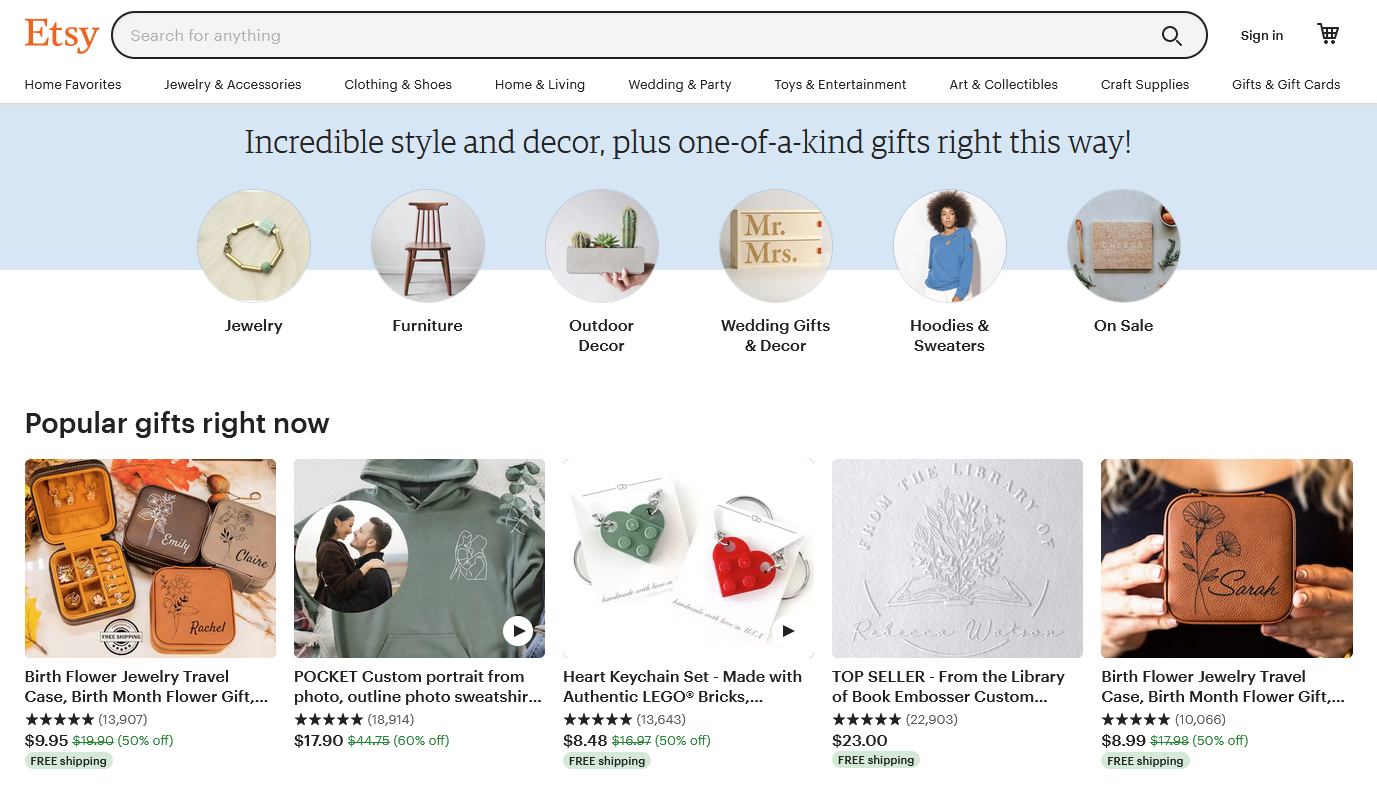 But what kinds of products will you promote on Etsy? Since Etsy focuses on independent sellers and niche markets, you'll mostly be looking at one-of-a-kind, crafted, or vintage goods. You'll want to choose products to promote based on your own niche and expertise.
Let's take a look at some of the products you might promote with an Etsy referral link:
Jewellery
Clothing
Figures and toys
Art
Furniture
Why Sign Up to the Etsy Affiliate Program?
You'll earn commission
The number one reason to join any affiliate program is to earn a commission.
Even though the percentage commission from the Etsy affiliate program is low per sale, countless people can click on your affiliate link to buy the Etsy product you've promoted.
As you continue and add more Etsy affiliate links to your site, this can become a significant source of income.
Low overhead
One of the best advantages of the Etsy affiliate program is that you can start affiliate marketing with no money.
It's one of the few ways you can earn profit straight away, without having to invest significant capital.
It's simple
Anyone can become an affiliate marketer. With the Etsy affiliate marketing program, there's no steep learning curve like other moneymaking strategies online. Once you've applied to the program and acquainted yourself with how to include the Etsy affiliate links to your website, there's not much more to it.
This makes affiliate marketing highly time-effective. You won't have to spend long periods of time learning how to use Etsy affiliate links, so joining an Etsy affiliate marketing program can be immensely profitable.
Passive mode of income
The most enticing aspect of Etsy affiliate marketing is the chance to make passive income. And it's entirely possible.
Once you've added the affiliate link to your website and socials, there's no limit to the number of sales you can make. And as long as users keep using your link to purchase an Etsy product, you'll continue to make passive income.
You can boost this passive income even further by enrolling in multiple affiliate marketing programs. You can use a tool like Strackr to manage all your affiliate marketing networks in one location to maximize your earnings from your affiliated programs. Strackr was made with publishers in mind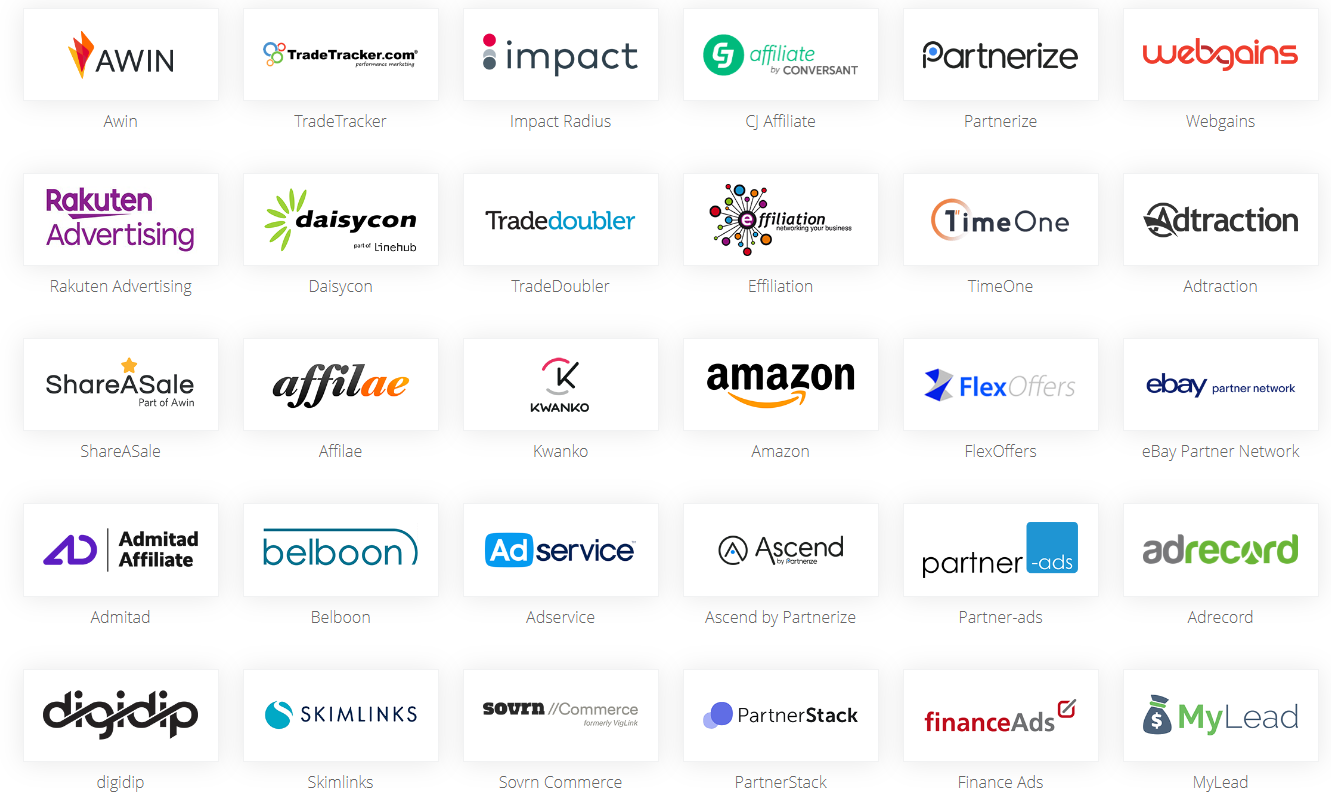 Reliable paydays
Etsy is diligent about paying participants of the Etsy affiliate program on time.
Twice a month, Etsy compensates its affiliates for any commission they've earned through their Etsy affiliate links. So, publishers can look forward to two extra monthly paydays, on the 1st and 15th.
How Do I Become An Etsy Affiliate?
1. Check Your Eligibility
First, you'll need to check whether you're eligible to join Etsy's affiliate program, as some profile types are prohibited.
For example, while many affiliate programs accept cashback sites and couponing websites, Etsy doesn't.
However, many other third-party sites are eligible, including blogs, Facebook and Instagram pages, Pinterest, YouTube, and TikTok accounts. Each applicant is evaluated based on the type and quality of their site and socials, and whether the site aligns with Etsy's values.
2. Create an Awin Account
You'll need to create an Awin account to enroll in Etsy's affiliate program. They are Etsy's third-party network, and all Etsy affiliate applicants apply through the Awin portal. Once you've joined, connect Awin to Strackr, which will let you manage aspects of the program under one dashboard.
3. Fill Out Your Details
When creating your Awin account, you'll be asked to provide your basic details, including your company name – or the name of your website – your tax residency, your name, and your email.
After that, you're asked for details on how you intend to promote products with your Etsy referral link.
This includes:
The country you'll primarily target.
How you intend to promote your affiliate links.

Awin gives you plenty of freedom in terms of how you use your affiliate links. Whether you're a publisher, video creator, or social media influencer, you can easily join the Etsy affiliate program..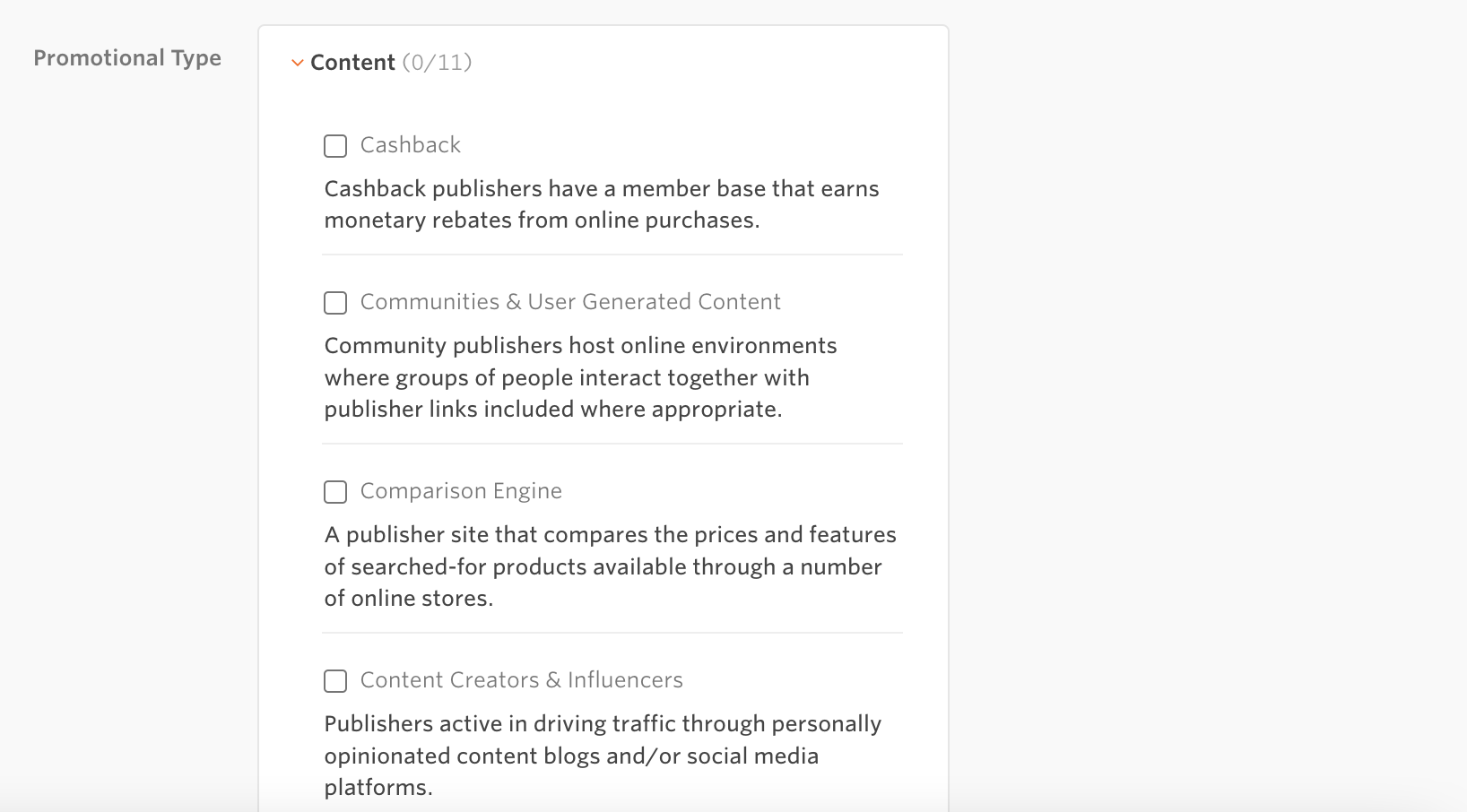 Lastly, you'll be asked to share the URL of your promotional space alongside a description of what your site does.
4. Verify Your Account
The last step when creating your Awin account is verification.
You'll need to input your address (or business address) and phone number and make an online payment of $1 to verify you're a real person.
This is done for two reasons.
Debit/credit card providers have already verified your identity. This lets Awin know that you are who you say you are.
It prevents users from signing up with numerous accounts.
After you're verified and your application has been accepted, this $1 will be refunded once you've started earning commission through the affiliate program.
5. Familiarize Yourself with Their Commission Policy
Before you start sharing your affiliate links to Etsy products on your website or social media accounts, you should carefully read Etsy's Affiliates Policy.
After all, Etsy has the ability to remove affiliates from the Etsy affiliate program at any time if they violate their guidelines.
The policy stipulates that affiliates may "earn commissions on qualifying sales that originate from links on an Affiliates Authorised Channel to Etsy's website". That means you must use your own website, social media, or other channels that Etsy has authorized.
What's more, you must ensure the information on your Awin account is accurate throughout your time on the program.  This includes things like your payment, tax, and account information.
The commission earned on each sale depends on numerous factors, including the product type and the kind of content and site the publisher has. Etsy has a log of 'commission rates' that affiliates can access to judge how much commission they're likely to earn for each sale. Generally though, it averages at around 4%.
6. Get to Know Etsy's Affiliate Tools
While you can access features such as banner ads, affiliate links, and suggested product lists on Etsy, most affiliate tools can be found on Awin.

Awin's Link Builder tool allows affiliates to create deep links by entering the company they're affiliated with – a.k.a. Etsy – into the field indicated. Underneath, affiliates are asked to paste the URL of the product page they want to promote.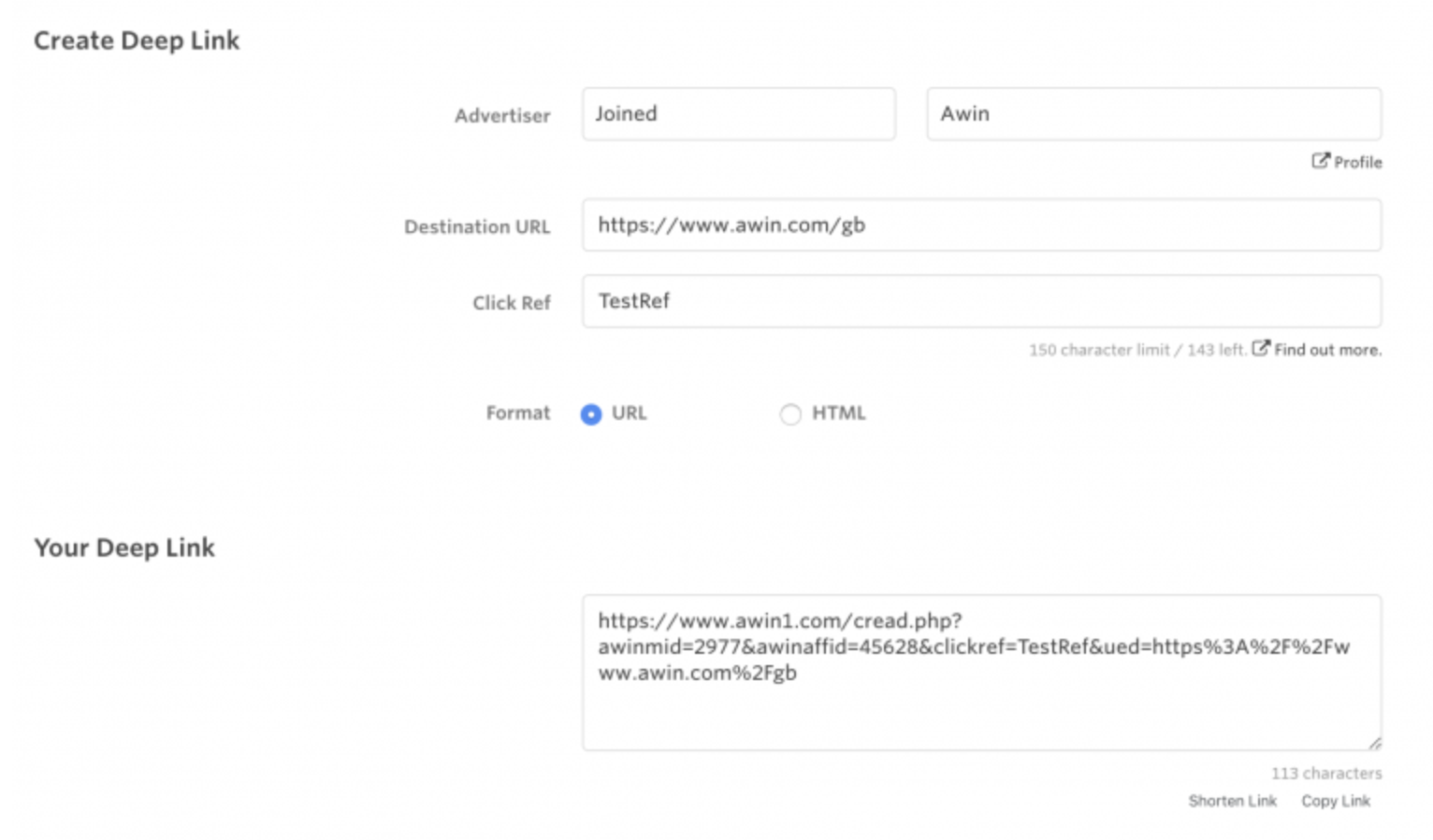 The deep link for this product will then appear in the box below and can be used to add a link on the publisher's site or social media account.
Strackr also has an all-in-one link-building tool that allows users to create Etsy affiliate links directly from the product pages they want to promote. This streamlines the process of creating affiliate links and makes it more convenient for the user.
Awin also has a Google Chrome extension called 'MyAwin'. This extension allows publishers to create Etsy affiliate links from the product they want to promote instead of navigating to Awin to generate the link. This makes creating affiliate links quicker and more convenient.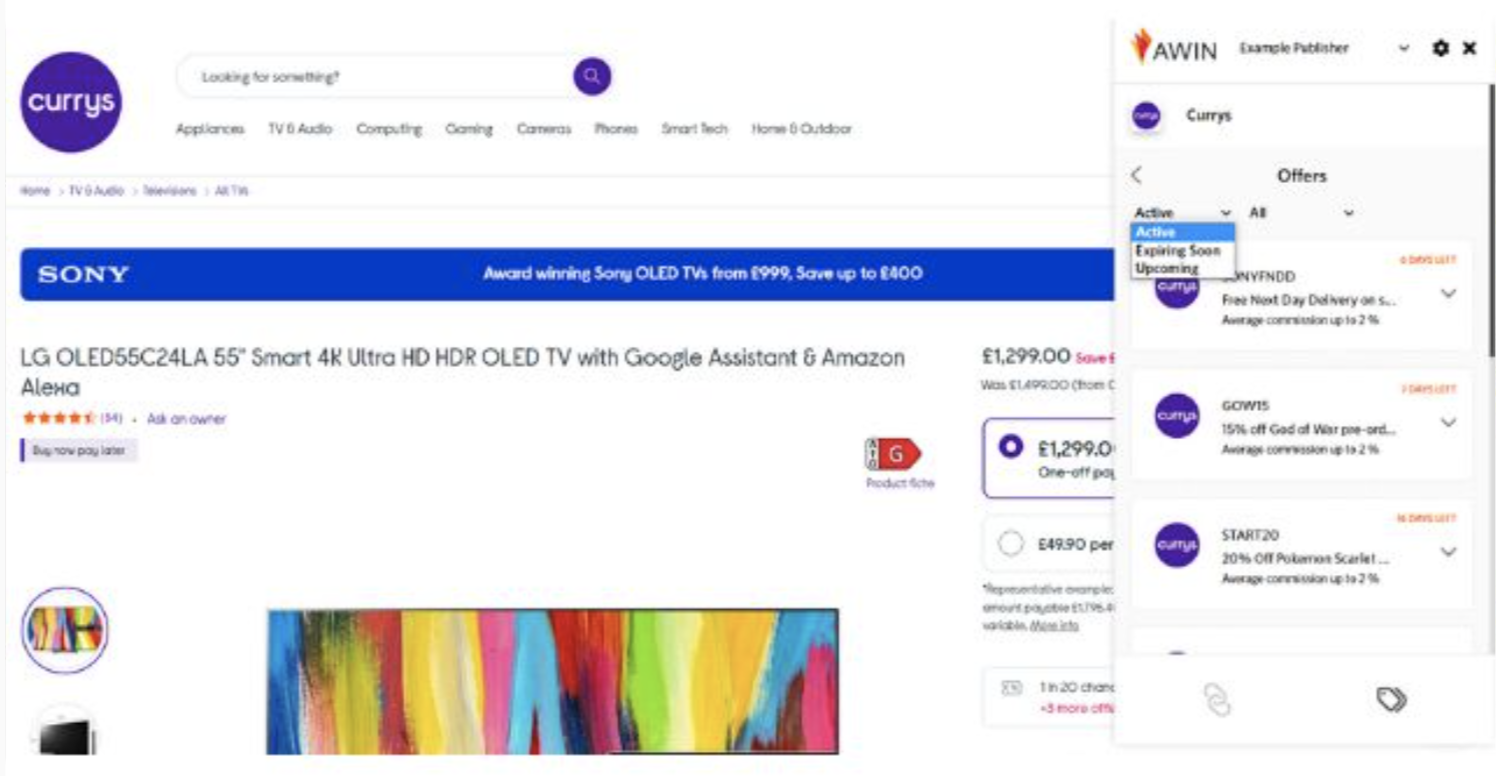 Conclusion
For publishers, the Etsy affiliate program presents a great opportunity to earn extra income online.
Even if you're already enrolled in affiliate marketing programs – such as those offered by Amazon and HubSpot – Etsy is a solid choice to add to your affiliate marketing portfolio, to expand the range of products you can promote with your affiliate links.
Strackr is a tool built with seasoned affiliates and publishers in mind. Giving affiliates access to the largest affiliate networks and programs – and the ability to manage these seamlessly from one API – Strackr gives affiliates the ultimate tool to streamline their affiliate marketing strategy.
Check out our prices to find a deal that's right for you. Every plan comes with a free trial, so you can see whether we're the right tool for you. So what have you got to lose? Give us a try!
Share
Affiliate dashboard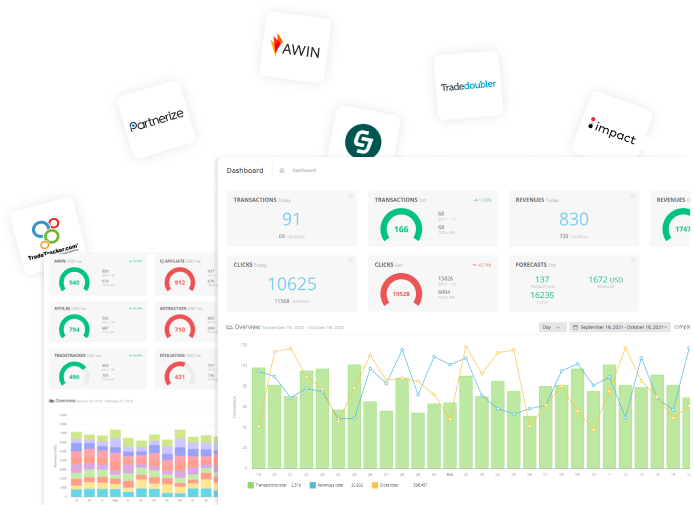 Connect all your affiliate networks with Strackr to access to unified statistics and tools.
Try for free