What is Strackr?
Strackr is an all-in-one affiliate tool designed for bloggers, media brands, cashback, or couponing apps.
With Strackr you can connect all of your affiliate network accounts and access to your aggregated data like statistics, advertiser statuses, coupons etc... Users can access to tools like a link builder and the API to build your application faster.
With Strackr, you can connect all your affiliate network accounts and access aggregated data such as statistics, advertiser statuses, and coupons. Users can utilize tools like a link builder and an API to speed up application development.
Getting Started
To start using Strackr, follow these two simple steps:
Create your account
Connect an affiliate network
Creating My Account
To begin using Strackr, you'll need to create an account. The good news is you can try our solution for free for 30 days. After your trial period, you can choose to continue using Strackr. If not, all your affiliate data will be automatically deleted.
To get started, go to the Sign Up page, fill in your personal information, choose your preferred currency for displaying statistics, and create a strong password (you can enable 2FA protection in your profile later).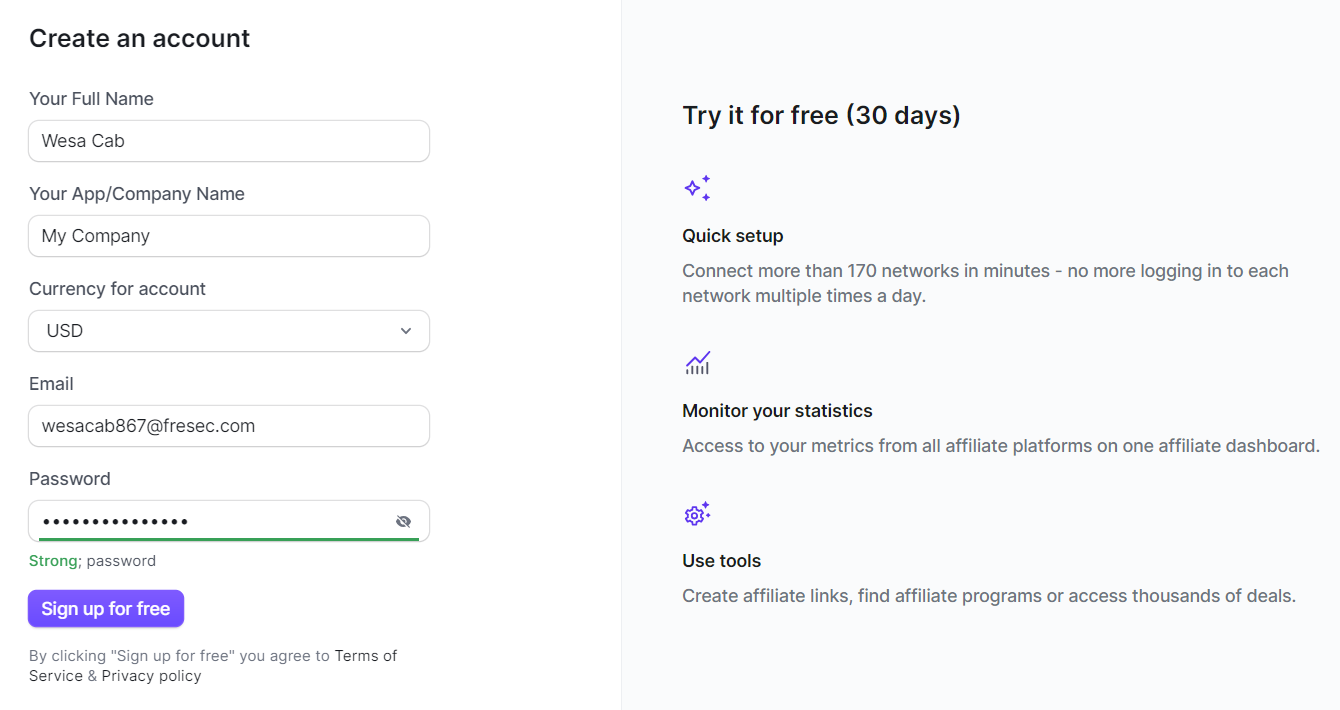 Click on the Sign Up button.
You'll receive a validation URL via email; click on it to validate your account. Then, sign in and proceed to the next step: adding your first affiliate network.
If you have an Adblock, you will need to whitelist Strackr's domain name, otherwise some pages will be blocked, due to affiliate network name in parameters.
Connecting Your First Affiliate Network
To start using the dashboard, you must connect at least one affiliate network. There are hundreds of networks to choose from: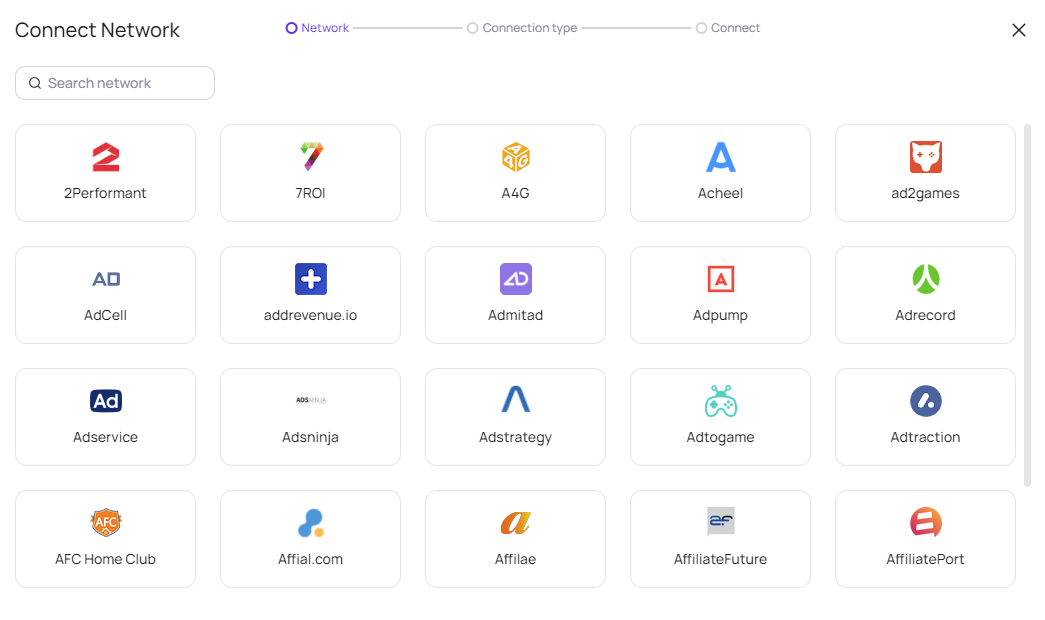 Scroll down or use the filter to find the affiliate network you wish to connect. For this example, we'll choose Awin.
Most networks have a single type of connection, but some offer multiple options. Select one, and you'll arrive at the connection form: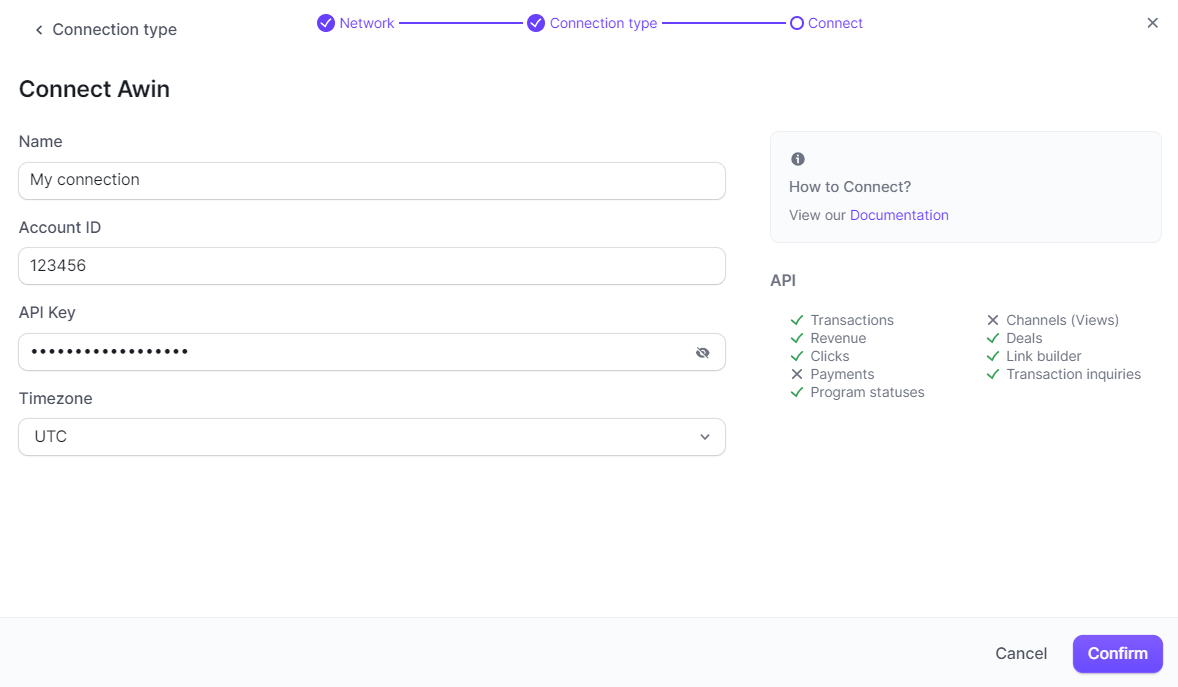 On the left side, you'll find a link to the documentation that will guide you step by step in finding the necessary information to connect to the network.
Additionally, you'll have a list of all the data we can retrieve from the affiliate network (transactions, clicks, etc.).
Add a name for the connection, for example, "Awin UK," and provide the required information to connect to the affiliate network API.
Click on Confirm, and Strackr will verify your credentials and start pulling data from the affiliate network!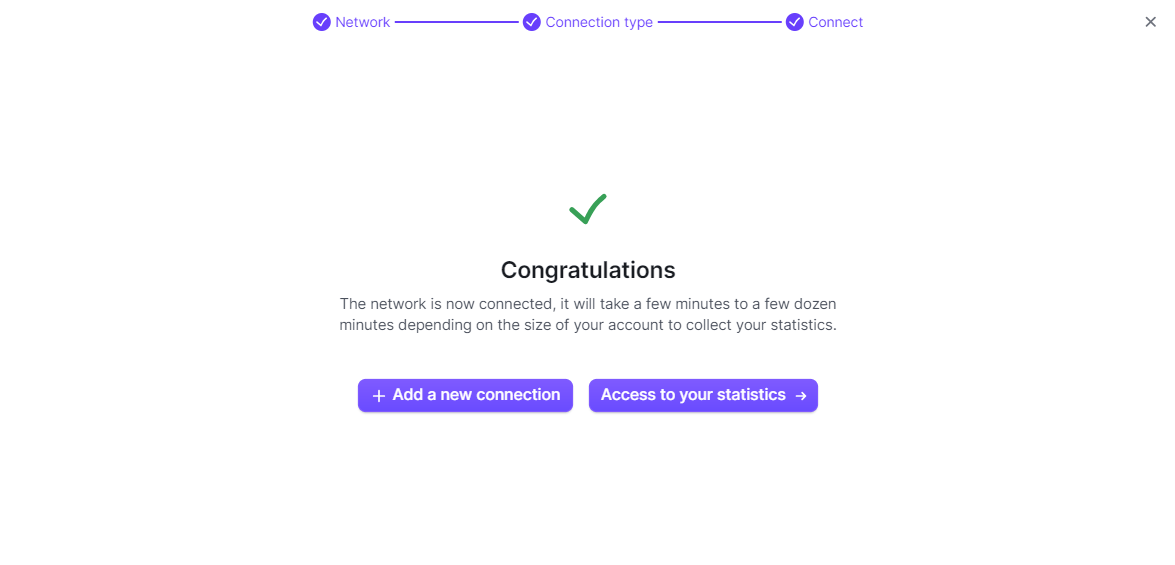 During the trial period, we pull data from the first day of the previous month, once you subscribed we can pull more historical data. Depending on the size of your account, this may take several minutes to fetch the statistics. Meanwhile, you can add more affiliate networks.
Couldn't find something?
Contact us directly through chat from the dashboard.
Next step