The gaming industry is currently valued at an astounding $113 billion. What's even more exciting is its potential to skyrocket to over $300 billion within the next five years.
It's a vibrant ecosystem where players, content creators, and streamers can immerse themselves in virtual worlds while reaping the benefits of affiliate marketing.
So, if you're ready to embark on an affiliate marketing journey in the gaming world, you're in the right place. Stick with Strackr as we explore the incredible opportunities and benefits that gaming affiliate programs have to offer.
Let's dive in.
What Is a Gaming Affiliate Program?
The gaming industry is made up of content creators (streamers, bloggers, reviewers, etc.) with massive audiences and studios, distributors, and manufacturers that need to reach those audiences to make sales. Gaming affiliate programs are the bridge between them.
The process is pretty straightforward.
Content creators join affiliate programs and market games and gaming peripherals to their audiences. When someone purchases a product based on their recommendation, the content creator receives a commission (in some form).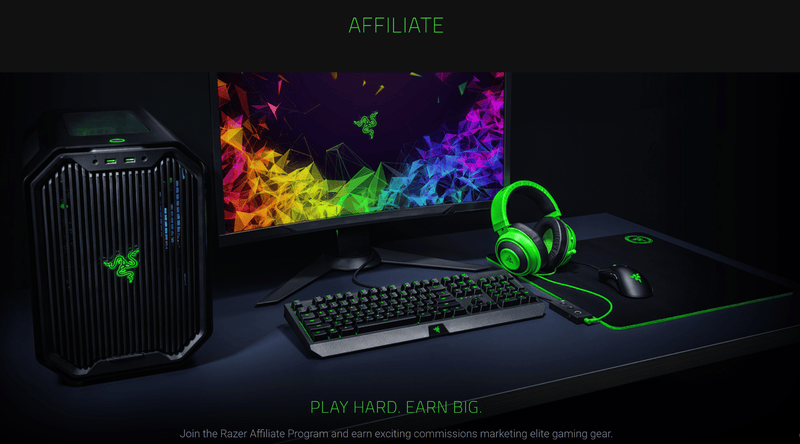 The Razer affiliate program is a great example. By marketing Razer products (mice, PCs, headphones, etc.) to your audience, you can earn up to 3% of every peripheral sale and $5 per PC or laptop sale. There are also bonuses for hitting targets.
Benefits of Gaming Affiliate Programs
Monetize Your Passion
Imagine getting paid for doing what you love—playing games! Gaming affiliate programs offer the unique opportunity to turn your passion into a profitable venture. You can earn while indulging in your favorite pastime, all without the hassle of managing inventory or storage space.
High Commission Rates
Gaming is one of the more lucrative niches for affiliate marketing. Some gaming networks offer commission rates as high as 60% for every sale you generate. That means substantial earnings potential for affiliates.
High ROI
Gaming affiliate programs are not just about earning commissions—they're about reaping the rewards of a high return on investment (ROI). You don't need to create your own products or marketing materials. Instead, you can leverage your gaming skills and passion to promote products through various channels like blogs, video content, and more.
Criteria to Consider When Choosing Gaming Affiliate Programs
Cookie Duration
Cookie duration is the time after clicking your tracking link that a customer must buy before you will be credited for the sale. If your tracking link has a cookie duration of 24 hours and a customer keeps a product in their cart for 48 hours before purchasing, you won't be credited.
In other words… the longer, the better.
Commission Rate (and Conversion Rate)
Different gaming affiliate programs offer varying commission rates. While high commission rates may be tempting, consider the program's conversion rate, too. Sometimes, programs with lower commissions but better conversion rates can lead to higher overall profits. It's all about finding the right balance between commissions and conversions.
Commission Structure
In addition to the commission rate, you should also look into the way commissions are structured. Most gaming affiliate programs offer one-time commissions—but there are some recurring commissions to be found. For example, Zygor Guides offers a 50% recurring commission for every customer you send their way.
Best Gaming Affiliate Programs
1. Razer Affiliate Program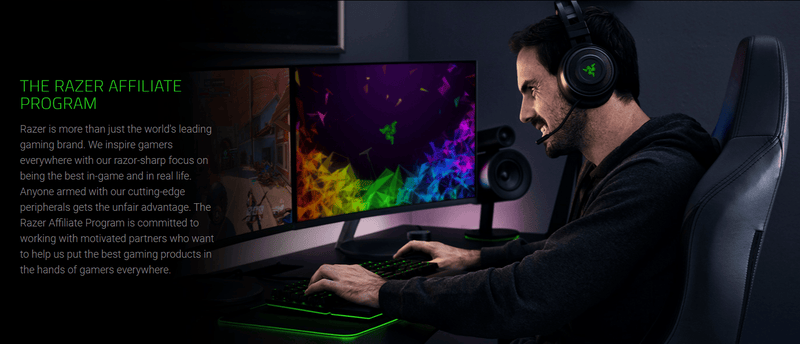 The Razer Affiliate Program allows individuals to earn commissions by referring visitors to Razer through banners or links on their website.
Affiliates can earn up to 10% commission on the sale of Razer products when a visitor purchases a banner or link. No fees are required to join the program, and special incentives such as offers and promotions are provided to help drive traffic.
Affiliates can access various creative and engaging text links and banners to promote Razer products. Commissions are paid on monthly net sales, and the program does not include returns, sales tax, or shipping and handling.
Commission rate: 3% – 10% per sale for peripherals, $5 per sale for systems
Cookie duration: 30 days
2. Epic Games Affiliate Program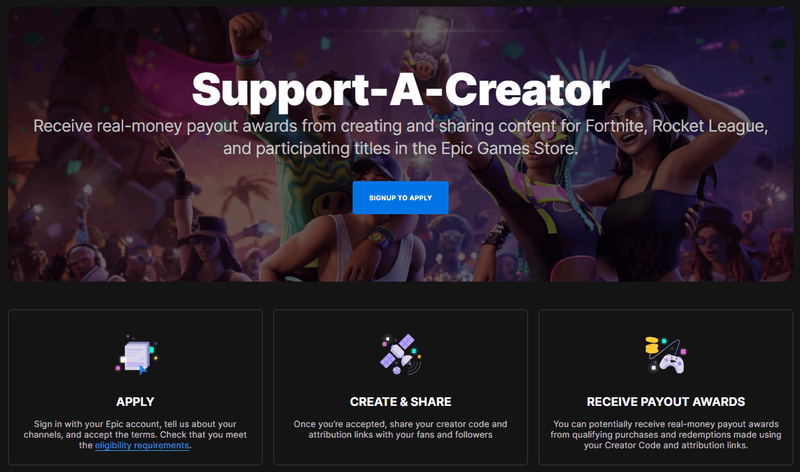 Epic Games's Support-A-Creator affiliate program aims to reward creators who play major Epic Games titles and share content with their audiences. The program is open to anyone who meets the eligibility requirements.
Once accepted into the program, creators can share their creator code and attribution links with their fans and followers. They can potentially receive real-money payout awards from qualifying purchases, and redemptions made using their Creator Code and attribution links.
The program is free to join and offers a unique opportunity for creators to earn money while engaging with their audience through Epic Games' titles.
Commission rate: 5% base rate
Cookie duration: 30 days
3. Nvidia Affiliate Program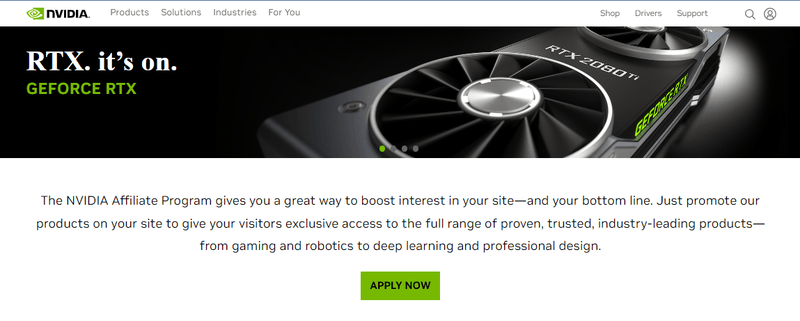 The NVIDIA Affiliate Program is a partnership opportunity where you can earn commissions by promoting NVIDIA products on your website. By promoting their industry-leading products—from gaming and robotics to deep learning and professional design—you can give your visitors exclusive access to a full range of proven, trusted products.
As an NVIDIA affiliate, you earn a commission with every qualifying sale your site refers to. Better ads lead to increased sales on NVIDIA, meaning you earn more money. They provide all the necessary banners and logos, as well as handle order processing and billing. You just have to sit back and receive checks from the affiliate network.
Commission rate: 2-4% per sale for GPUs
Cookie duration: 45 days
4. Zygor Guides Affiliate Program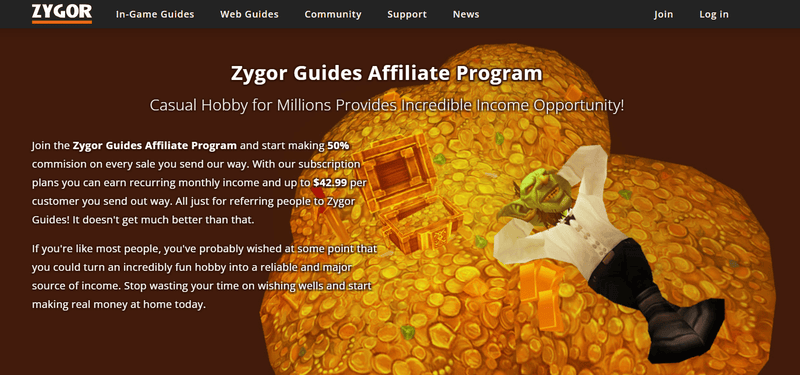 The Zygor Guides Affiliate Program is a partnership opportunity where you can earn commissions by promoting Zygor Guides. You can start making a 50% commission on every sale you send their way. With their subscription plans, you can earn recurring monthly income and up to $42.99 per customer you refer.
The affiliate sales are all handled through the popular affiliate network ShareASale. ShareASale will provide you with a unique affiliate link that when clicked will store a cookie on the user's computer with your affiliate information. If the user buys anything from Zygor Guides within 60 days, you will receive a commission for the sale. In the case of monthly subscriptions, you'll receive an additional commission every month each time a customer is rebilled.
Commission rate: 50% recurring
Cookie duration: 60 days
5. Twitch Affiliate Program

The Twitch Affiliate Program allows some streamers to monetize their channels. To become an affiliate, you need to meet certain criteria:
Stream at least 500 minutes per month
Stream on at least 7 days per month
Have an average of 3 concurrent viewers
Have at least 50 followers
Affiliates gain access to monetization tools like subscriptions, bits, and ads. They also get access to unique features like transcoding options and longer VOD lifespans.
Commission rate: 5% revenue share
Cookie duration: 30 days
6. ModdedZone Affiliate Program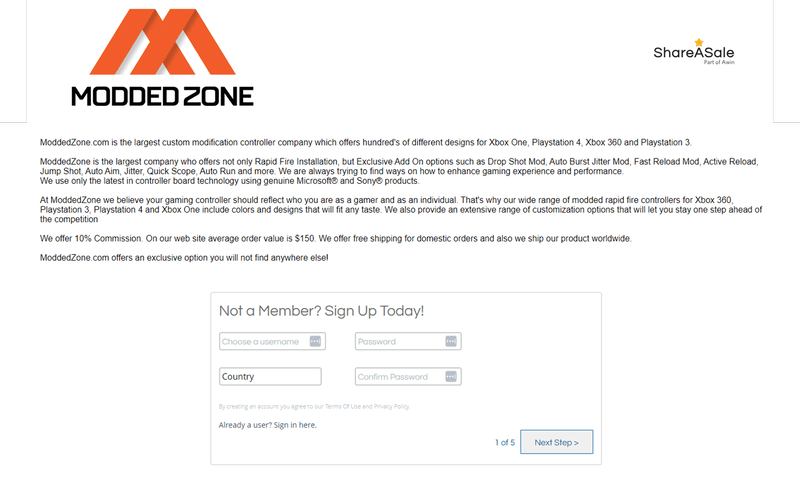 The ModdedZone Affiliate Program allows you to earn commissions by promoting ModdedZone products. As an affiliate, you get 10% per sale with 90-day cookies. ModdedZone offers customized game controllers, tweaking them to your exact specifications, inside and out.
To become a ModdedZone affiliate, you need to sign up for their affiliate program via ShareASale. After your application is approved, you'll be granted access to your affiliate dashboard, where you can find and copy your unique affiliate referral link. You can then start monetizing your content by adding your ModdedZone link directly to your content.
Commission rate: 10% per sale
Cookie duration: 90 days
7. Wargaming.net Affiliate Program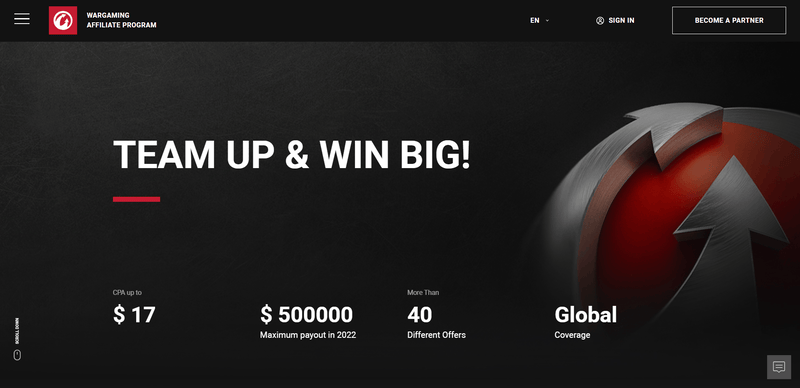 The Wargaming.net Affiliate Program allows you to earn commissions by promoting Wargaming.net products on your website, YouTube channel, or blog. The program is based on the CPA (cost per action) model, meaning the payouts are made for registrations or different user actions within the games. The amount of money you can earn depends on the offer and the user's country.
Two major products in the Wargaming.net affiliate program are the free-to-play MMO PC games World of Tanks and World of Warships. You can earn up to $10 per registration, and there's an additional 3% slice for extra revenue from getting new affiliates to join the partner program.
Once you're accepted into the program, you'll be granted access to your affiliate dashboard, where you can find and copy your unique affiliate referral link. Then, you can start monetizing your content by adding your Wargaming.net link directly to your blog posts.
Commission rate: $1 – $10 per signup
Cookie duration: 30 days
How to Manage Gaming Affiliate Programs With Strackr
If the programs on this list have caught your attention, you're going to need a way to track your performance and keep track of your commissions.
That's where Strackr comes in—we help content creators, publishers, and media companies track 196 affiliate networks and 560,000+ affiliate programs from a single, intuitive dashboard. You can access key metrics, track revenue, and prioritize high-performing networks easily.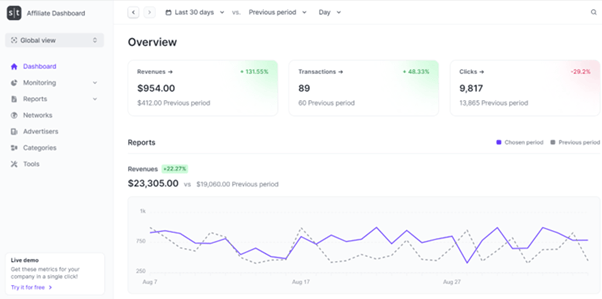 Make the most of your gaming affiliate programs—use Strackr to help you stay organized.
Conclusion
Gaming affiliate programs offer an exciting avenue for gamers and content creators to turn their passion into profit. With high commission rates, a variety of products, and the potential for passive income, these programs are a winning bet for those in the gaming industry.
At Strackr, we arm content creators, publishers, and media companies with the tools they need to manage and optimize their gaming affiliate programs.
Get started with a 30-day free trial and see what Strackr can do.
Share
Affiliate dashboard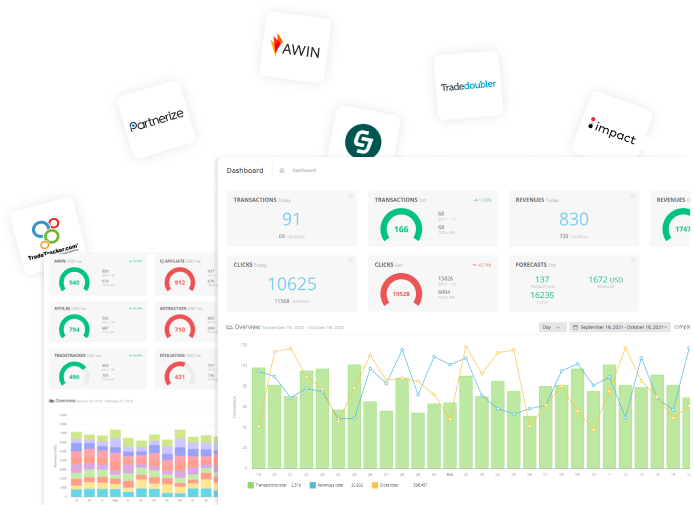 Connect all your affiliate networks with Strackr to access to unified statistics and tools.
Try for free