Affiliate partnerships have become a key growth driver for online businesses and brands.
At Strackr, we've watched as new affiliate networks have surged and profits for companies and partners have skyrocketed. Long story short—we know affiliate partnerships work and how they can help you grow your business.
So, in this guide, we thought we'd share some insight into the actual process of creating an affiliate program and how to leverage it for profitable growth.
Curious? Read on.
What Is an Affiliate Partnership?
An affiliate partnership is a collaborative arrangement between a business and an affiliate (either a different business or an individual) focusing on acquisition.
The affiliate refers customers to the business and receives compensation for their efforts—usually a fixed fee or a percentage of each sale. The business benefits from the affiliate's help obtaining new customers, and the affiliate receives a commission for their efforts.
It's a win-win scenario.
While the process isn't overly confusing, there are a few additional concepts that are important to understand, like:
Affiliate Links: These are special URLs that let the affiliate and the business attribute each sale to the correct source.
Affiliate Networks: These services manage all of the technical details, like tracking sales and providing real-time statistics so that both parties can track their success.
Payouts: This is how the business pays its affiliates for successful referrals.
To drive this explanation home, let's look at a few examples.
Examples of Affiliate Partnerships
Amazon Associates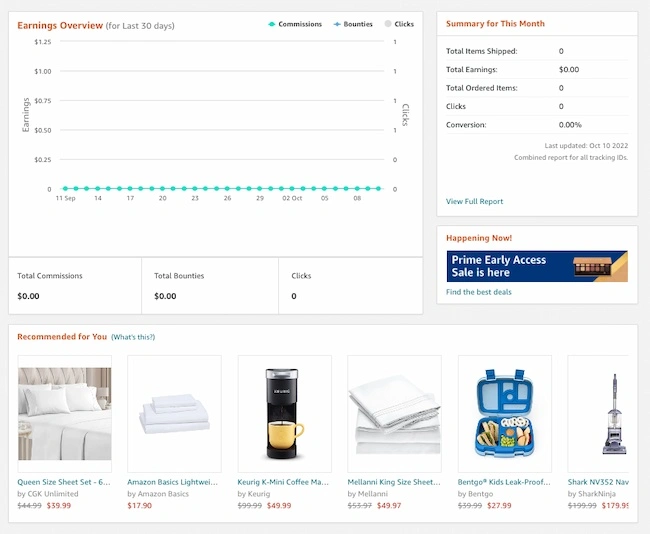 Content creators can earn commissions by posting customized links to millions of products through Amazon's affiliate program. It is well-known for its large product selection, competitive commission rates, and trustworthiness.
Commission: 10%
Cookie Duration: 24 hours
Skillshare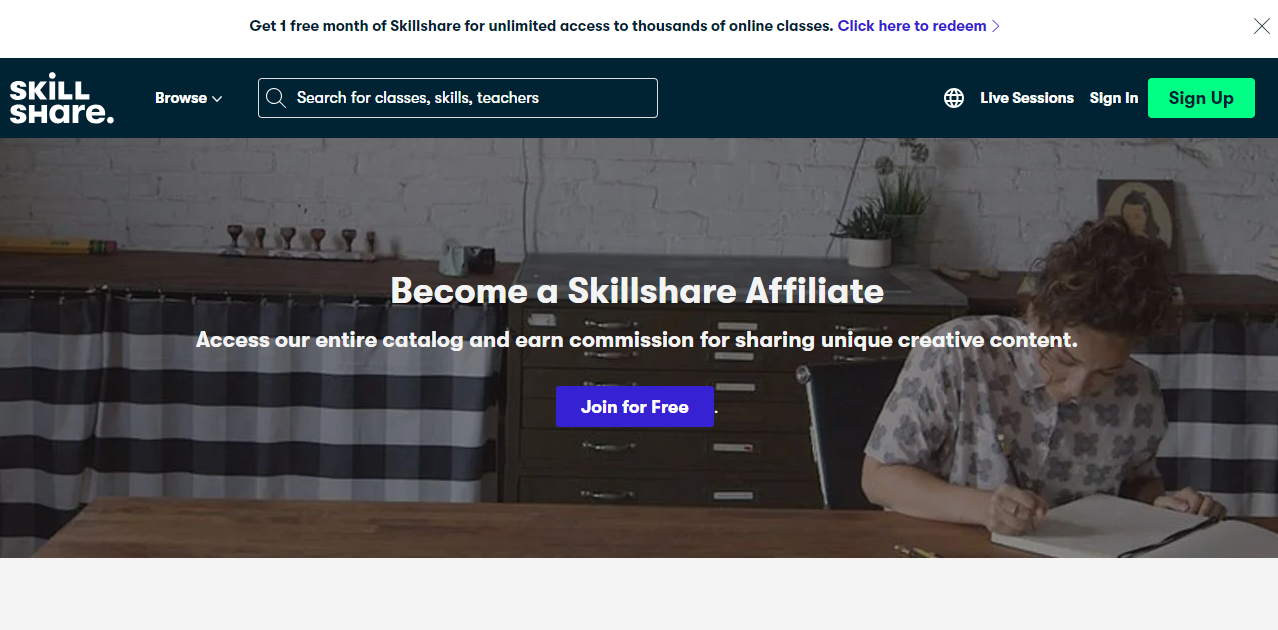 The affiliate program at Skillshare pays a 40% commission on every new client referral. Real-time tracking and monthly rewards make it an appealing alternative for affiliates.
Commission: 40% commission
Cookie Duration: 30 days
Shopify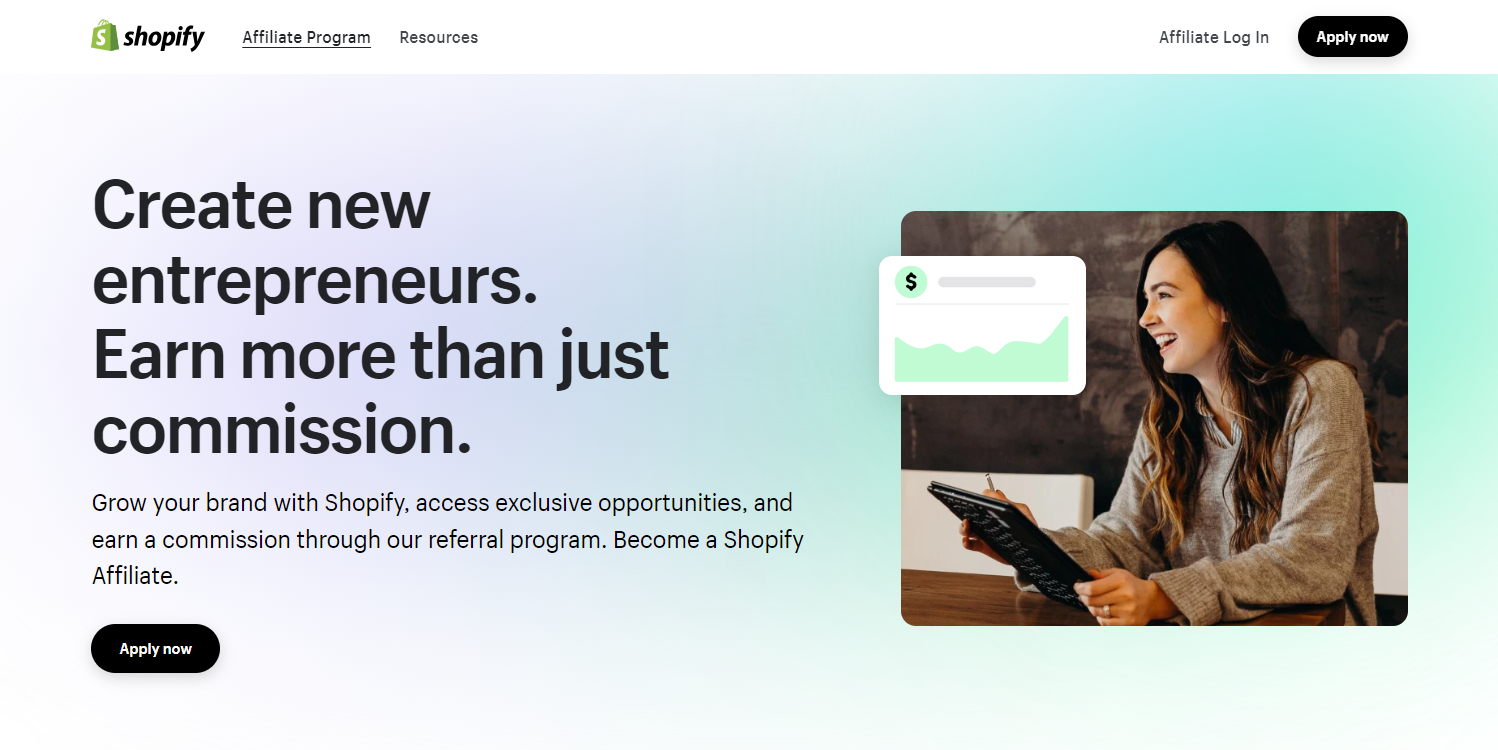 Shopify's affiliate program pays affiliate marketers a percentage on merchant subscription costs. Additionally, they provide their affiliates with important resources and tools that can assist them in generating more sales. 
Commission: 100% of the merchant's monthly subscription fees on their first and second payments for the general plan and $2,000 for each Shopify Plus subscription.
Cookie Duration: 30 days
After exploring these examples of best affiliate partnerships, you might be wondering how partners efficiently manage them all. That's where Strackr comes in.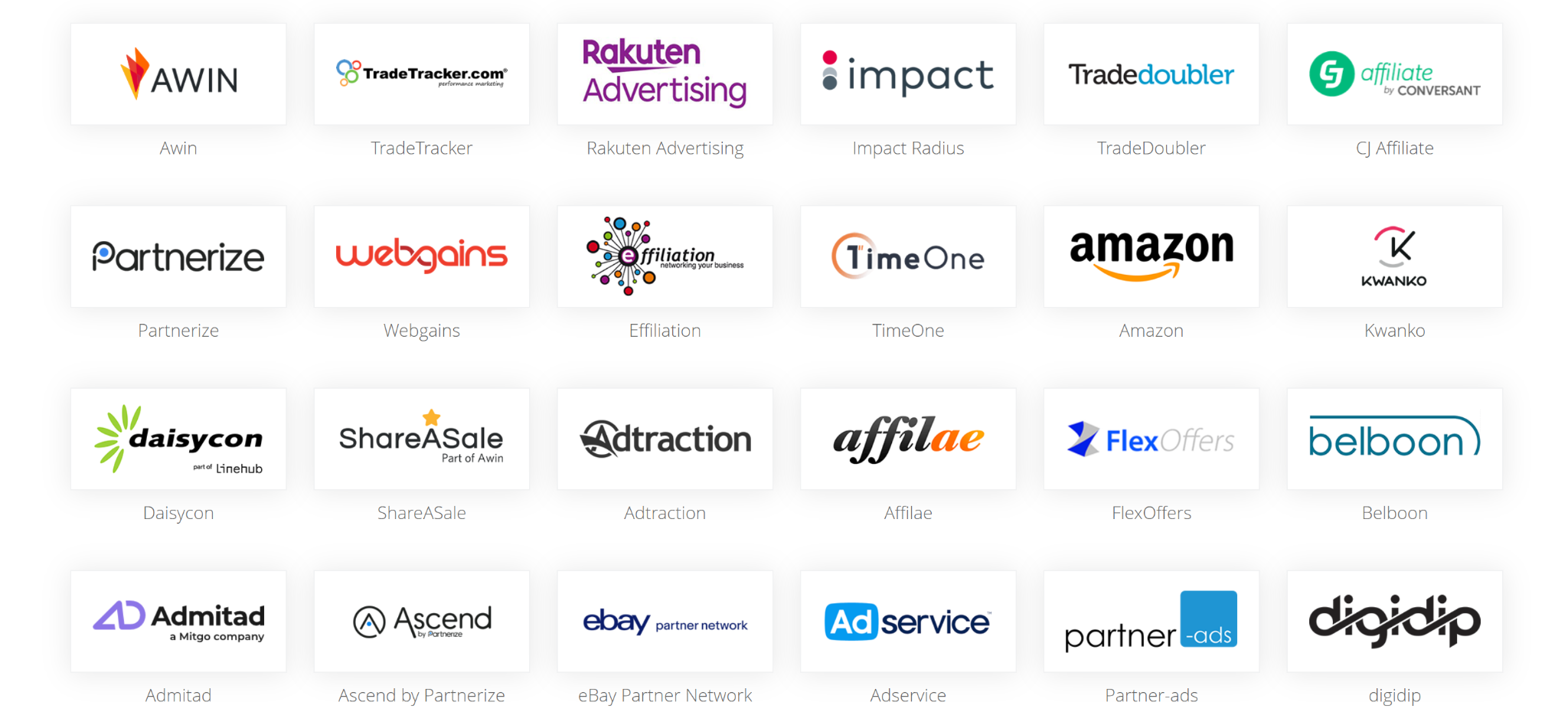 As an all-in-one affiliate tool built for publishers, Strackr offers a single dashboard, one API, and a suite of unified tools. Strackr can help publishers manage 196 affiliate networks and 500,000+ affiliate programs—all from a centralized dashboard.
Why Is Affiliate Partnership Important?
Affiliate partnerships offer advantages to both businesses that establish affiliate programs and the individuals who promote those businesses. Here are some reasons why incorporating affiliate partnerships is essential for companies aiming to broaden their reach and increase their revenue streams:
Increased exposure: Having affiliate partners allows you to reach new audiences, broadening your reach and drawing potential clients you might not have reached otherwise.
Increased sales: Working with affiliates can help you increase your sales and revenue by leveraging each other's consumer bases for mutual advantage.
Brand awareness: Affiliate marketing can increase the visibility and recognition of your brand, resulting in increased brand loyalty and a stronger market presence.
Cost-effective: Because affiliate agreements operate on a performance-based approach, you only pay for actual outcomes. This is a cost-effective approach to marketing your products while maximizing your return on investment (ROI).
No upfront costs: Affiliates don't need to create their own products or services, invest in inventory, or handle customer support. Instead, they can promote existing products or services and earn commissions on sales generated through their marketing efforts. This means they can enter the affiliate marketing world—even with no money.
How to Get Started With Affiliate Partnerships
1. Identify Potential Partners
The cornerstone of a successful affiliate partnership lies in connecting with suitable partners. 
There isn't one single kind of affiliate partner—they can be:
Content creators (bloggers, vloggers, podcasters, influencers, etc.)
Businesses
Customers
So, how do you identify good affiliate partners? Start by looking at their audiences or market to determine whether there's overlap with your audiences or market.
For content creators, influencers, and businesses, you can do this by analyzing things like social accounts, content, and demographics. For customers, the fact that they've purchased your product or service is often a good indication that they may know others who would be interested.
Additionally, you'll want to think about:
Reach
Reach refers to the size of an affiliate partner's audience. Generally speaking, larger audiences tend to have higher engagement and more opportunities for conversions since your products and services will be in front of more people.
Engagement
Engagement measures how much an audience interacts with a content creator or influencer's content. It can be measured using metrics like likes, comments, shares, and unique views. Generally, more engagement means more chances for conversions.
Note: Don't try to build an affiliate program for everyone—start with one group (e.g., customers or content creators) and build parallel groups when you're ready.
2. Set Your Terms
Now that you've identified potential partners in a single group, it's time to decide your terms. This is a balancing act—you want to incentivize your partners and get the most bang for your buck.
There are a few different ways you can structure your affiliate incentives:
Pay per click (PPC): This is a popular option where you pay partners every time someone clicks on an affiliate link.
Pay per sale (PPS): You can also incentivize your partners by paying them for each conversion they generate from their link.
Fixed fee: Another way to reward affiliates is to offer them a flat rate for every successful signup or sale they generate.
To set your rate, you'll need to know how much a click or sale is worth to your business (i.e., conversion rate and lifetime value). You then need to work out how much of that value you need to hold onto. The rest is money you could offer as commissions if the ROI is high enough.
At this stage, you should also think about payout schedules and thresholds and any other conditions that you want to attach to payment. Reach out to a few potential partners with these terms and compare them to similar affiliate programs to make sure you're offering a competitive commission rate.
3. Create a Plan
Once your terms are locked in, you can finalize an affiliate partnership plan. This is your roadmap for the program—who's responsible for what, how each partner is expected to promote your products, track sales and other operational items.
You'll also want to create (or update) any necessary legal documents, such as a contract to protect both parties involved in the agreement. Make sure you include clauses that outline performance expectations and dispute-resolution measures if there's ever a disagreement down the line.
Lastly, outline the specific marketing channels you're targeting with affiliates and the content your affiliates will use.
4. Track Performance
Before you launch an affiliate partnership program, it's important to have an affiliate program management tool in place. These tools help you manage your partnerships, track performance, and ensure that you're paying your affiliates accurately and on time.
Different tools often focus on different kinds of businesses. For example, PartnerStack focuses on B2B SaaS businesses, while Everflow focuses on a range of industries including e-commerce and B2B services.
Key metrics to look out for include:
Many affiliate management platforms integrate directly with Strackr through APIs to give your affiliate partners a simple, reliable way to track their performance.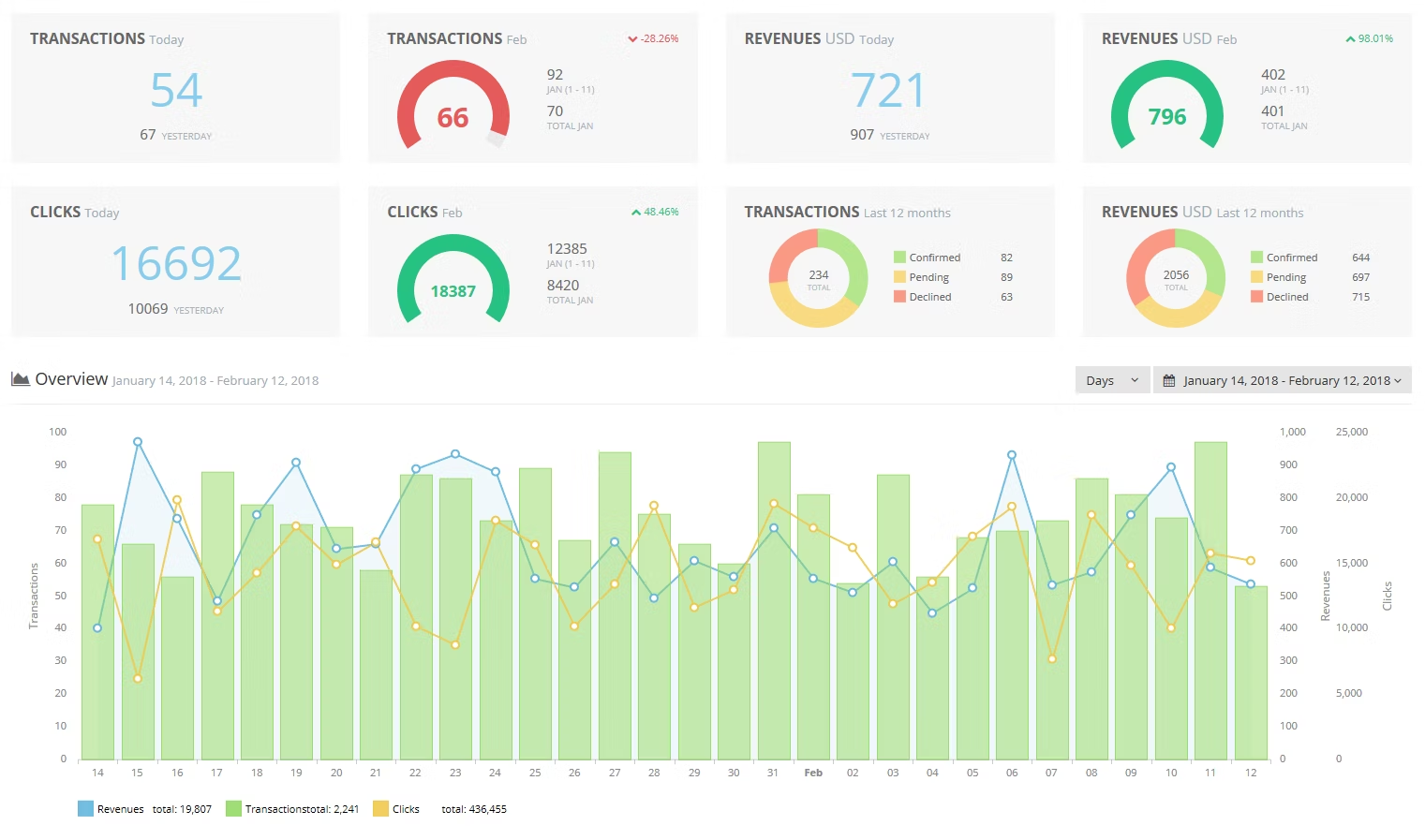 They can view key metrics like transactions and revenue, view progress over time, and optimize their content strategies around the results. This kind of data is invaluable when it comes to keeping affiliates happy and making sure you're getting the best performance out of them.
5. Evaluate and Optimize
The final step is evaluation—you need to assess each partner's performance individually and the program's overall success.
Starting with the former, you need to determine whether the relationship is beneficial enough to continue or whether changes need to be made. Just because you're only paying for results doesn't mean it isn't detrimental to stick with partners who don't perform as expected.
You should also look at the performance of the entire program and its various elements, such as:
Promotions
Networks
Content
Audiences
This data can be used to optimize the program for maximum efficiency and ensure you're getting the most out of your investment.
Conclusion
Affiliate partnerships have enormous potential for organizations and individuals looking to increase their revenue, reach, and brand awareness. Managing these collaborations becomes an easy process with the appropriate strategy.
Strackr helps affiliate partners manage their relationships and maximize performance. With intuitive dashboards and connections with 560,000+ affiliate programs and networks, it's the perfect tool to make your affiliate programs successful and drive results that meet or exceed expectations.
Get started with a 30-day free trial—no credit card required!
Share
Affiliate dashboard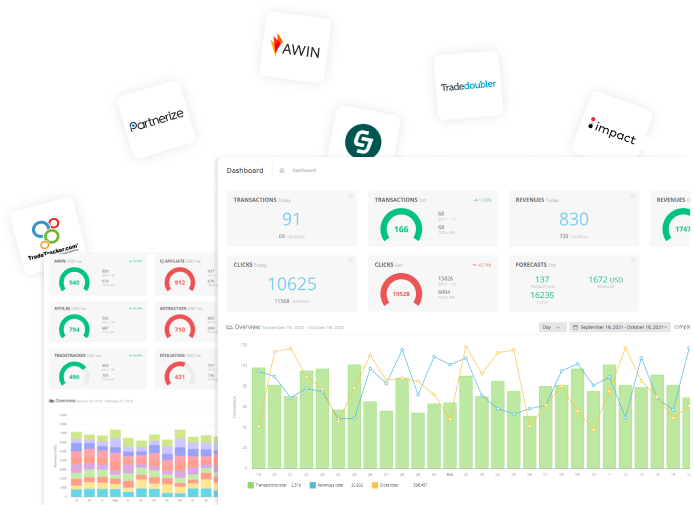 Connect all your affiliate networks with Strackr to access to unified statistics and tools.
Try for free