Fitness affiliate programs provide a unique opportunity for businesses to collaborate with fitness influencers and professionals—gaining access to their loyal audiences in exchange for commissions.
But, not all fitness affiliate programs are created equal.
At Strackr, we're uniquely positioned to help would-be affiliate marketers in the fitness industry find the best partner programs.
To save you time, we've compiled a list of the seven best fitness affiliate programs you should consider joining. Stick around, and we'll dive into the details to help you determine which programs are worth considering.
Let's get started.
What Are Fitness Affiliate Programs?
The fitness industry is full of content creators—influencers, bloggers, YouTubers, etc.—with audiences. Fitness brands often try to reach these audiences by partnering with content creators to have them promote their products in exchange for a commission.
These partnerships are fitness affiliate programs.
Affiliate programs work by having content creators insert affiliate links into their content—unique URLs that identify you as the referrer of the sale. You earn a commission whenever someone purchases something from that link (sometimes as high as 60% of a sale).
Want an example? Consider the Bulk Affiliate Program.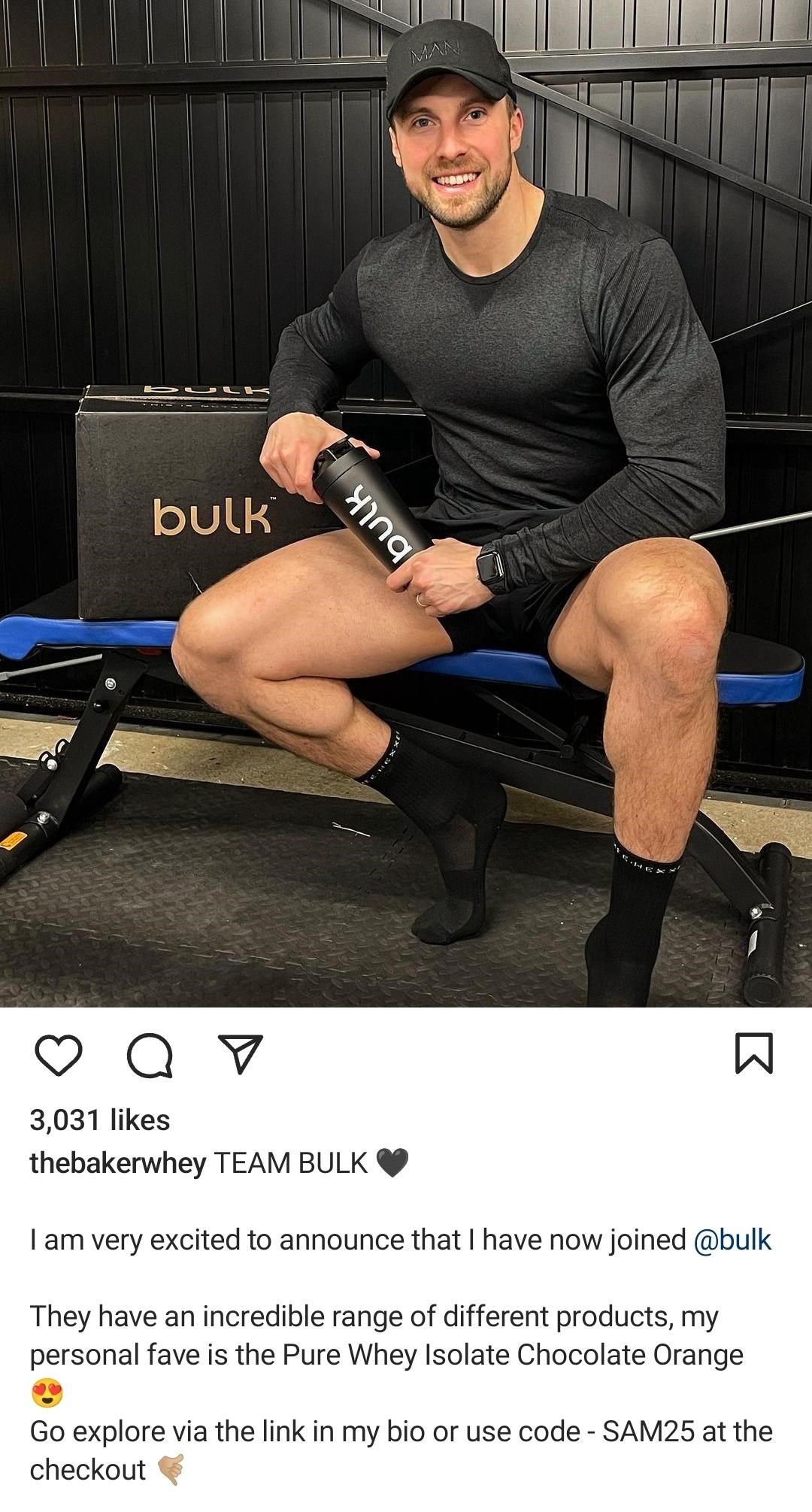 Bulk (a sports nutrition brand) offers fitness influencers on Instagram, YouTube, and TikTok, as well as bloggers and cashback websites commissions of up to 12% for every sale. Bulk also offers free product samples to help them promote the products better.
If you're interested in learning more about actual examples of fitness affiliate programs, read on. We have compiled some of the best ones in the list below. But before that, let's learn about their many benefits.
Benefits of Fitness Affiliate Programs
Wide Range of Products
Fitness affiliate programs offer a wide range of products for promotion. From fitness equipment to health supplements, there's something for everyone. For instance, FanFuel, the affiliate arm of Wolfson Brands, offers supplements appealing to markets ranging from bodybuilding to life extension.
Similarly, Fitbit, the world's leading fitness tracker manufacturer, allows affiliates to earn commission by featuring Fitbit links or banners. This diversity enables businesses to cater to a broad audience and meet various customer needs.
Commissions and Financial Rewards
One of the most attractive aspects of fitness affiliate programs is the potential for lucrative commissions and financial rewards. For example, FanFuel offers a commission rate of at least 40% on everything you sell on your fitness blog or channel.
Similarly, the National Academy of Sports Medicine (NASM) offers an 8% commission on all sales from customers you drive to their site. Some programs even offer performance-based bonuses and incentives, providing additional financial rewards for high-performing affiliates.
Reputation Boost
Participating in fitness affiliate programs can also boost your reputation in whatever field you're in—whether it's blogging, coaching, content creation, or something else entirely.
Partnering with well-known brands like Nike and Reebok can lend credibility to a fitness-related business or creator. This can help the business attract customers or followers and bolster brand recognition.
Criteria to Consider When Choosing Fitness Affiliate Programs
Cookie Duration
Cookie durations determine how long a click can be attributed to you.
If a customer clicks your tracking link and purchases within this window, you'll be credited with the sale. If not… no luck. Look for cookie durations of 30 to 90 days (or more)—that's the industry standard.
Commission Rate vs. Conversion Rate
A commission rate is the amount you earn per action (sale, sign-up, etc.). A conversion rate is the percentage of your audience that takes that action. You want to strike a balance between these two variables.
Depending on your audience, a program with a 50% commission and a 1% conversion rate might earn you less or more than a program with a 10% commission and a 5% conversion rate.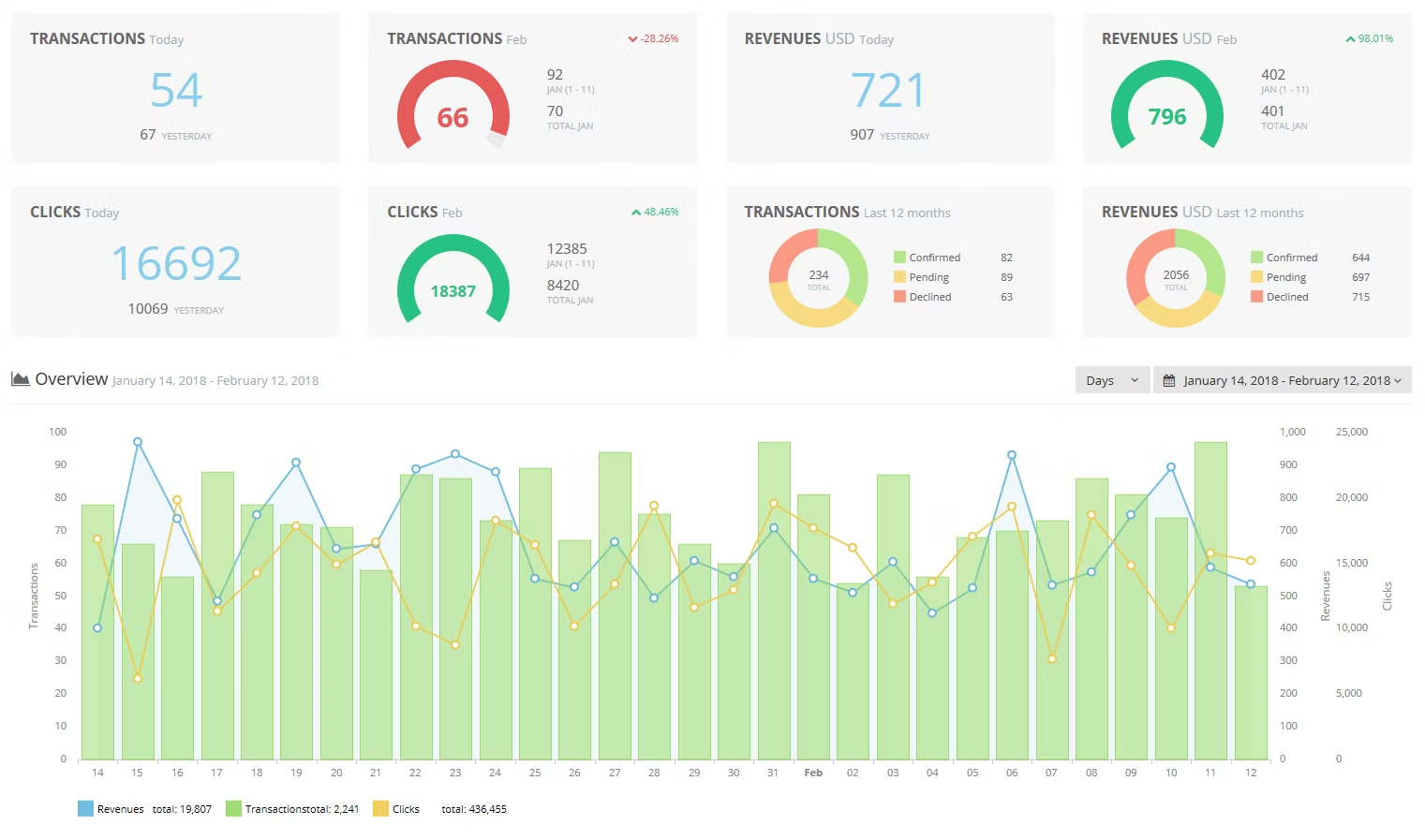 Tools like Strackr can help you track metrics like clicks, conversions, and revenue to assess different programs accurately.
Affiliate Assets
Lastly, look into the kinds of assets you gain access to when you join a program. Some companies offer high-converting assets like banners, widgets, and email templates for their affiliates. Others leave that entirely up to you, so you'll need to invest more time and effort to market the products effectively.
7 Best Fitness Affiliate Programs
1. Nike Affiliate Program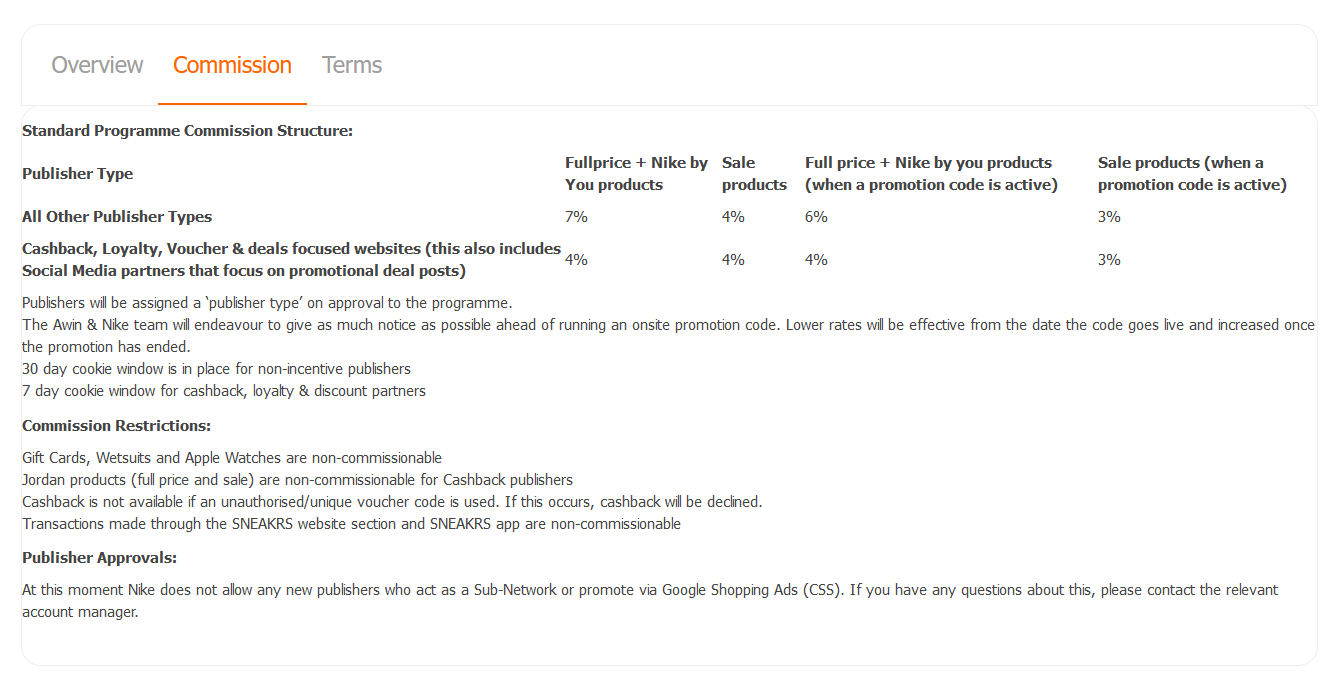 This program allows selected websites to earn commission by promoting Nike products. Affiliates can earn up to 11% commission on valid sales and enjoy a 30-day cookie duration, category-specific affiliate banners, and frequent communications regarding offers and new products.
With average order values of $100 to $125 and excellent brand recognition, this is a potentially profitable affiliate program for any fitness site, blog, or creator.
Commission: 11% per sale
Cookie Duration: 30 days
Payment Methods: Not explicitly mentioned
Products: Shoes and apparel
2. Total Gym Affiliate Program

Total Gym's affiliate program provides information about their gym equipment, payment plans, and available models. They also offer an affiliate program for individuals interested in promoting Total Gym products on their websites.
Commission: Up to 7.5% per sale
Cookie Duration: 45 days
Payment Methods: Direct deposit, check, or Payoneer
Products: Fitness equipment
3. ACE Fitness Affiliate Program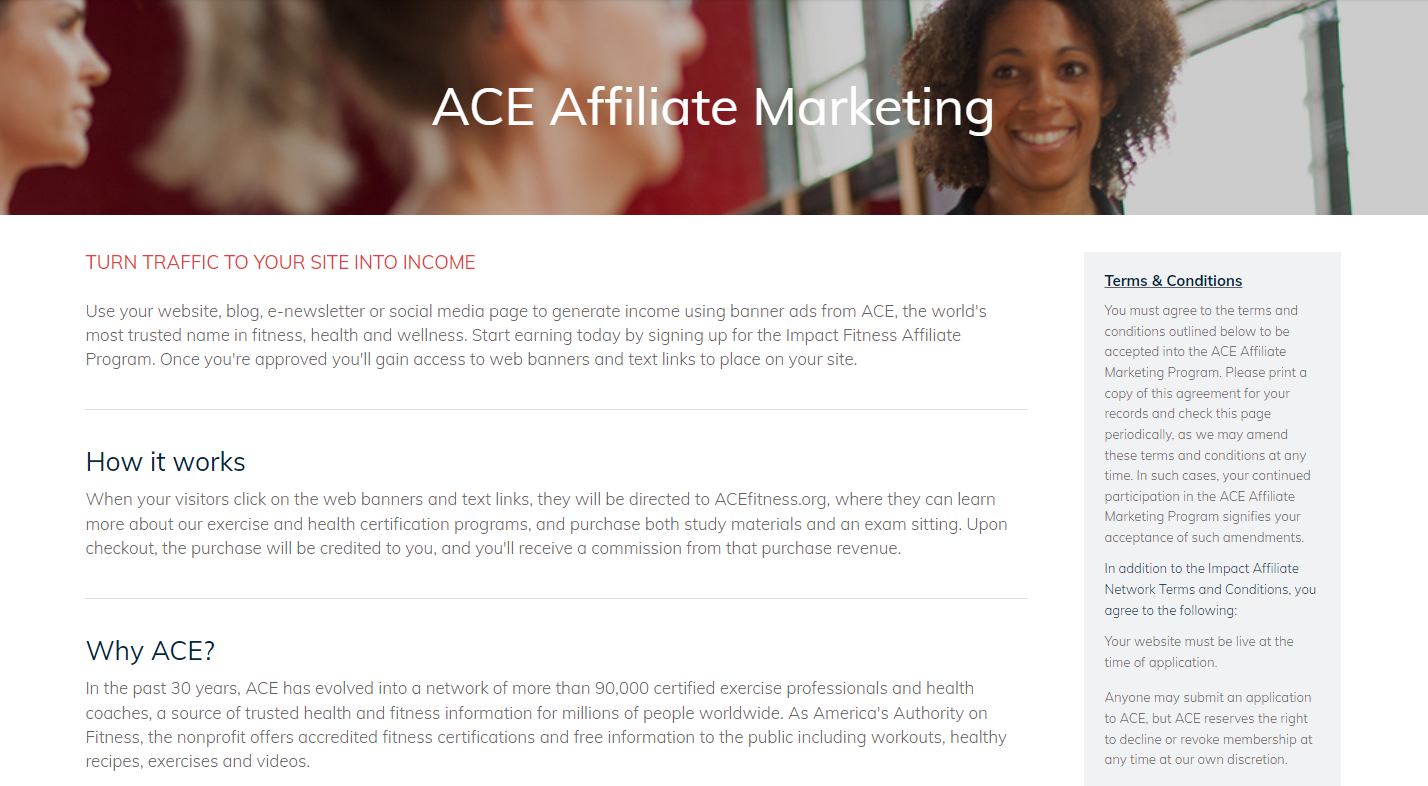 This program allows website owners to generate income by promoting ACE fitness certifications and products. Approved affiliates can place web banners and text links on their sites and earn commissions when visitors make purchases through those links.
Commission: 7% per sale
Cookie Duration: 90 days
Payment Methods: PayPal, Check, Wire Transfer, Direct Deposit
Products: Fitness training certification
4. Reebok Affiliate Program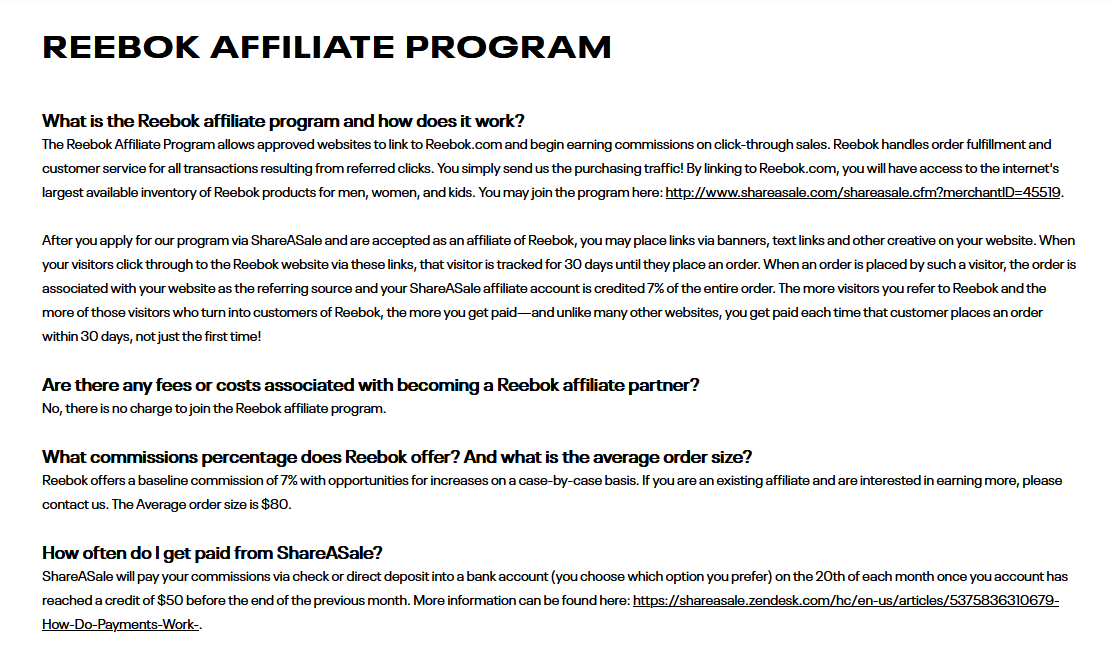 This program allows individuals to earn commissions by promoting and selling Reebok products. By joining the affiliate program, participants can use the brand's popularity and make money through their referrals. It's an excellent opportunity for those interested in monetizing their online presence and connecting with the Reebok brand.
Commission:  7% per sale
Cookie Duration: 7 days
Payment Methods: Check, direct deposit, wire transfer, and Payoneer
Products: Sports footwear and clothing
5. Speedo USA Affiliate Program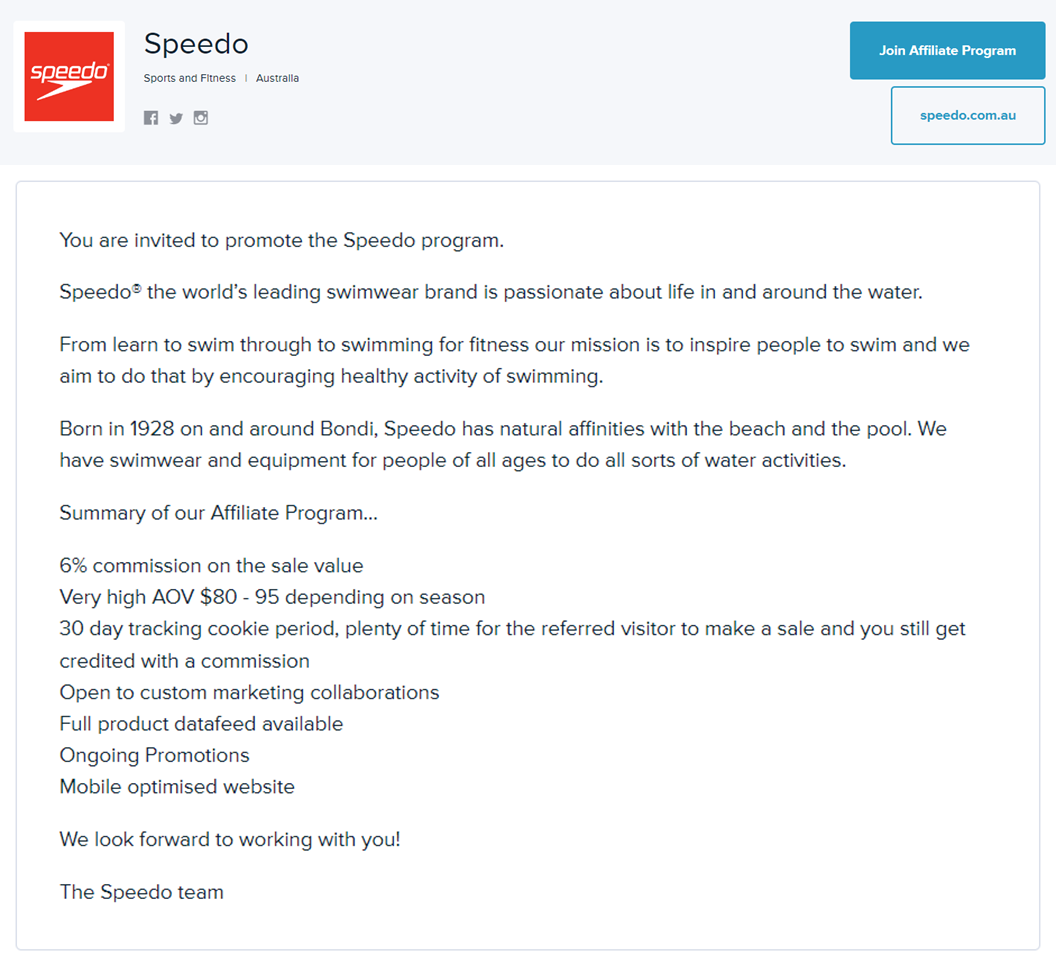 Speedo offers an affiliate program with a 6% commission on sales and a high average order value. With a 30-day tracking cookie period, a mobile-optimized website, and worldwide shipping, affiliates can promote a trusted swimwear brand and earn attractive commissions.
Commission: 6% per sale
Cookie Duration: 30 days
Payment Methods: PayPal and direct deposit
Products: Swimwear
6. Titan Fitness Affiliate Program
This program allows approved websites and content creators to earn commissions on sales they drive to the Titan Fitness website. Affiliates receive a 5% commission on clickthrough sales and enjoy perks such as a dedicated program manager, frequent updates, and an easy-to-use dashboard to track performance.
Commission: 5% per sale
Cookie Duration: 30 days
Payment Methods: Direct deposit, check, or Payoneer
Products: Fitness equipment
7. Under Armour Affiliate Program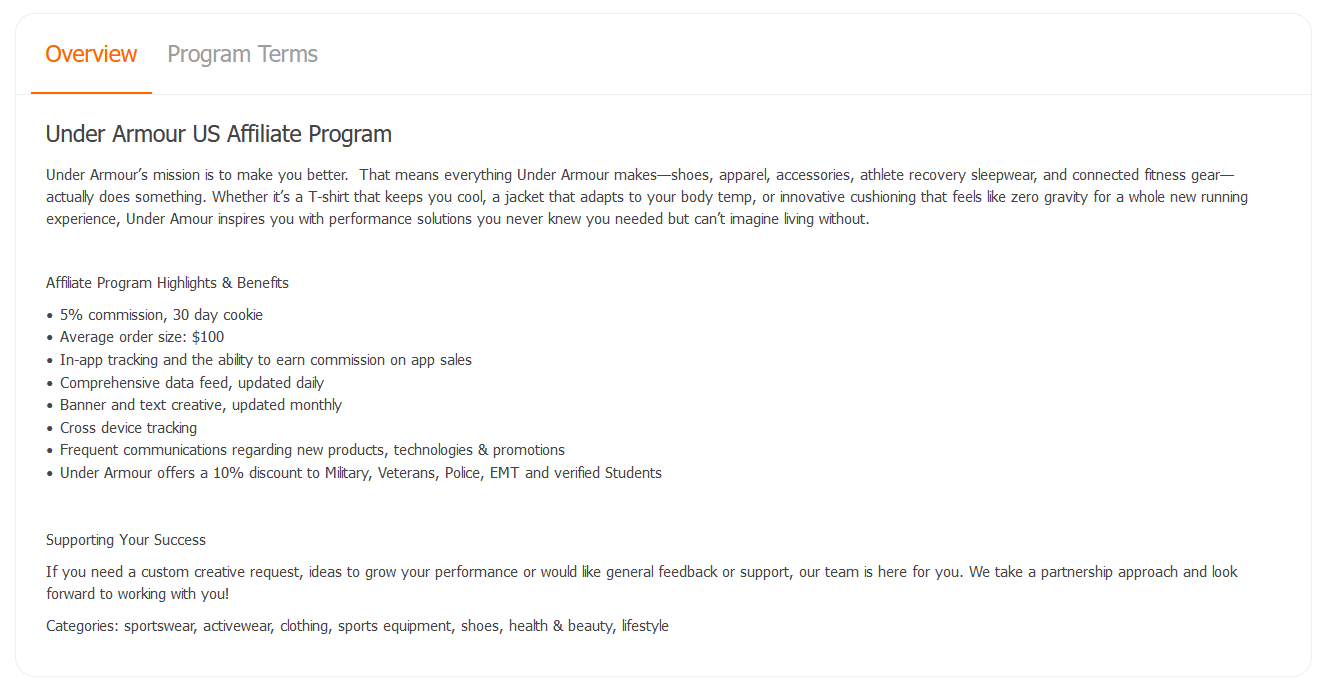 The award-winning Under Armour affiliate program (run through AWIN) is an excellent opportunity for fans of the athletic brand to promote products and earn income. The commission is 5% of every sale, with an average order value of $100 this year (i.e., roughly $5 per sale).
You can also offer your audience discounts and promotions to help incentivize purchases.
Commission: 5% per sale
Cookie Duration: 30 days
Payment Methods: International wire transfer or ACH
Products: Sportswear
How to Manage Fitness Affiliate Programs With Strackr
Managing multiple fitness affiliate programs might seem daunting if you're a busy content creator, publisher, or media professional. With Strackr, you can centralize the management of all affiliate programs and networks you're a part of.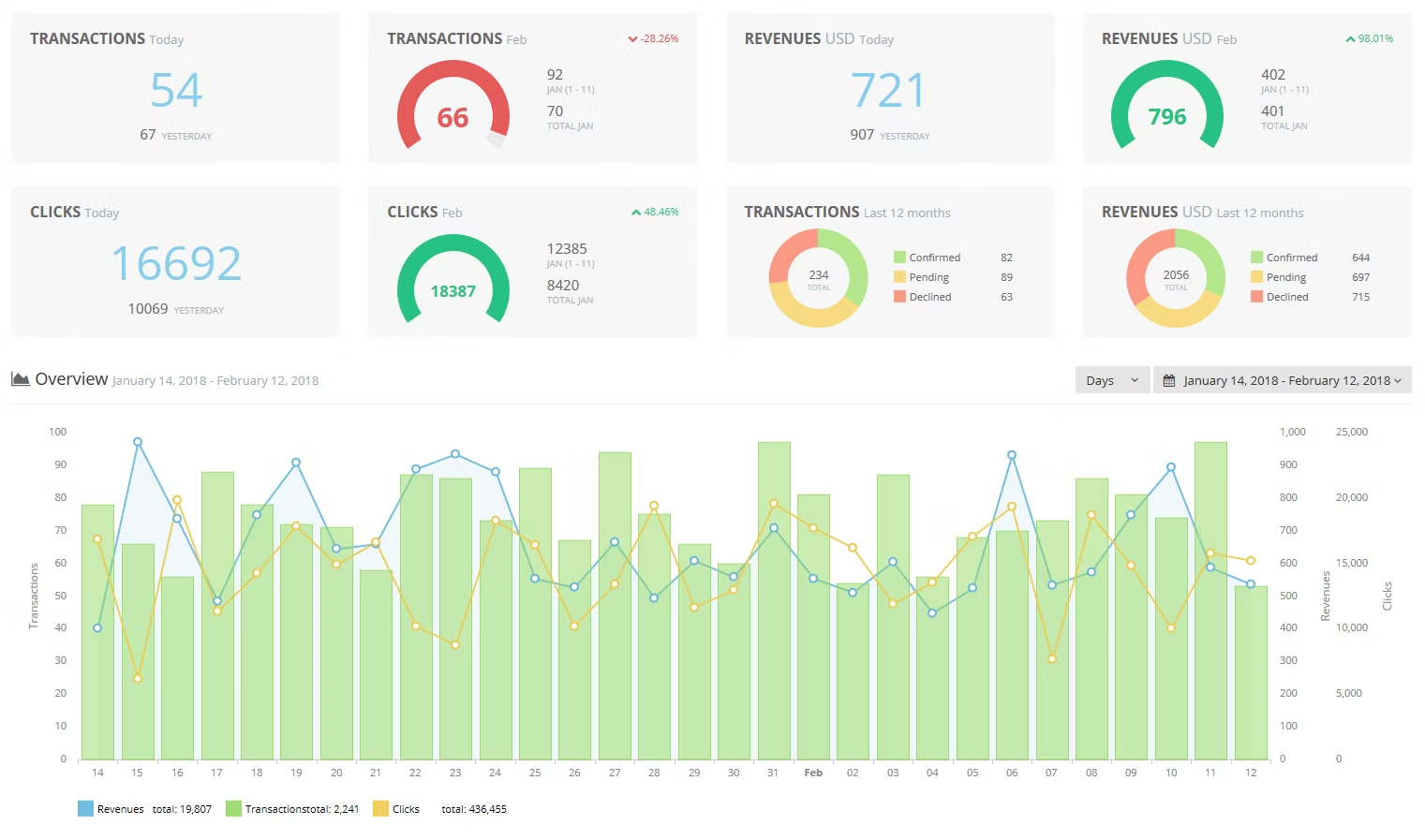 With connections to 196 networks and 560,000+ programs, finding and connecting with the programs that best fit your needs is easy. Once you get started, you can also use Strackr to track performance using metrics like clicks, transactions, revenue, and more. Reports help you drill down into this data for quick insights into performance.
Conclusion
Fitness affiliate programs are a great way for fitness content creators to make money from their passion.
With Strackr, you can easily manage and track your affiliate programs from one centralized platform. This way, you can make sure that your content is optimized for maximum return on investment. With the performance tracking features, it's simple to stay up-to-date on the success of your efforts.
Try Strackr today for free and experience the convenience of a single, powerful platform for all your affiliate marketing needs.
Share
Affiliate dashboard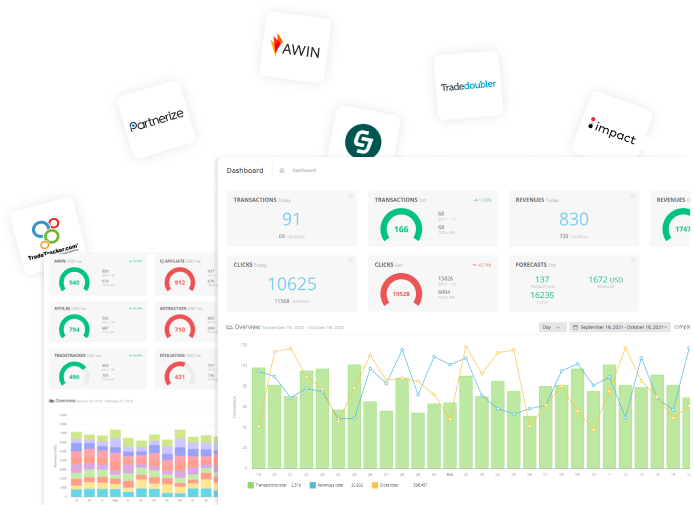 Connect all your affiliate networks with Strackr to access to unified statistics and tools.
Try for free