Today, affiliate marketing is more popular than ever in the digital world. It's a flexible way for people and businesses to make money online, promoting various products and reaching a broad audience.
As one of the world's largest e-commerce platforms, AliExpress offers a treasure trove of products from clothing to electronics, making it a household name for shoppers worldwide.
In this Strackr article, we'll dive into the world of AliExpress affiliate programs–what it is, how to sign up for one, and the best practices for AliExpress affiliate programs.
What is the AliExpress Affiliate Program?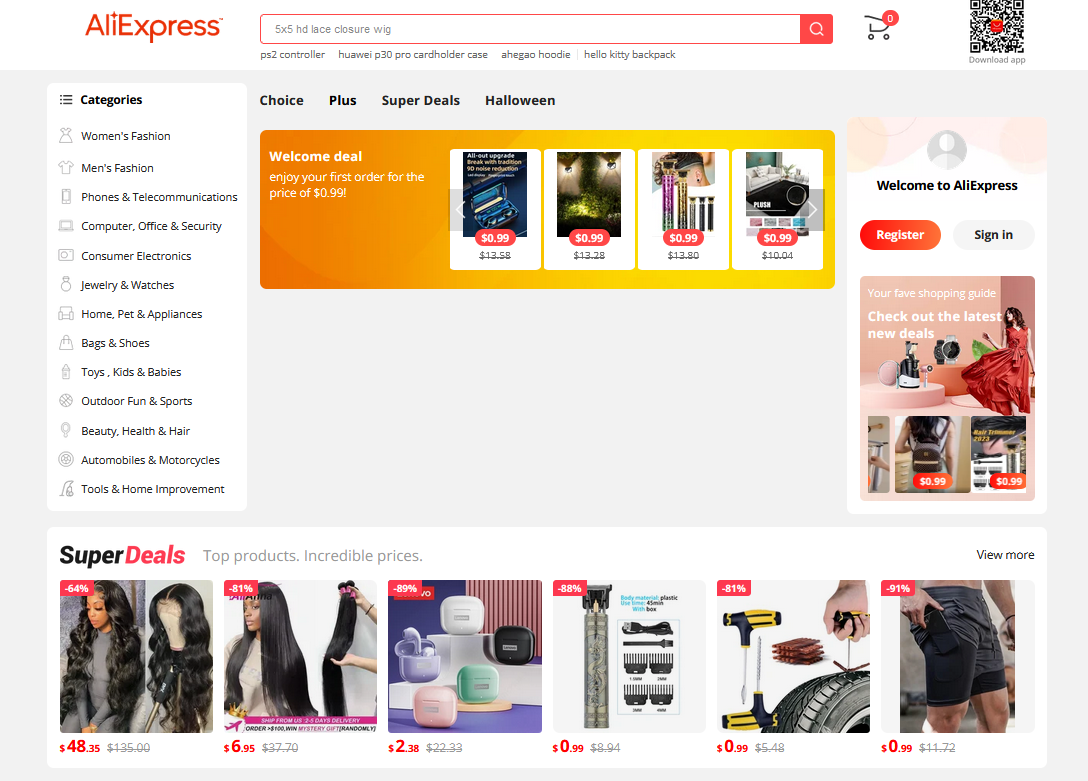 The AliExpress affiliate program is a marketing initiative that allows individuals or businesses to partner with AliExpress, one of the world's largest and most popular online retail platforms. The program enables affiliates to earn commissions by promoting AliExpress products and driving sales through their marketing efforts. Affiliates are provided with a unique affiliate tracking link or tracking code, which they use to direct potential buyers to AliExpress.
Affiliate marketers can leverage various marketing strategies, such as blog posts, social media promotion, email marketing, and product reviews, to attract potential buyers and direct them to AliExpress. By effectively promoting products and generating sales, affiliates can earn commissions, making the AliExpress affiliate program a potentially lucrative opportunity for those skilled in online marketing.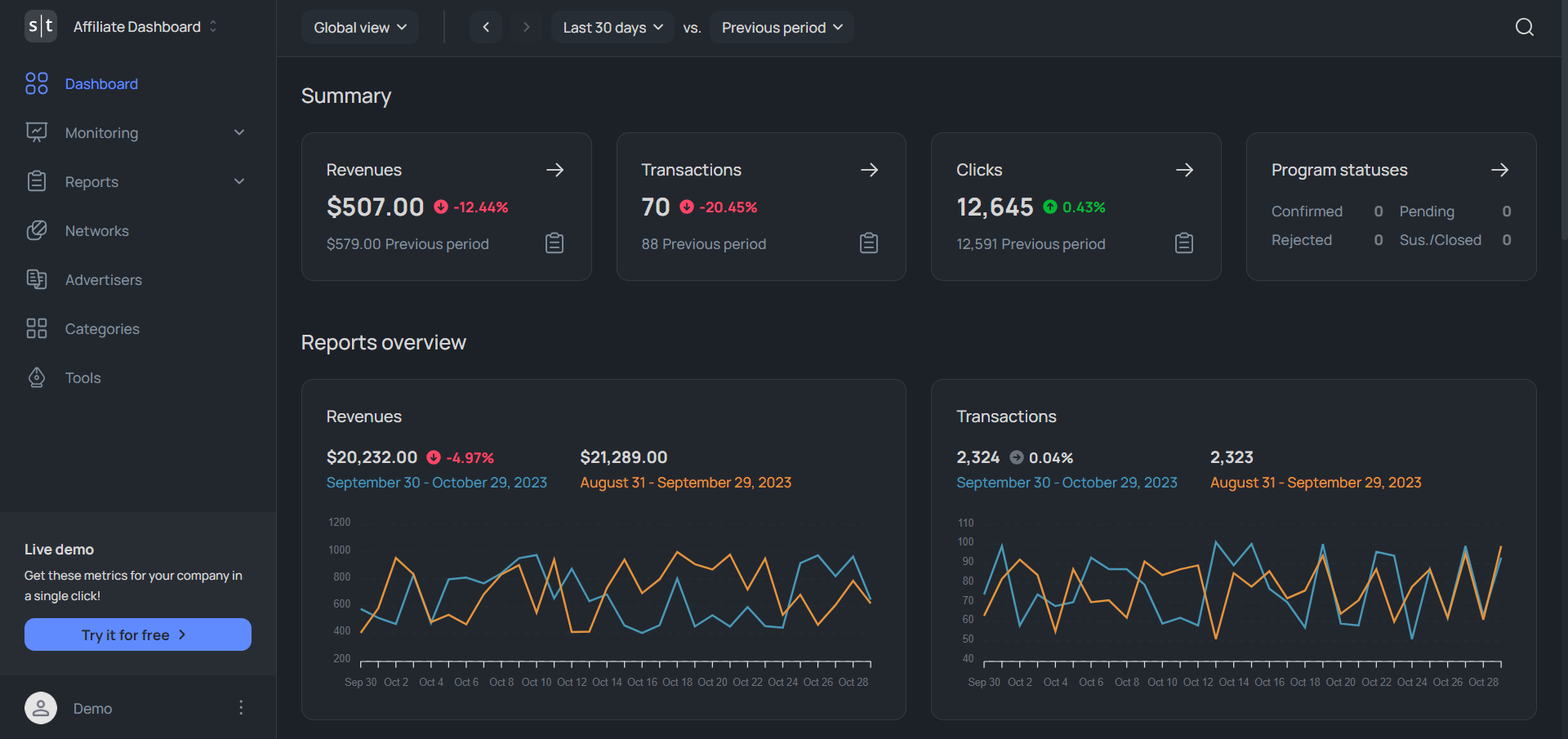 Strackr is your go-to solution for streamlining your AliExpress affiliate marketing efforts. With Strackr, you can consolidate all your affiliate data in one convenient affiliate dashboard, eliminating the need to log in to each network individually multiple times a day.
Moreover, Strackr allows you to effortlessly connect to a multitude of affiliate networks and direct affiliate programs.
Key Features
Affiliate Model (Pay per Sale - PPS): The AliExpress affiliate program operates on a Pay per Sale (PPS) model. Affiliates earn commissions when they successfully drive sales to AliExpress through their marketing efforts.
Commission Rate: Up to 9%: Affiliates have the potential to earn commissions of up to 9% on the sales they generate through their unique affiliate links. The commission rate may vary depending on the specific product category and promotional campaigns.
Cookie Duration: 3 Days: The tracking cookie duration for the AliExpress affiliate program is 3 days. This means that if a customer clicks on an affiliate's link and makes a purchase on AliExpress within three days, the affiliate will receive a commission for that sale.
Withdrawal Threshold: $16: Affiliates can request a payout when their earned commissions reach the withdrawal threshold of $16. This threshold is the minimum amount required to initiate a withdrawal.
Processing Fee: $15 per Transaction: AliExpress charges a processing fee of $15 per transaction when affiliates request withdrawals. It's important to consider this fee when planning your withdrawals.
Payment Methods: International Bank Account: Affiliates can receive their earned commissions through an international bank account. This payment method ensures that affiliates from around the world can access their earnings conveniently.
Affiliate Software: AliExpress, CJ Affiliate, Flexoffers, and Awin: AliExpress offers multiple affiliate software options for affiliates to choose from, including AliExpress' in-house platform, CJ Affiliate, Flexoffers, and Awin. These software platforms help manage affiliate accounts, track sales, and provide marketing resources to affiliates.
Pros & Cons
Pros
AliExpress caters to both affiliate marketers and drop shippers
Generate direct product links easily
A vast selection of products available at all times
AliExpress offers global shipping to nearly 200 countries
Commission rates on certain items surpass those of Amazon
Enjoy a three times longer cookie duration compared to Amazon
Discover products at significantly lower prices than most other sources
AliExpress can be considered an upgraded alternative to Wish
Cons
Shipping times can be lengthy, often spanning several weeks
Low-quality products are widely available
Affiliate support seems insufficient
The in-house affiliate reporting is less than stellar
Mysterious "Anti-Spam" deductions impact affiliate earnings
The in-house affiliate program has significant issues
Commission rates can be unpredictable
Who Can Join the AliExpress Affiliate Program?
Joining the AliExpress Affiliate Program opens doors to exciting opportunities. But who can participate?
Individuals or entities with an online presence, beyond just social media, and a certain level of web traffic (visitors) are eligible to enroll and become AliExpress Affiliate publishers.
To become part of the affiliate program, certain requirements must be satisfied. Although the specific conditions can differ, the following are typical eligibility criteria:
Stable Online Presence: To be eligible for the AliExpress Affiliate Program, maintaining a consistent and reliable online presence is essential. This includes having a website, blog, or other digital platform that is active and accessible to your audience.
Content Quality: The quality of the content you create and share on your online platform is a crucial factor. High-quality, informative, and engaging content can enhance your chances of being accepted into the affiliate program.
Traffic Generation: The ability to generate traffic to your online platform is a key requirement. This involves attracting a steady flow of visitors to your website or content and demonstrating your capacity to promote AliExpress effectively.
Compliance: Adherence to program policies and guidelines is paramount. Ensure that your online presence and content comply with AliExpress' terms and conditions, as well as general ethical and legal standards.
Application Process: While the specific requirements may vary, the application process typically involves submitting an application through the AliExpress Affiliate Program platform. Be prepared to provide relevant information about your online presence, content, and traffic sources during the application process.
How To Signup For AliExpress Affiliate Program?
Signing up for the AliExpress Affiliate Program is a straightforward process, and we'll guide you through the steps to get started. Check out the three types of processes below:
Website
Affiliate Networks
AliExpress Plugins
Website
When attempting to enroll in the program through their website, follow these instructions:
Step 1: Visit their website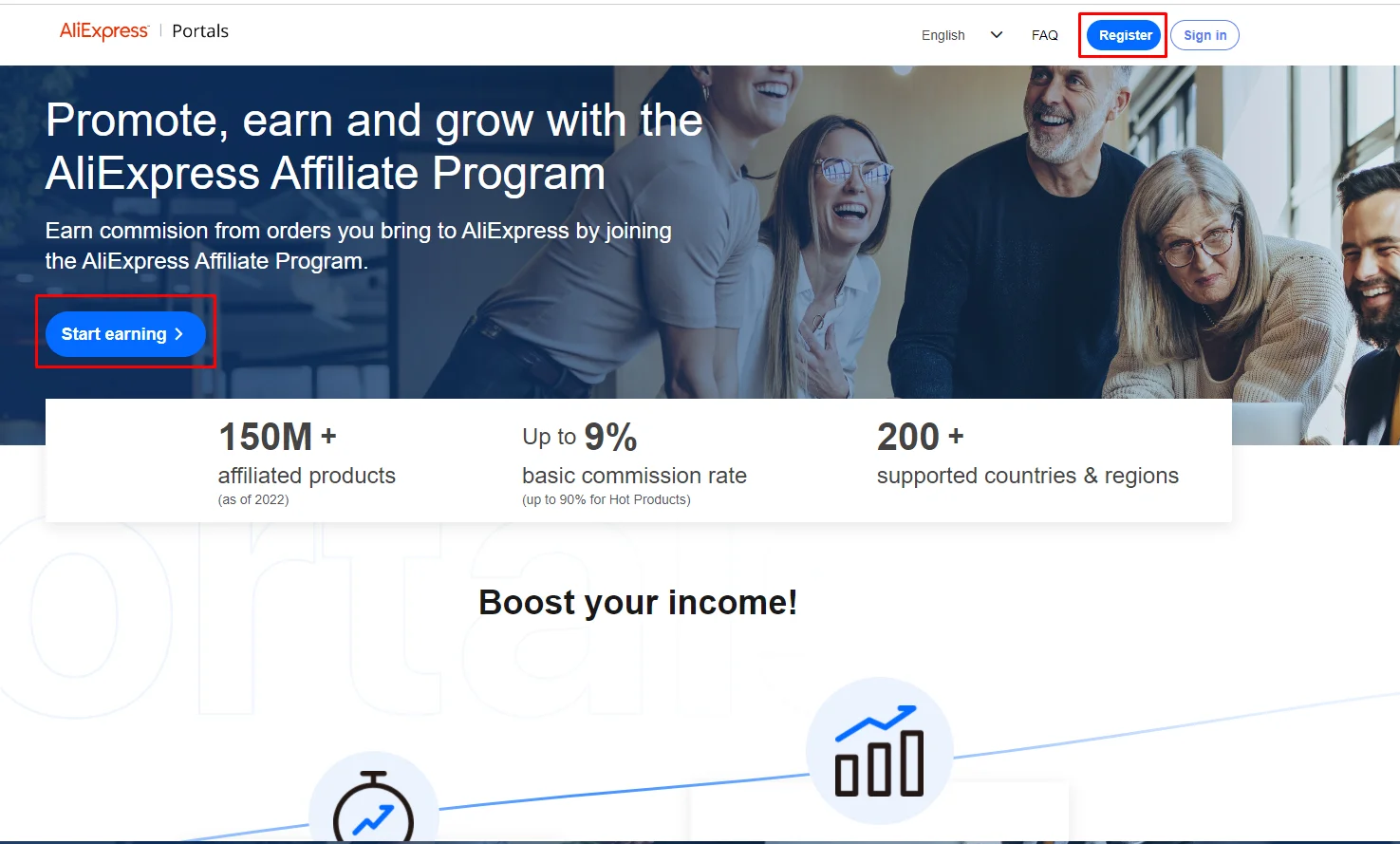 On their affiliate page, you'll often find a pre-filled form that simplifies the registration process. Look for the "Register" or "Start Earning" button, and clicking on it will redirect you to the "Create Account" page, where you can kickstart your affiliate partnership.
Step 2: Create an account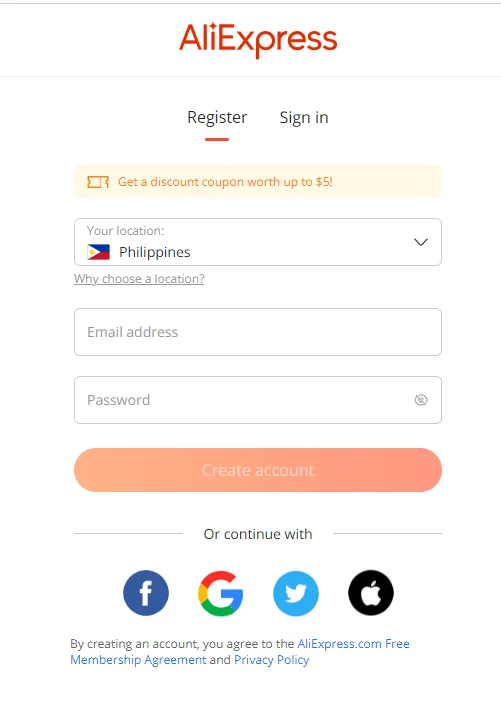 Start by providing your location, and email address, and selecting a password. If you already have an AliExpress account, you can simply click "Sign in." Then, proceed to submit your application via the AliExpress Affiliate Program page.
Next, specify whether you are an individual or a company and complete the required information, including your first name, network type, and country. After this, click "Next."
You'll be asked to furnish details about your website or promotional channel, and once completed, click "Next" again.
For seamless communication, choose your preferred contact method and provide your email address. Click "Send" to receive a confirmation code in your email.
Enter the verification code you receive and click "Next" to continue your registration process.
Step 3: Wait for Confirmation
After completing your registration, you'll be directed to the terms and conditions page. Take a moment to carefully review the terms and check the box to signify your agreement. Then, click "Confirm."
A pop-up message will express gratitude for your application and inform you that it will be processed within 2 business days.
Step 4: List Products and Start Promoting Them
With your account created and your application approved, it's time to kickstart your journey as an AliExpress Affiliate. Begin by listing the products available on AliExpress, and you can promote them through a variety of channels, including your website, social media platforms, blogs, articles, and more.
Affiliate Networks
To get started, you'll need to register on these affiliate marketplace websites, which act as intermediaries between affiliates and AliExpress. Consider popular affiliate networks like Awin, CJ Affiliate (Commission Junction), or FlexOffers. These networks have established partnerships with AliExpress, streamlining the application process and making it more accessible for aspiring affiliates.
AliExpress Affiliate Plugins
For website owners using WordPress, a convenient option to join the AliExpress affiliate program is by utilizing specialized plugins. Two popular choices are AliPlugin and AliDropship, both of which seamlessly integrate AliExpress affiliate features into your website.
AliExpress Affiliate Program Best Practices
Discover how to make the most of your affiliate marketing on this well-known platform below:
1. Choose a Niche
Select a specific and profitable niche with minimal competition within AliExpress that aligns with your interests and expertise to effectively target your audience.
2. Create Engaging Content
Craft compelling and informative content that captivates your audience to showcase the products you have and promote affiliate links in an appealing manner.
3. Understand Your Audience
Gain deep insights into your audience's preferences, behaviors, and needs to tailor your content and promotions effectively.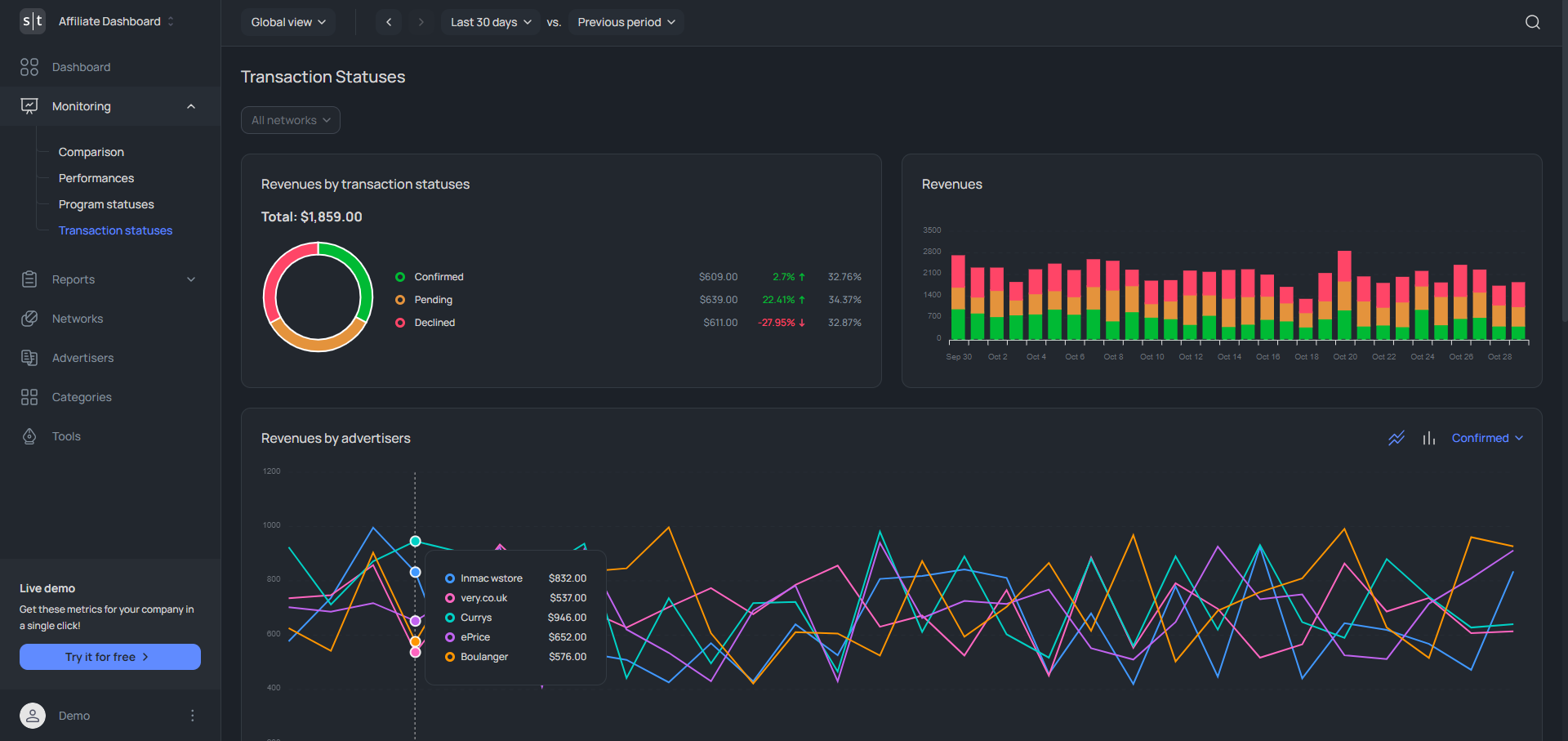 By providing access to crucial metrics and data not typically available on affiliate networks, Strackr equips you to make informed decisions that can significantly enhance your revenue and expand your business.
4. Use Various Marketing Strategies
Employ a diverse range of marketing tactics, from SEO to social media promotion, to reach a broader audience and maximize your affiliate potential.
5. Build Trust and Credibility
Establish trust with your audience by providing honest and valuable information, enabling them to make informed purchase decisions.
6. Engage With Your Audience
Foster a strong connection with your audience by actively engaging with them through comments, messages, and feedback.
7. Track and Optimize Your Performance
Continuously monitor your affiliate marketing efforts, analyzing performance metrics and making data-driven improvements for better results.
AliExpress Affiliate Program: Key Takeaways
The AliExpress affiliate program, while offering access to a wide range of products and a reasonably structured commission system, has its fair share of drawbacks. With low commission rates and less-than-stellar conversion rates, it may not be the most lucrative option, especially for those starting in affiliate marketing.
The self-hosted affiliate program software is plagued with bugs, and AliExpress appears to not prioritize its affiliate program. While it's not to say that you shouldn't give it a shot, there are more beginner-friendly affiliate programs available that might be a better fit.
Additionally, due to the platform's low-priced items, generating a substantial affiliate income can be challenging unless you have a substantial amount of traffic.
Conclusion
AliExpress proves to be an excellent platform for launching your affiliate marketing journey. With its extensive product range, affiliate-friendly features, and global reach, it offers some potential for affiliate marketers to succeed.
To make the most out of your affiliate marketing journey, consider leveraging tools like Strackr. It provides a comprehensive solution for tracking and managing all your affiliates within a single, user-friendly dashboard.
With Strackr, you can streamline your efforts, access vital insights, and optimize your affiliate marketing strategy to achieve even greater success. Try Strackr for free today!
Share
Affiliate dashboard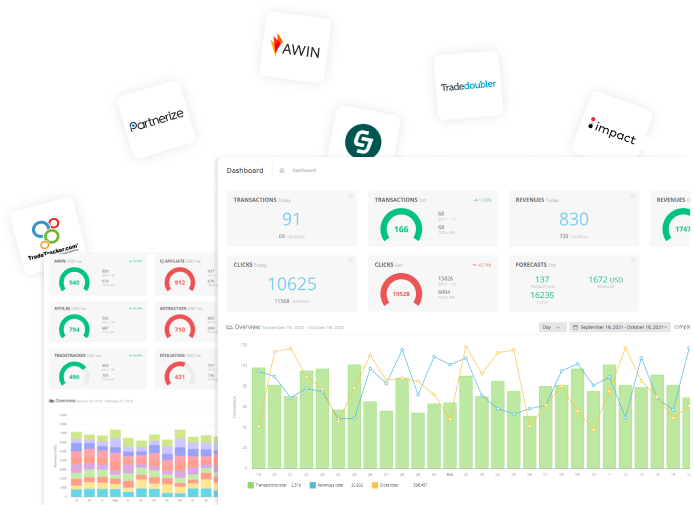 Connect all your affiliate networks with Strackr to access to unified statistics and tools.
Try for free